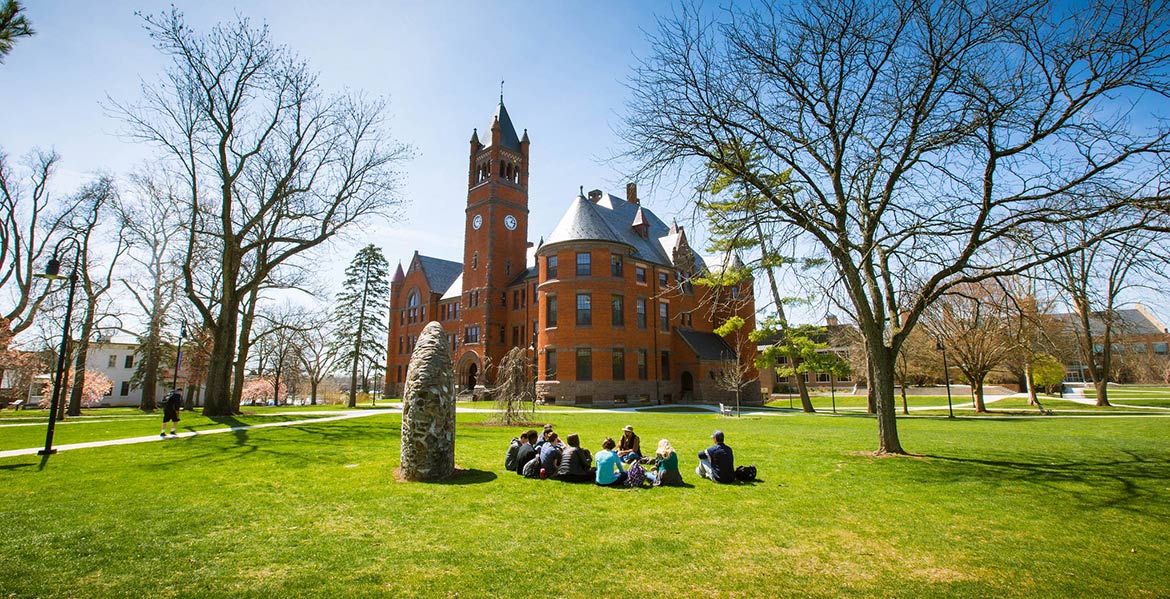 Do great work.
These three words serve as the foundation of a Gettysburg education—an education that asks for engagement and offers challenge and opportunity in return; an education that creates global citizens and active leaders; an education that prepares our students for personal and professional success in every career field imaginable.
It's no surprise, then, that the great work of our students, faculty, and alumni should receive accolades and praise of the highest order.
From building leaders to building futures, best alumni network to best study abroad program, here is a comprehensive roundup of the top college and university rankings from the past year.
In a survey that examined academic reputation, faculty resources, graduation and retention rates, and alumni giving rates, Gettysburg College has been included among the 174 institutions in the top tier of the 2017 U.S. News & World Report "America's Best Colleges." The College also received special recognition for study abroad experiences.
In addition to being named a "College that Pays You Back" by The Princeton Review, the College has been recognized in several of their unranked special categories: Best 381 Colleges, Best Northeastern Colleges, Colleges that Create Futures, and Green Colleges.
In ranked categories, the College is 9th for "Most Popular Study Abroad Programs," 11th for "Everyone Plays Intramural Sports," 14th for "Best Campus Food," and 15th for "Best Alumni Network."
Students tour AT&T facilities with an alum.
Kiplinger's Personal Finance Best College Values guide ranked the College number 56 out of 100 liberal arts colleges across the country based on criteria that ranged from selectivity and first-year retention rate to financial aid and average student indebtedness upon graduation.
Gettysburg made two of Forbes's college rankings: America's Top Colleges—ROI (57 among liberal arts schools, 121 nationally) and Best Value Colleges (44 among liberal arts schools, 137 nationally). Factors included student's ratings of professors, post-graduate success, self-reported salary, tuition costs, and graduation rates.
The Wall Street Journal and Times Higher Education partnered to create College Rankings 2017, "providing students and institutions with access to a comprehensive list of over 1,000 institutions evaluated on their educational impact."
Of the more than 1,000 institutions included in the ranking, the College was number 44 among liberal arts institutions, and number 124 nationally.
In a ranking that examines the self-reported early-career and mid-career salaries of alumni, Payscale ranked the College 24 among 108 liberal arts institutions across the country.
In Time's Money Magazine's "Best Colleges for Your Money" 2016 list, the College was ranked 34 among liberal arts schools, and 114 among all colleges and universities across the country. The ranking examines factors like student-faculty ratio, student evaluation of professors, net price of a degree, and early- and mid-career salaries.
The Washington Post created its first-ever college ranking—based on rankings done by other publications and organizations—of 121 colleges and universities across the country. Gettysburg was ranked 36.
For the second year in a row, the College was recognized by the Institution of International Education (IIE) for our students' high level of participation in semester-long study abroad opportunities. The College was ranked first in the state, and second in the nation—up from fourth in the nation the previous year.
Another publication also highlighted our students' focus on study abroad. College Magazine included the College as number 8 in its Top 10 Colleges for Studying Abroad along with institutions like Yale University and New York University.
Gettysburg College was recognized by the President's Higher Education Community Service Honor Roll in three of their four categories: 2015 General Category, 2015 Economic Opportunity Category, and 2015 Education Category.
These recognitions, while rewarding in their own right, bear witness to the true determination of the value of a Gettysburg education—the success of our students and alumni. Students graduate with an individualized career plan tailored to their professional aspirations, and our alums find personal and professional success every day, in every career field, and on every continent.
"We are quite pleased to have the College be recognized for all of the great work that our faculty, students, and alumni do every year," said Vice President of Enrollment and Educational Services Barbara Fritze. "The real reward, though, is seeing the accomplishments of the Gettysburg network, from our first-year students to our alumni, years after their graduation. These real-world successes remind us of the value of a Gettysburg education more than any award or accolade could."
More stories