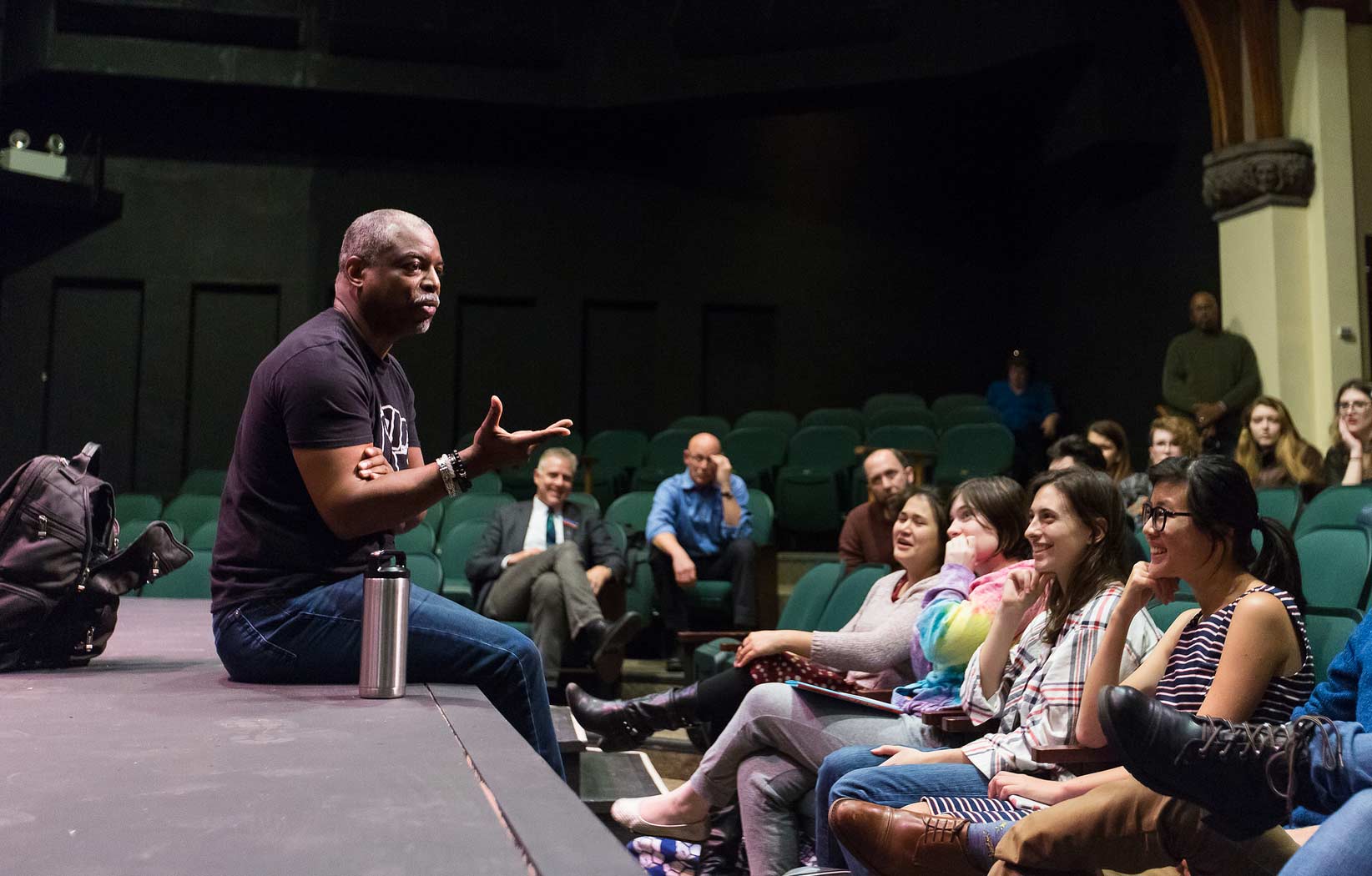 When LeVar Burton was invited to Gettysburg to speak about Abraham Lincoln's Gettysburg Address at the annual Dedication Day ceremony, he also wanted to make time to meet with Gettysburg College students for a "casual conversation" about the power of storytelling.
"The most powerful tools we have are the ability to share our stories and the ability to listen to the stories of others who we may not agree or identify with," said the actor, presenter, director, and author.
Burton met with students studying history, education, Civil War Era studies, and theatre arts—all areas that his career has been inextricably intertwined with—in Kline Theatre on Friday afternoon.
The conversation was influenced by more than just Burton's own career championing social justice and education. The Roots, Star Trek: The Next Generation, and Reading Rainbow star's conversation also touched on history and recent political events—and how sharing our stories can help us find a way forward.
"The power of storytelling is why I love what I do," Burton said.
To illustrate this point, he discussed his role as Kunta Kinte in the television mini-series Roots (1977). He auditioned for it as a sophomore at the University of Southern California School of Theater. It was his first audition ever, and he describes it as validation that he was pursuing what he was meant to do with his life.
Not only did it confirm his chosen profession of acting, but it opened his eyes to the effect storytelling could have and the trajectory he wanted his career to take.
Before Roots, Burton claims that slavery was only ever discussed in terms of the economic impact it had on a fledgling country. After Roots, "it was impossible to think about slavery without thinking of the slaves," Burton said.
It's a story that he so believes needs to be heard, he has brought it back to television earlier this year.
"All storytelling is education," Burton said. "The question is what are we teaching."
Students shared comments and asked questions about everything from their view of equality to advice on how to share their stories in a more meaningful way.
"As storytellers, I do believe we have the obligation to do more than entertain. When we do our jobs right, we can lift ourselves up and light the way for one another," Burton said. "At least, that's my story and I'm sticking to it."
Burton delivered a similar message the following day at the 2016 Dedication Day ceremony, marking the 153rd anniversary of Abraham Lincoln's Gettysburg Address, while also focusing on the political divisiveness found across the country.
"We are indeed a house divided," Burton said. "Not since the occasion we commemorate today has the chasm in our country been so pronounced, so profound."
He challenged the audience to commit themselves to the ideals espoused in Abraham Lincoln's Gettysburg Address.
"The way forward is clear: We must rededicate ourselves to the proposition that in this country, all men and women are created equal and as such, we are all deserving of and entitled to the dignity and respect we ourselves would want to be accorded. Otherwise, the dead which surround us here in this place will have died in vain."
View the full text of Burton's speech, or watch a recording of the ceremony.
The Dedication Day ceremony was sponsored by the Gettysburg Foundation, The Gettysburg National Military Park and Eisenhower National Historic Site, Destination Gettysburg, the Lincoln Fellowship of Pennsylvania, and Gettysburg College.
View pictures from Burton's visit to campus and the Dedication Day ceremony on Flickr.
More stories