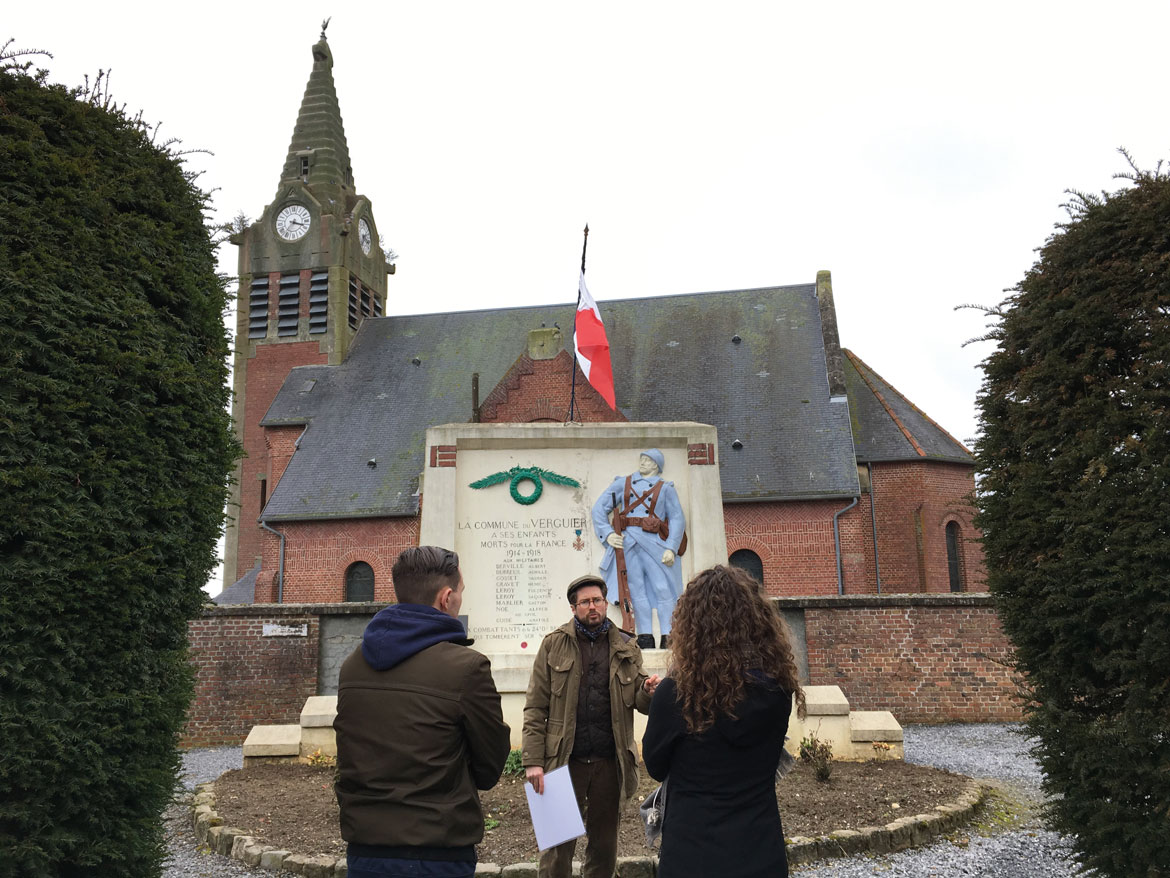 It was a damp, cold March morning when Prof. Ian Isherwood '00, archivist Amy Lucadamo '00, and students Meghan O'Donnell '18 and Jesse Campana '18 trudged through open fields in France.
Armed with reproductions of maps, letters, and 100-year-old photographs, the team's goal was to locate a dugout used in a World War I battle over the small town of Le Verguier.
During the battle, the dugout was used by British officer Jack Peirs—the focal point of the team's multi-year digital history project called "The First World War Letters of H.J.C. Peirs," which aims to personalize the experience of a world war through sharing Peirs's letters online.
With the support of alumni and a crowdfunding campaign, the team traveled to France with the purpose of contextualizing their digital history project.
"I've been on a lot of battlefield tours, but never one where we were assembling the narrative in the moment," Isherwood said. "We were reconstructing a timeline of events that no one has paid attention to in 100 years. This gave our students the opportunity to do ground-breaking research and make real-time discoveries."
Among them: shrapnel buried in the ground that originated from the battle, metal left behind from the trenches that had been salvaged and repurposed by locals as they rebuilt their town, and the location of several key spaces and events from the battle that had been ignored—including the dugout they were searching for. "We designed the trip in a way that we could bring the experience we were having in France back to Gettysburg and the classroom," Lucadamo added.
Students from Isherwood's Aftermath: The Experience of War and "Modern" Memory class Skyped from France with students in Musselman Library's Special Collections, who were surrounded by Jack Peirs's original letters.
The experience proved to be an innovative learning opportunity that has changed the way students think about conducting historical research.