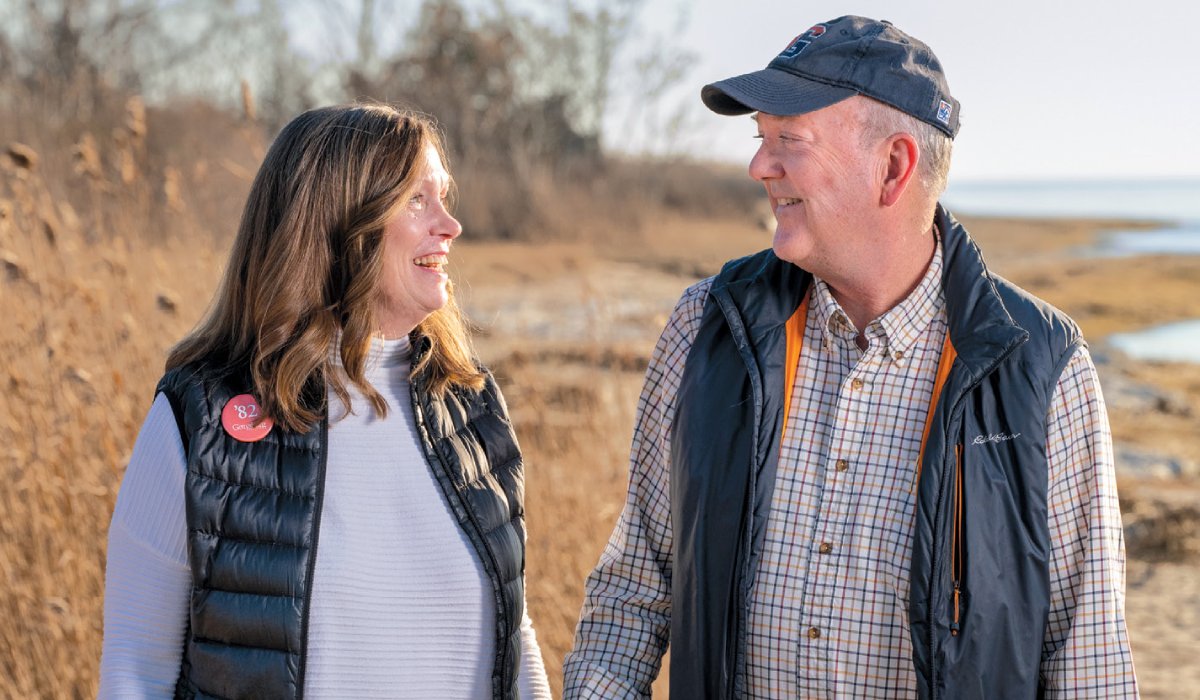 Established the John and Elizabeth Critchley Gettysburg Fund Scholarship in 2014
Supporters of connectGettysburg
Served as chairs of their 25th and 30th reunions
John played soccer and is a proud Alpha Chi Rho Brother
Beth was a tour guide, Orientation leader, and member of Sigma Sigma Sigma
OUR LIVES TOGETHER STARTED JUNIOR YEAR. As we've gotten older, we still talk about how much fun we had at college. Knowing now that a big part of the "fun" was growing up, helping, and gaining teamwork skills, we were learning without even realizing it. We think about how lucky we were to find each other at Gettysburg and the lasting connections we made. Something special about the College pulled us both there. As students, we were always part of a collective experience. We believe that staying connected to each other and the College is just as important to alumni as it is to students.
WE REMEMBER THE BIG BOOK MOVE to the new Musselman Library. Originally, many of us were against building a new library, as it was going to be built in a favorite recreation spot—Stine Lake. But in the end, students from nearly every organization joined together for an all-encompassing, coordinated effort on campus to move the books across the quad from Schmucker Hall. Together, we accomplished in one day what would have taken professionals several days. Now we go back and look upon the library proudly: "We helped make this happen!"
J-TERM WAS THE MOST UNIQUE OPPORTUNITY for both of us. Where else could you take a modern dance class five days a week for one month with a famous choreographer? Or travel to Bermuda for a month of study while snorkeling at the then-Bermuda Biological Station? John was the lone business major among 29 science majors there! The classes were unforgettable.
GETTYSBURG COLLEGE IS STILL IN THE BUSINESS OF OFFERING OPPORTUNITY to excel and fail, and learn from both. After four years at Gettysburg, you learn who you are, what is important to you, and what is not. By funding our scholarship, we know that we are helping a student gain the necessary tools to be successful in life.
HE WHO GIVES WHILE HE LIVES, KNOWS WHERE IT GOES. We hope our involvement by working with our fellow classmates on reunion committees, and by giving back to Gettysburg, will help instill the same spirit of service in the next generation. Each time we go back to our reunions, we have the chance to meet current students and recent graduates. Of course, we are meeting students who are continuing the tradition of being involved—who Do Great Work.
Photography by Mara Lavitt
Posted: 02/20/23