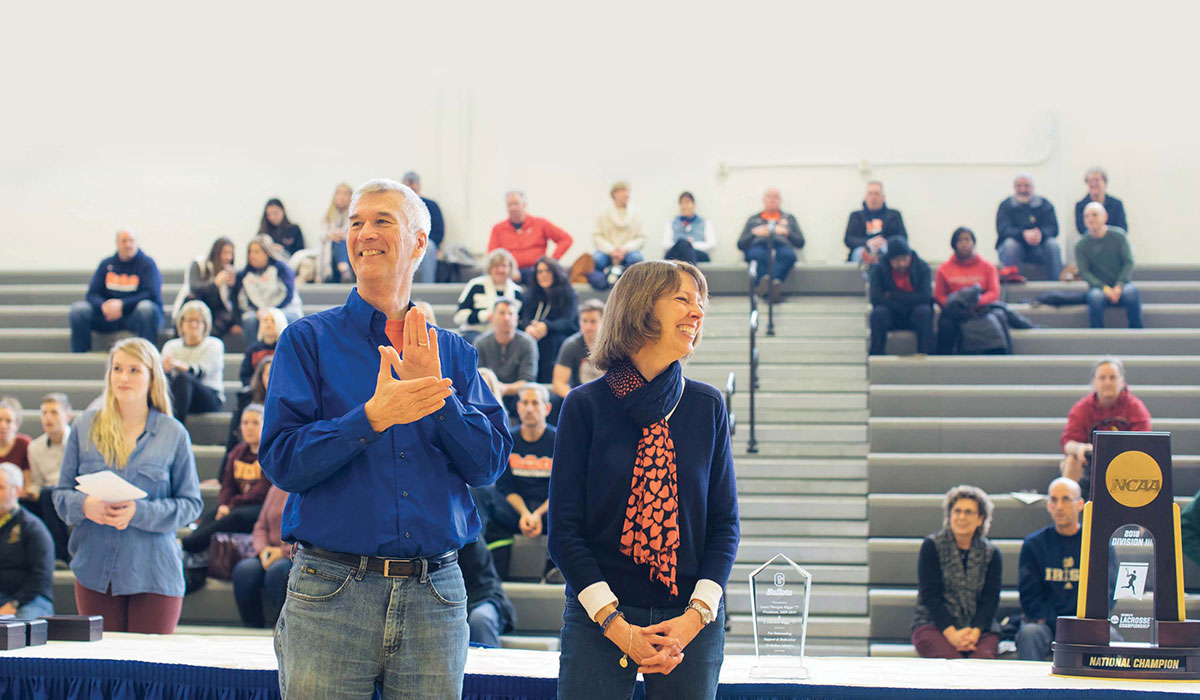 In a surprise celebration sponsored by the Gettysburg College Athletics department, President Janet Morgan Riggs '77 and Ed Riggs '77 were presented with an engraved, diamond-shaped glass award honoring their commitment to Gettysburg College athletics. Student-athletes lined up in two parallel rows, opening a pathway directly to the bleachers. A silver plate engraved with blue lettering marked two seats behind the Gettysburg bench as reserved for the duo.
"When the students came over and presented us with the award I was so moved," said Janet. "I was so surprised and touched by the staff and students honoring the two of us in that way."
For more than four decades, both members of the Riggs family have been ardent supporters of the Orange and Blue. A former All-American in track and field at Gettysburg, Ed spent a decade at the helm of the cross country and track and field programs and was inducted into the Hall of Athletic Honor in 1996.
"We are such great fans of Gettysburg athletics and will continue to be," said Janet.
All athletic venues with seating at Gettysburg College—the Bullets Pool, Shirk Field at Musselman Stadium, Kirchhoff Field, Bobby Jones Field, and Clark Field—will feature reserved seats for the retiring president and her husband.