In any small college, the president holds a special place. College presidents are responsible for the institution's well-being across a broad spectrum: academics, admissions, fundraising, and initiatives designed to enhance the institution's reputation.
Gettysburg College's presidents were all men until Katherine Haley Will assumed office in 2004, and—from the founding into the first decades of the 20th century—also all Lutheran clergy, highlighting the College's Christian orientation in defining its mission and seeking funds to support its programs. Since 1910, when Yale mathematician William A. Granville assumed the office, most Gettysburg presidents have come out of the academy and possessed earned doctorates. There were only two exceptions: Henry W.A. Hanson (1923–1952), a popular Harrisburg pastor, and Willard S. Paul (1956–1961), a World War II general who had served in the Eisenhower Administration before assuming his duties here.
Gettysburg College has benefited when presidents embraced an ambitious vision of liberal arts at the service of their country."
One striking aspect of the presidency at Gettysburg is the continuity of institutional identity and operation from its founding into the 1970s. The presidential model at Gettysburg, under the first president Charles Krauth (1834–1850) on through Carl Arnold Hanson (1961–1977), was essentially that of paterfamilia —head of a family-like institution. Arnold Hanson's approach to governance fit the norms of his times in matters of management practices as the institution expanded, but the faculty remained close- knit and continued to assume responsibilities "in place of parents"—a role 21st-century faculty would find quaint.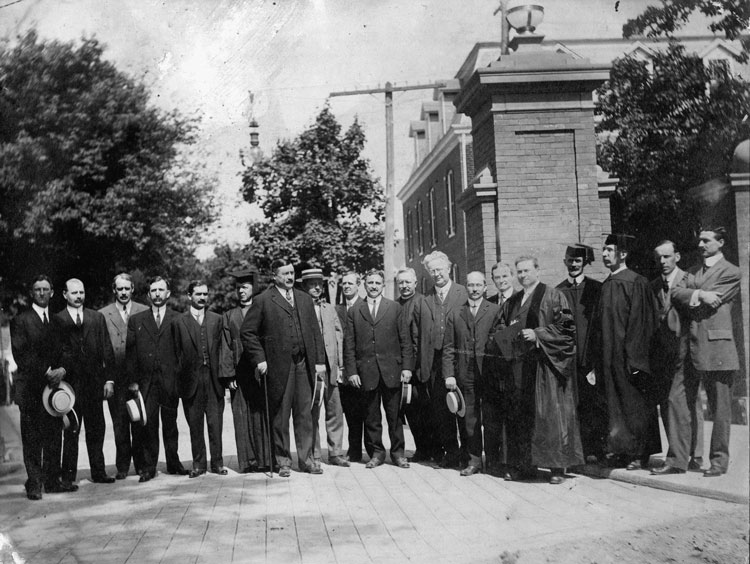 For 13 years (1837–1850), Krauth and his family lived in Pennsylvania Hall in the company of an ebullient collection of teenage students, while at the same time doing his best to model Christian morals and share his classical learning. In this sense, he was a forerunner of the longest-serving College president, Henry W.A. Hanson, who was less a classical scholar than an all-purpose spokesman (notably through his chapel homilies) for Gettysburg's role in shaping "Christian gentlemen."
Krauth's successor, Henry L. Baugher, refused to live in Pennsylvania Hall because student high jinks grated on his nerves, but he domiciled only a stone's throw away in the White House—today's Norris-Wachob Alumni House. All the same, whether the president was Krauth or any of his next 10 successors, the assumption was that the president and staff of the College stood in place of the parents in mentoring their charges. As the 1858 College catalog described it, the president would maintain "a constant guardianship over the whole establishment." Presidents into the 1950s, including the respected European historian Walter Langsam (1952–1955) and General Paul, continued to embrace this role.
This family model gave the faculty agency in most facets of campus life. For many years, Gettysburg College presidents were considered first among equals rather than operating in a realm above the faculty. To be sure, presidents had more responsibility than individual faculty members for recruiting students and fundraising, important priorities through the College's history. For many years, faculty played a meaningful role in fundraising—perhaps never so notably as during the Great Depression of the 1930s when they were assigned Pennsylvania districts to canvas in order for the College to make its class.
Although Gettysburg College had always taken pride in the scholarly accomplishments of members of its faculty—dating back to the institution's origins— presidents into the era of the second Hanson continued to stress teaching as the prime responsibility of faculty, with scholarship beyond an earned PhD encouraged, but not required, for advancement in rank. This began to change during the administration of Charles Glassick (1977–1989), as the student population increased, in loco parentis became a memory, and fundraising at new levels became an imperative if Gettysburg was to avoid falling into the "good regional college" category.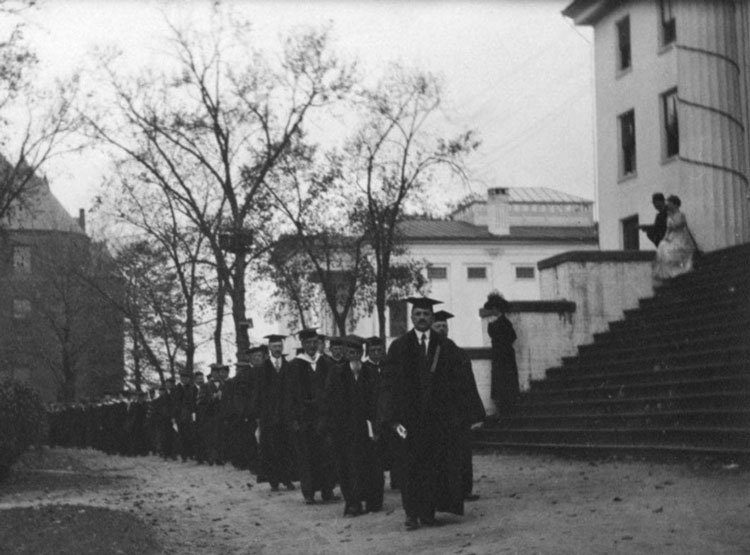 Glassick continued to acknowledge Gettysburg's Lutheran heritage, but diminished practical connections with the church and its synods. He traveled farther than any previous president in seeking financial support for the institution. His success in this realm was evidenced in refurbished campus buildings, a substantially increased endowment, and new interdisciplinary programs. During Glassick's tenure the College established The Gettysburg Review and revitalized its Civil War Era Studies program.
Glassick's successor, Gordon Haaland (1990–2004), managed the difficult trick of simultaneously increasing the size of the student body (breaking the 2,500 mark by mid-presidency), while advancing ethnic diversity and standards for admissions. Both Haaland and the current president, Janet Morgan Riggs '77, have raised the College's profile as a national liberal arts college, and expanded programs, information technology, and physical plant. Seeking to make Gettysburg demographically more like the nation at large, Riggs has put a new emphasis on diversity and inclusion for faculty, staff, and the student body alike, including geographical diversity that extends beyond the United States.
Whether under the family model or in its current professionalization mode, Gettysburg College has benefited when presidents embraced an ambitious vision of liberal arts at the service of their country.
By and large, Gettysburg has been fortunate in its presidents. As Riggs prepares to hand off her responsibilities in 2019, the College is in as good a shape in terms of its program, budget, and educational reputation as at any point in its 187-year history.
Michael J. Birkner '72, P'10 is a professor of history and was the Benjamin Franklin Professor of Liberal Arts (2001–2016).
By Michael J. Birkner '72, P'10
Posted: 02/05/19