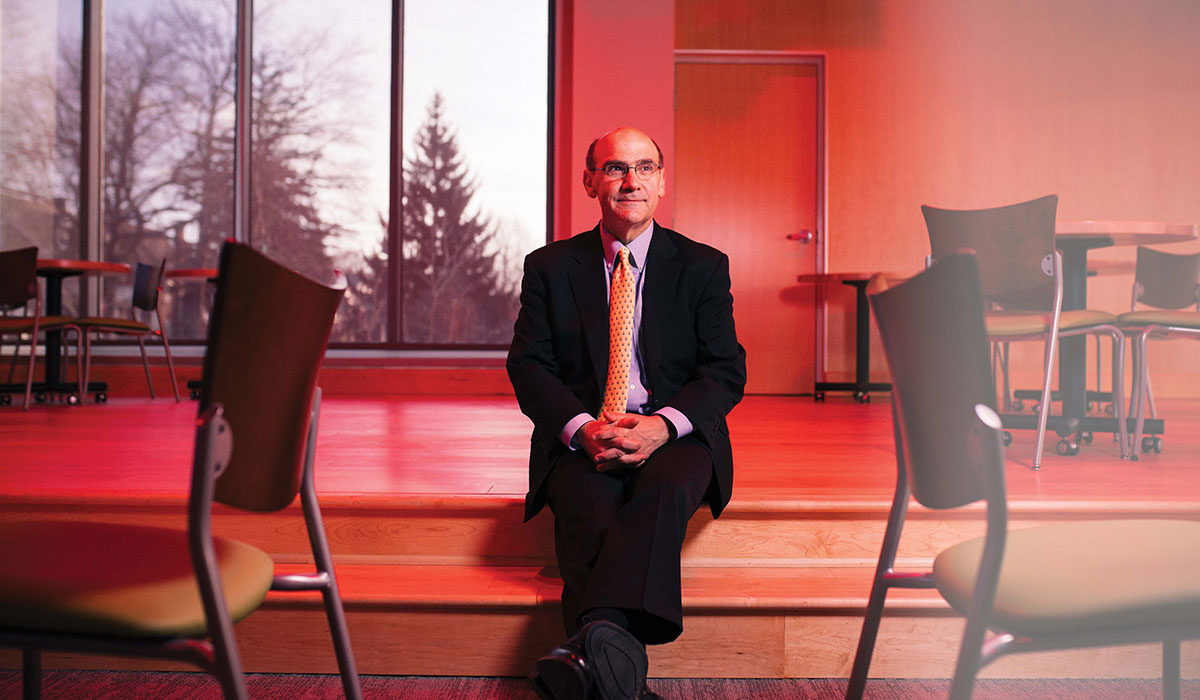 A champion of the liberal arts, Robert W. Iuliano embraces Gettysburg College's storied past and looks ambitiously toward our bright future together.
Gettysburgians are always evolving, always striving to tackle the unfinished work before us and inspire meaningful change in our world. In late January, the Board of Trustees announced its next leader to advance this change: Bob Iuliano, the 15th president of Gettysburg College.
Iuliano currently serves as Senior Vice President and General Counsel, Deputy to the President at Harvard University, and a lecturer at Harvard College and the Harvard Graduate School of Education. He will assume office July 1, following the retirement of President Janet Morgan Riggs '77 in June.
"Through an extensive and inclusive search process, our Board of Trustees unanimously and enthusiastically selected Bob Iuliano to lead Gettysburg College into the future," said David Brennan '75, P'00, chair of the College's Board of Trustees, citing the exceptional work of the Presidential Search Committee (PSC), which was led by Board Vice Chair Charlie Scott '77, P'09, P'12, and included representation from every College constituency.
"At Harvard, Bob was involved in key decisions the university made about strategy, policy, and student life," added Brennan. "This wide variety of experience at such a remarkable institution, coupled with his passion for teaching and the liberal arts, translates into the type of leader we need at Gettysburg College."
A graduate of Harvard College and the University of Virginia School of Law, Iuliano has spent the last two decades gaining a deep understanding and appreciation for issues fundamental to higher education leadership, including admissions, student life, athletics, governance, finance, and philanthropy.
Iuliano was deeply engaged in Harvard's approach to online and related forms of learning, including the formation of edX with MIT, and its Harvard-based sibling, HarvardX. In addition, he was instrumental in initiating governance changes enhancing the educational, research, and academic mission of Harvard, which represented the first changes to Harvard's senior board since its formation by charter in 1650.
"Bob Iuliano is one of the most talented leaders with whom I have ever been privileged to work," said Harvard President Larry Bacow. "He cares deeply about students and undergraduate education. He is a gifted teacher and a fabulous leader. He also is incredibly decent, principled, and humble. Gettysburg has chosen well."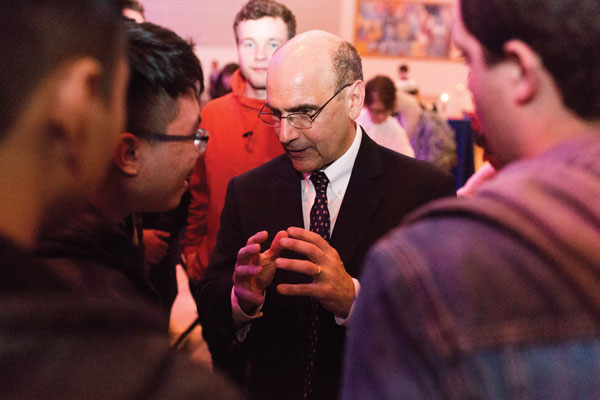 During his tenure, Iuliano developed an intricate understanding of Harvard's financial infrastructure on issues such as tuition, financial aid, endowment distribution, and debt and liquidity, while directly managing a considerable annual budget.
Likewise, he participated in the university's fundraising efforts, partnering with Harvard's development team to consider philanthropic opportunities and strategies, engage donors on gift negotiations and stewardship issues, and provide counsel for Harvard's now-completed capital campaign.
"Bob Iuliano struck me as a detailed, experienced, and pragmatic thinker," said Spanish and Globalization Studies Prof. Alvaro Kaempfer, who served as a member of the PSC. "He is fully aware of the enormous difficulties faced by liberal arts institutions and motivated by our institutional and historical traditions to take on the imperative efforts we need to put in place to keep Gettysburg academically and financially viable."
Above all, Iuliano has exhibited a steadfast commitment to diversity and inclusion throughout his career. At Harvard, he was responsible for articulating the university's position on student body diversity and its admissions processes—a topic that has gained national attention. He partnered with Harvard President Emerita Drew Gilpin Faust to charge and compose a universitywide committee on belonging and inclusion. Similarly, in 2015, he helped convene a cross-disciplinary committee of tenured faculty that worked for over two academic years to restate and reaffirm the faculty's commitment to student body diversity and its importance to Harvard's pedagogy and mission.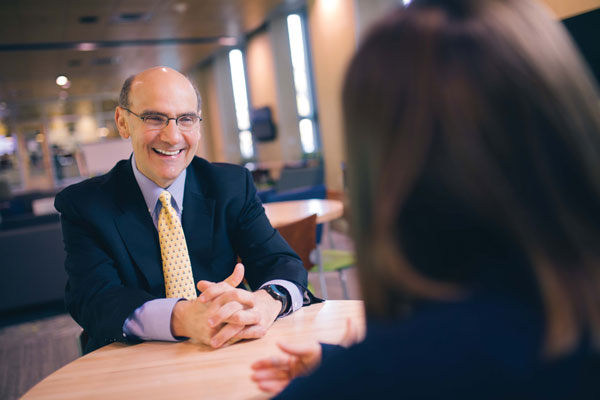 On February 8, Iuliano and his family were embraced into the Gettysburg College community during two on-campus receptions held in the College Union Building Ballroom.
"As Gettysburg looks to its future, it does so with an unwavering commitment to the importance of a residential liberal arts education," said Iuliano at the opening reception before a crowd of Trustees, PSC members, faculty, administrators, and staff. "That commitment shines through all that the College does and is deeply grounded in its founding principles. I see it in the stories I've read about this place and its students. I see it in the impact Gettysburg graduates have in this world. Stories I know have been building for generations. Stories that I am excited—and proud—to continue and be a part of."
Later that evening, hundreds of Gettysburg students gathered for their own special reception with the president-elect. Both events concluded with a ceremonial toast offered by Riggs.
"I cannot tell you how honored I am to pass the Gettysburg College torch to you in July. I know you're going to take very good care of it," said Riggs amid cheers. "I want to extend to you, your wife Susan, and the Iuliano family a very warm welcome into our community. It is a wonderful community to be a part of, and we are so pleased to have you as members of it."
By Mike Baker
Posted: 06/04/19