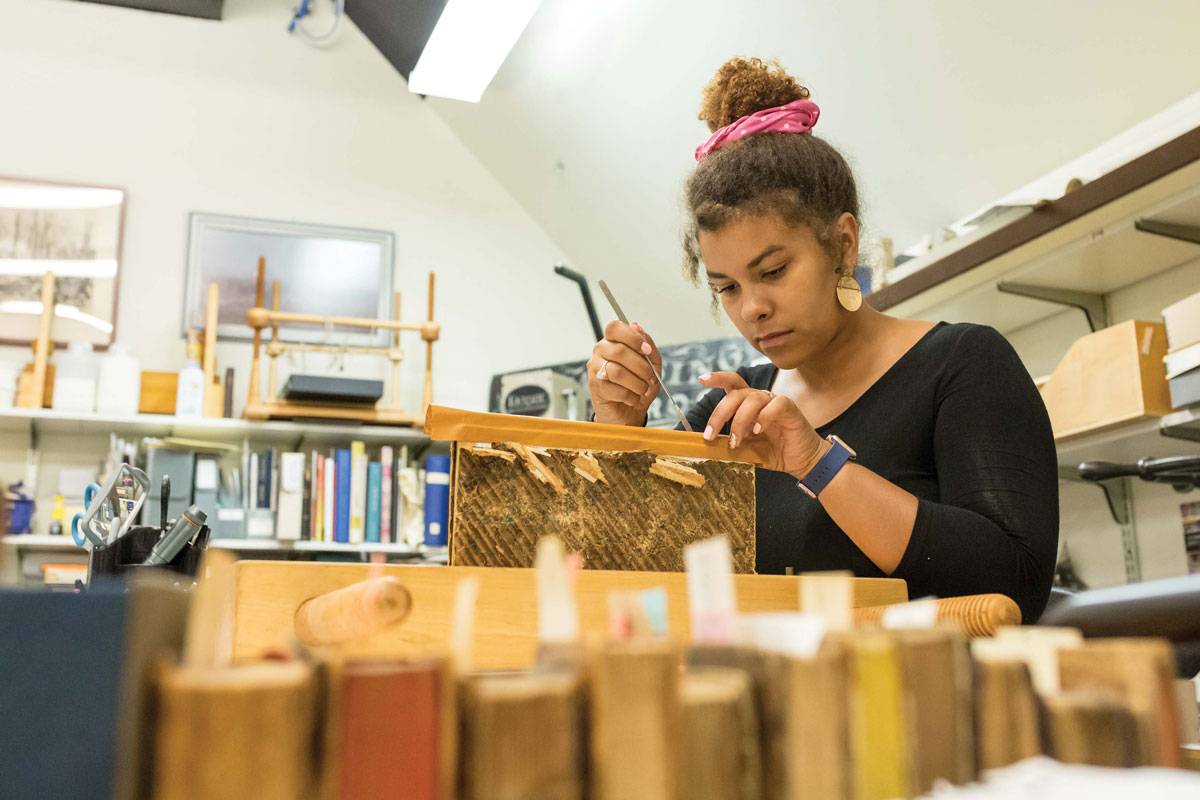 When Ashley Sonntag '19 arrives for her shift at Musselman Library, instead of sitting at a service desk or in front of a computer, she dons an apron, rolls up her sleeves, and gets to work surrounded by clamps, adhesives, needles and thread, and other tools.
Sonntag is part of the library's conservation team. On any given day, she could be washing, mending, or sewing together book pages, making protective book boxes, toning Japanese paper with acrylic paints to use in a binding repair, or performing other processes designed to mend important and historic materials in the library's collection.
The conservation program at Musselman Library's Special Collections has grown in size and scope over the years as aresult of the support of several donors—among them, Rev. Victor A. Myers, who recently established the Liebegott-Myers Endowment,a fund for Special Collections and College Archives to aid inthe acquisition, conservation,and preservation of rare books and documents. This fundmemorializes Myers's maternal grandfather and late wife Bonnie.
"My mother and grandfather instilled in me a deep appreciationfor rare materials," said Myers,whose mother served as assistant professor of bibliography in the University of Akron's Bierce Library. "To spend time with things that convey such a rich sense of history has always left me awestruck."
Myers followed the academic path of his grandfather,Charles E. Liebegott, Class of 1912, a 1915 graduate of Gettysburg Lutheran Seminary.After completing his degree at Wittenberg University, Myers likewise entered the seminary. In 1967–68, he served as ministry intern at Christ Chapel and thus began his connection to the College—one that continued throughout his subsequent career as a pastor and church administrator.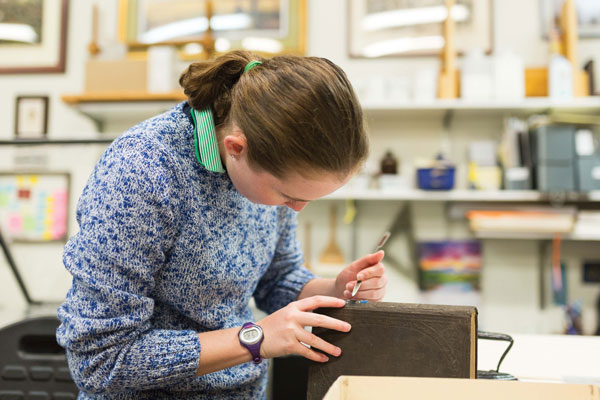 Along with the endowment, Myers (who lives in Barberton,Ohio) donated many documents, photographs, and artworks from his personal collection, including a 16mm film of President Dwight D.Eisenhower and Harvey Firestone in the White House Rose Garden in 1956. Myers also offered the Archives an array of documents related to College history. From 1964 to 1968, he filmed every Gettysburg football game on 16mm black-and-white film.
"I feel Special Collectionsand College Archives are good stewards of these treasured family heirlooms," he said.
Originally, Myers intended to wait to endow a fund for the library, but a note of gratitude from Mary Wootton, who oversees the library's conservation program, changed his mind.The note thanked him for his gifts and invited him to come see the conservation program in action. Myers knew it would be more meaningful to watch the funds used during his lifetime. In the years since starting the fund, he has donated a large book with plates of religious and mythical portraits and has plans to donate more.
Gettysburgians have an appreciation and pride for our shared history. Conservation stabilizes historic objects so they can be examined up close or displayed to a wider audience. Special Collections is home to over 21,000 books dating from the late 15th century through the 20th century. At least 6,000 of those are considered rare. Many of the oldest volumes are fragile, with varying degrees of deterioration, thereby limiting their use. The most common problems associated with these books are loose or broken hinges,detached boards, torn or missingbands, weak or broken sewing, paper staining and red rot —a decay or deterioration of the leather.
The library launched its preservation initiative nearly two decades ago. Barbara Holley '54 established an endowment in memory of her brother, Robert Holley, to purchase conservation supplies. It also helped cover costs of sending items out for restoration.
Today, repairs are made in the Marion L. Hobor Bookbindery and Paper Conservation Laboratory on the fourth floorof Musselman Library under the direction and attentive care of Wootton. The space was established in 2011 through a giftfrom Mike Hobor '69 and his sister Nancy H. Dewing (and their spouses) in honor of their mother, Marion.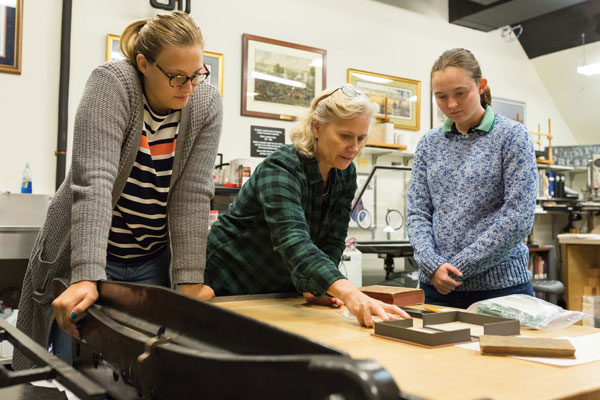 The library also had the opportunity to purchase the contents of a small Central Pennsylvania bookbinder's shop. Donors contributed the $10,000 needed to purchase three presses, a sewing frame, board shears, a jobbacker, and a range of hand tools. Even after the goal was met, alumni,friends, and College employees continued to contribute money.
Many continue to support the program today. Geoffrey Jackson '91 provided funding for the purchase of a Kensol stamping press, which gives students experience in setting type as they make labels forbooks and rare book boxes. Jackson's gift also enabled the purchase of a suction table with a humidification chamber. Wootton and a team of two students recently used the table to humidify and flatten over 150 World War II posters so they could be used in history classes.
Jim '63 and Susan Vinson have donated valuable and rare books from their own collection in need of repair, providing Wootton and her apprentices with new subject matter — such as an early edition of Gray's Anatomy with stained pages and a broken binding. "It was a special book, but it couldn't be handled or displayed in the condition it was in," recounted Wootton. "Students disbound it, every page was washed, and the entire book was resewn. It was then rebound into its original covers for our community to be able to use and enjoy."
Lauren Ashley Bradford '18, current Barbara Holley intern, worked alongside Wootton for four years and praised Wootton's guidance. She also paid tribute to the many donors who have supported the conservation program. "I am beyond thankfulfor the contributions of donors to Special Collections. They have allowed me to develop my interests, shape my future, and give back to the community that gave me so much as a student."