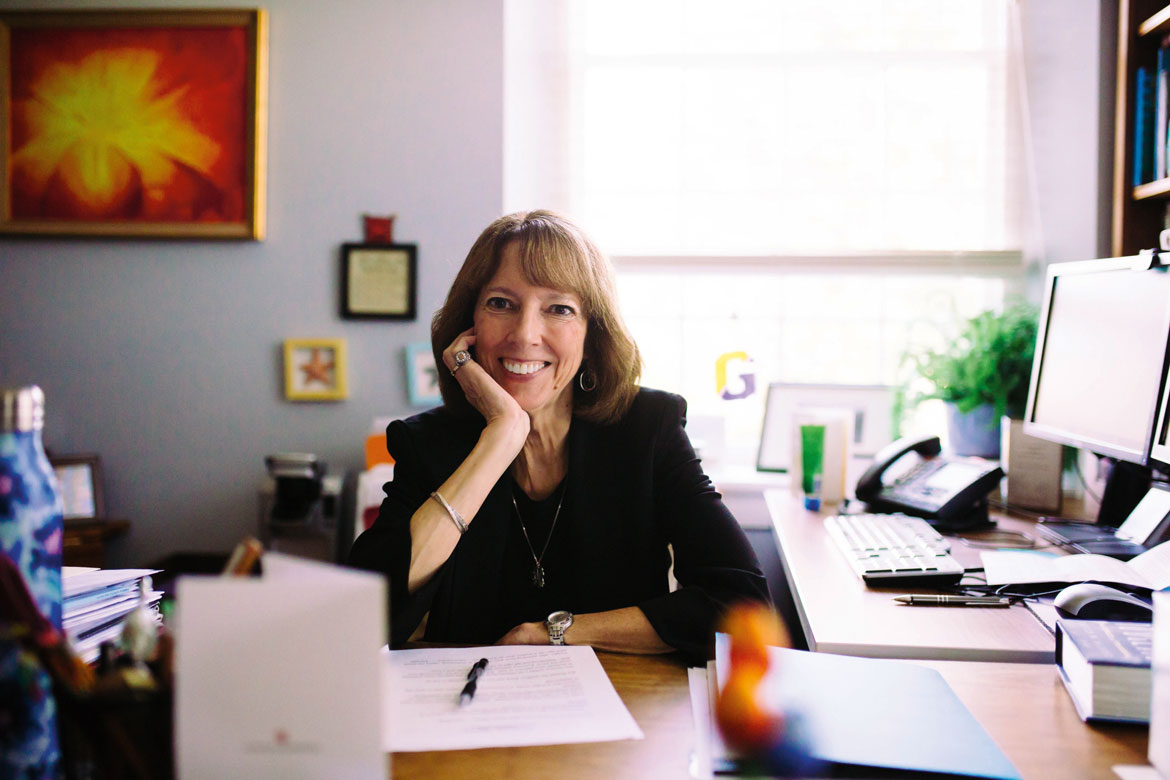 After dedicating more than 40 years to Gettysburg College— as a student, professor, presidential assistant, provost, and ultimately as our 14th president—Janet Morgan Riggs '77 retires in June.
Throughout her illustrious career, Riggs has led not from the front, nor from behind, but rather from within—personifying the values of the community she serves and the College she loves.
Janet Morgan Riggs '77 never imagined she would be here, standing atop the portico of Pennsylvania Hall as president of her beloved alma mater. She walks to the podium, takes a breath, and looks at the faces, expectant, in front of her. She was there once, a young graduate at Commencement. Riggs feels the weight of the occasion—her nerves.
"This feeling...it's how you know you care," she said, recalling advice from Psychology Prof. Sam Mudd. "I remember talking to him every day before I went into class. I was always so nervous."
Mudd offered Riggs her first professional position at Gettysburg College as a faculty member in the psychology department. She was writing her dissertation at the time, completing her PhD in social psychology at Princeton University. "He'd call me Morgan. He'd say, 'Morgan, that's a good sign. It means you care. It means you want to do your best for these kids. You should always feel nervous.' I never forgot that."
Peering beyond her notes to all those gathered, Riggs's nerves are overcome by her pride in Gettysburg. "There are so few places in the world like Gettysburg College," said Riggs, who applied early decision following a rainy campus visit in the fall of 1972. "I have met so many wonderful people and made so many good friends here. It's our people that make this community so special."
---
Gettysburgians have always bonded over their shared belief in the College, particularly in times of adversity. Shortly after her appointment as interim president in 2008, and then president, Riggs experienced this bond firsthand when the nation spiraled into the worst economic crisis since the Great Depression.
The endowment plummeted, interest rates disappeared, and the financial need of Gettysburg students reached unprecedented levels. But Riggs never wavered.
"Janet's careful attention to financial matters in her early presidency enabled Gettysburg to avoid financial missteps and continue to grow as one of America's premier liberal arts institutions," said Trustee Jim Chemel '71, who served as chair of the Board of Trustees from 2013 to 2018 and partnered with Riggs to help raise more than $160 million through Gettysburg Great: The Campaign for Our College.
"Janet loves her alma mater. It pervades her commitment, optimistic attitude, and the effort she has put forward to make Gettysburg a significantly better institution during her tenure as president."
I have met so many wonderful people and made so many good friends here. It's our people that make this community so special."
David Brennan '75, P'00, current chair of the Board of Trustees, added, "Gettysburg College is in a much stronger position today than when Janet took over, and that is a direct result of her vision and steadfast leadership."
Accountable for navigating the College through chaotic financial waters, another president may have leaned on his or her title or decreed a new direction for the institution. But Riggs was never a top-down leader. Instead, she believed in engaging Gettysburgians in dialogue. She embraced the role of facilitator— fostering good thinking and inspiring innovative solutions among her senior team and College constituents alike.
In doing so, Riggs not only galvanized a community driven for greatness, but she also united Gettysburg College from the inside out.
"The best leaders are those who make you believe that greatness is attainable—and Janet is certainly one of those leaders," said Barbara Fritze, vice president for enrollment and educational services.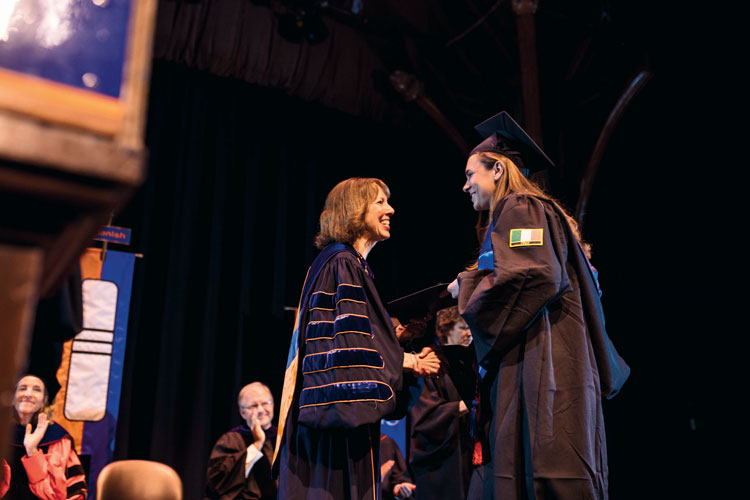 "Every goal we set as a College was accomplished collectively. I think that's exactly the kind of leader that Janet set out to be. She brings people together. She empowers you and supports you, and helps others to realize that their efforts make a difference to Gettysburg's success. It's really quite remarkable."
Under Riggs's leadership, Gettysburg College expanded its faculty, enhanced its commitment to inclusion and internationalization, bolstered its admissions recruitment and alumni network, launched marquee campus programs such as the Garthwait Leadership Center and the expansion of The Eisenhower Institute, and improved its campus grounds and facilities, most notably through the construction of the Jaeger Center and Fourjay Welcome Center, in addition to renovations to the College Union Building, Science Center, and Glatfelter and McCreary halls.
While generations of alumni will remember Riggs's presidency by all that Gettysburg achieved over the last decade, it is how she treated others that will forever define her legacy—always with dignity, respect, and kindness.
"I think some people may view kindness as overrated, but I would never say that. I think there is great value in instilling a culture of kindness. That doesn't mean we don't set high expectations. But every person should know his or her contributions matter," Riggs said.
"When I started as president, I was advised to develop a thick skin. But that's not who I am or who I want to be. To me, this is all personal. That's the kind of community we are. We are Gettysburgians. We're all connected to one another, and what we do here matters."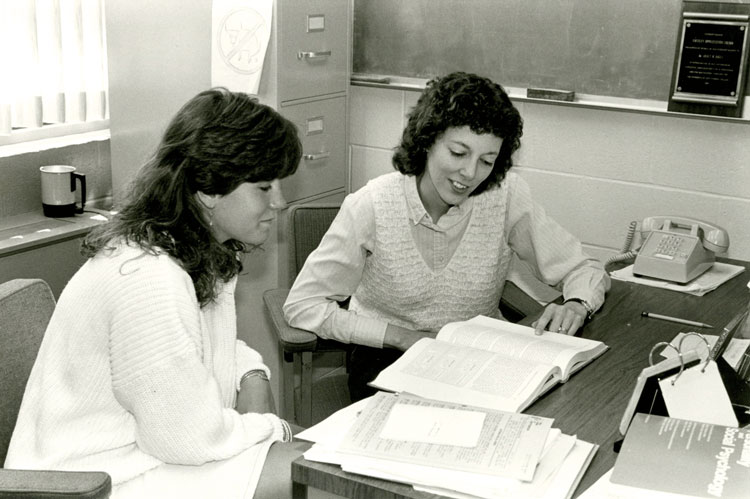 It would have been easy to overlook Riggs as a student. Quiet and unassuming, she sat camouflaged among her peers, often in the middle row of her Gettysburg classes.
During her first semester, Riggs completed an introductory psychology class with Prof. Thane Pittman. As a mathematics major, she initially bemoaned having to take the required course; however, it would turn out to be the class where she discovered her new academic passion and met the mentor who would ultimately change her life.
"I rarely spoke up in his class, but I was doing pretty well," she said. "One day, Thane pulled me aside and he said, 'Janet, I think you ought to take another psychology class.' That's all it took. It's that simple— somebody expressing confidence in you, encouraging you to take the next step and stretch yourself."
Mentorship, as Riggs internalized that day, can take many forms—from offering personal guidance and encouragement to challenging an individual to forfeit his or her fears and venture beyond what's known.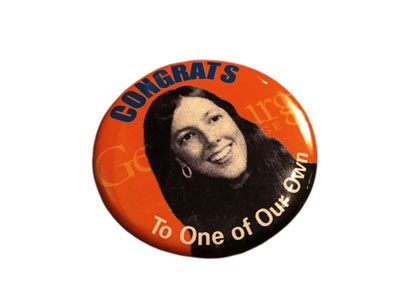 The education we offer is personal. When a faculty member is willing to sit down with you and offer you support and reassurance, that makes all the difference. I know it made all the difference for me."
Over the next three years, Riggs kept up with the math but poured herself into social psychology. She added psychology as a second major and later served as Pittman's research assistant, gaining valuable insights into human interactions and social behavior.
"In the psychology department, all of the faculty were interested in engaging students. Thane was my primary mentor, but Bob D'Agostino and Sam Mudd—those three took a lot of personal interest in me. But it wasn't just me. That's the thing. This is what our facultyn and staff do here at Gettysburg College. They engage students, and they push them to excel," said Riggs, citing the increase of student-faculty research offerings during her presidency, including the creation of the Kolbe Summer Fellows Program, the Cross-Disciplinary Institute (X-SIG), and other notable programs.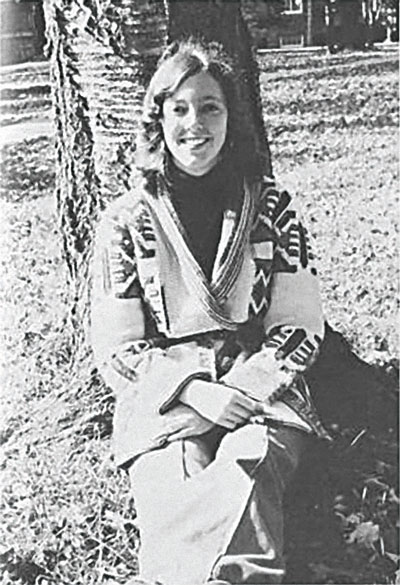 "The education we offer is personal. When a faculty member is willing to sit down with you and offer you support and reassurance, that makes all the difference. I know it made all the difference for me."
As a Gettysburg professor, Riggs's door was always open. She chose to teach in a liberal arts setting specifically for this opportunity—to spur genuine relationships with her students, to energize them about learning, and to bestow the same level of confidence she received from her own mentors.
"Dr. Riggs was inspiring inside and outside of the classroom, and her passion was contagious," said Tracy Brundage '92, now president of Keystone College. "She had an impact on my early career choices, and she continues to serve as a role model for me today."
"I will forever hold Prof. Riggs in my heart," added Abigail Levrini '02, a research and teaching assistant during Riggs's tenure as chair of the department, and founder of Psych Ed Connections, a psychological and educational practice committed to helping clients realize their life goals. "She made McCreary Hall feel like a family home. I feel eternally grateful to her every day of my career as a psychologist."
Riggs's influence also resonated with her faculty colleagues.
"Janet held her students to high standards, but she believed in them and supported them as they rose to those standards. I was always impressed by her warmth and sense of humor, and most of all by her keen intelligence," said Psychology Prof. Kathleen Cain.
While Riggs exhibited excellence in teaching, research, and governance, what endeared her to her fellow professors was how she prioritized others. She wasn't simply a colleague. She was a friend.
"When I was still a graduate student and had just accepted a position as a faculty member at Gettysburg College, Janet sent me a handwritten card," Cain recalled. "In the card, she personally welcomed me to the department and also recommended a student, Cathy Allen '91, as my research assistant, who proved to be outstanding. That combination of reaching out with welcome and offering excellent practical advice reflected Janet's larger presence in the department. She took time to make people feel valued and tried to open paths for success to students and other faculty."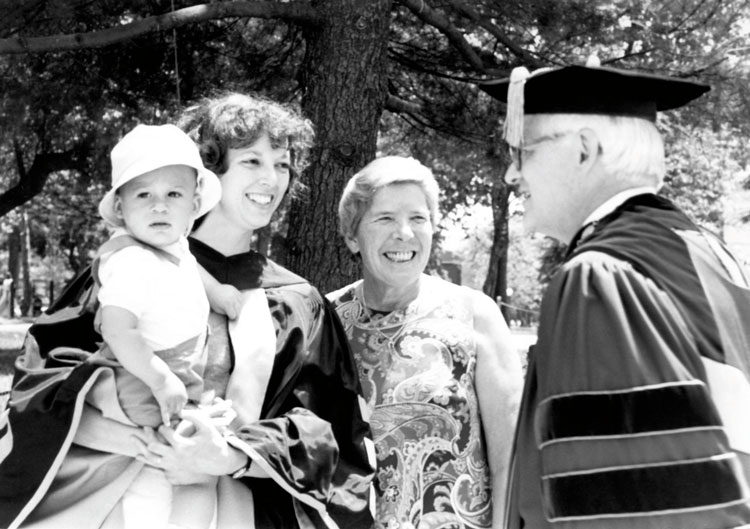 Forging these paths for success, however, at times meant confronting longstanding, systemic barriers.
During her four years as a Gettysburg student, Riggs took 35 courses and had only three female professors—a literature adjunct, a lab instructor, and a psychology sabbatical replacement. When she returned as a faculty member in 1981, very little had changed.
"There was a sense of really needing to support one another," said Riggs, who joined Profs. Grace Kenney, Trudy Gobbel, Mary Margaret Stewart, and other female colleagues at regularly scheduled women's dinners.
"These relationships were very important to me, and as I advanced in my career, I wanted to be a role model for other women faculty too. In those days, it was particularly challenging for those of us who had families. There was no maternity leave, so I took a semester off each time I had my children, but it was with no pay. Those were very different times, but I always felt passionate about doing what I could to advocate for the women of Gettysburg."
As a frequent female representative of the natural science division on campus committees, Riggs earned a reputation for her problem-solving abilities, as well as her integrity, and she soon garnered the attention of President Emeritus Gordon Haaland, who requested that she serve as his presidential assistant.
From 1991 to 1994, she devoted herself to the position—learning the College's inner workings and, after gaining the full trust of Haaland, leading initiatives to tackle inequities she saw within the Gettysburg experience.
Once a quiet undergrad and nervous new teacher, Riggs had now found her voice—a voice that spoke courageously on behalf of a community that counted on her.
She helped to establish a College daycare center by orchestrating an agreement between the Gettysburg Child Care Corporation, the YWCA, Gettysburg College, and facility landlords. The deal was a small yet meaningful step toward providing balance in the lives of College employees, particularly mothers.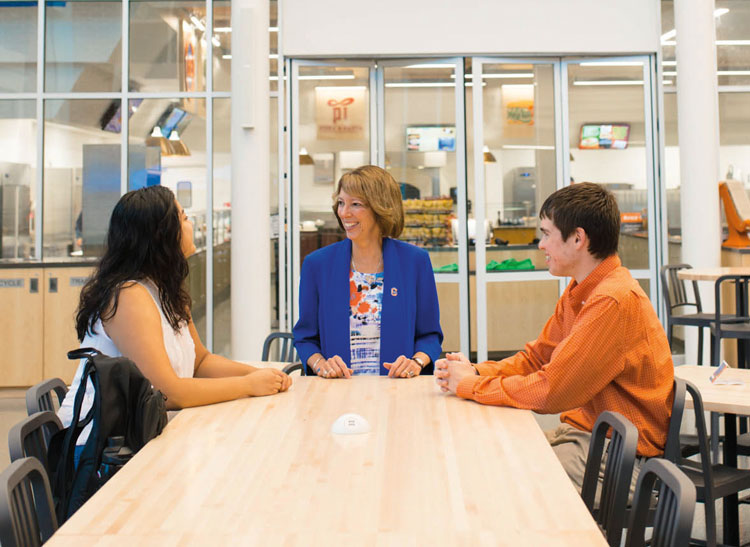 In addition, as a champion of marginalized groups on campus, Riggs was instrumental in persuading the Board of Trustees to change the College's equal opportunity statement to protect Gettysburgians from discrimination based on sexual orientation.
"There were a number of faculty who came to speak with me about this," said Riggs, who was emboldened by Haaland to serve a one-year term as interim provost in 1995. She returned to this interim role in 2006 and, following a national search, was appointed to provost the following year. "The efforts of many of us led to the passage of a new statement. Amazingly, this was somewhat controversial at the time. It did not feel like a landmark event to me. It just felt like the right thing to do."
In the spring of 2008, Trustee Emeritus Jim Weaver '64, the chair of the Board of Trustees (2006–2010), requested that Riggs, then College provost, meet him at Baker's Diner, a modest eatery off Route 15, for a confidential meeting. She was mystified.
"I ordered a grilled cheese and took one bite," Riggs recollected, "then he told me what he wanted to talk about." Weaver asked Riggs if she would assume the role of interim president of Gettysburg College.
"I never got back to the sandwich," she joked.
To no surprise of Weaver, Riggs spent the remainder of the meal trying to generate a list of worthier candidates for him to consider. But Weaver, like her mentors prior, reaffirmed his belief in her. Riggs was the right person for the job.
Flattered and humbled, she accepted the position, and soon, the entire Gettysburg community was rallying behind her. Riggs's message to campus was from the heart, and a lifetime in the making—We have what it takes to be great.
While the national search for Gettysburg's 14th president enticed a host of extraordinary candidates the Board of Trustees—in a defining moment in Gettysburg's history—determined that the institution needed a personal touch. It needed a leader from within.
For the first time, an alumna was charged with propelling Gettysburg College into the future: Janet Morgan Riggs—JMR.
"You know you've reached legendary status at Gettysburg when you get your own acronym," said BOLD Council Vice Chair Sarah Cardwell '15 of Riggs's iconic campus nickname.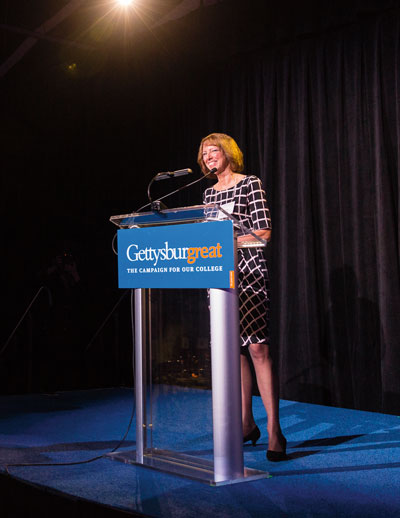 When I started as president, I was advised to develop a thick skin. But that's not who I am or who I want to be. To me, this is all personal. That's the kind of community we are. We are Gettysburgians. We're all connected to one another, and what we do here matters."
"Whether she was serving turkey to hungry students during Servo's Thanksgiving Dinner or opening her home to congratulate Dean's List students, President Riggs was exemplary in her leadership and the sense of community she forged during her presidency."
Rick Hale '18 agreed. As a graduating senior last May, he presented Riggs with his traditional Stole of Gratitude—an honor reserved for an individual who played a critical role in a student's success.
"She is the paragon of what Gettysburg stands for," Hale said. "Her passion for education and the student experience makes Gettysburg not only a place to Do Great Work, but also a great place to call home."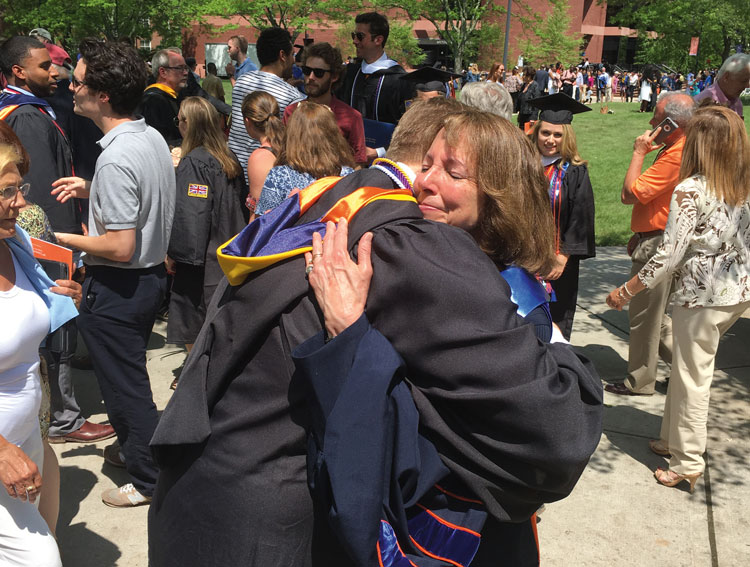 For Riggs, Gettysburg will forever be home. It's where she advanced the reputation and quality of our institution. It's where she shaped our bright future. And it's where she embodied the ideals of our mission and showed us what's possible—by being true to ourselves as Gettysburgians and leveraging the greatness within us, we can inspire positive change on our campus, in our nation, and in the world.
---
Riggs's hands clutch either end of the Commencement podium. Her rings clang. One is from her Gettysburg sweetheart, the love of her life, Ed Riggs '77. Others are from the national championships earned by the Bullets women's lacrosse team during her presidency, rings she wears with great pride.
She reflects—on friendships, on fond memories, on all that makes us Gettysburgians. Her mind turns to a humble Shakespearean phrase, one repeated often by her mother throughout her childhood.
Riggs's eyes catch her right wrist, the phrase etched on a bracelet she's worn every day since the start of her presidency: To Thine Own Self Be True.
"In the job of college president, it can be easy to lose oneself in a sense of self-importance, to get pulled in a lot of different directions, and to compromise one's values. I never wanted that to happen to me. This bracelet is a daily reminder to stay grounded and to be true to my values," said Riggs. "As a College, we must also be true to who we are. We must live our shared values. And we must always inspire our students to live those values as well."
Riggs delivers her commencement charge:
Take this education and put it to good use, in your careers and in your communities.
And as you do so, be a mentor and a friend, a uniter and a doer.
Be a leader others can count on, and a voice for those without a say.
And in a world where there are so many who are climbing over others just to reach the top, be the one who will raise others up, higher than they ever dreamed they could reach on their own.
That is what it means to be a Gettysburgian, and that is what it means to Do Great Work.
---
The Riggs Presidency at a glance
Positioned the College as a thought leader in the realm of higher education and in the community through serving in numerous roles such as:
Executive committee member and previous chair of the Association of Independent Colleges and Universities of PA (AICUP) board;
A founder, a former chair, and an executive committee member of the Pennsylvania Consortium for the Liberal Arts (PCLA);
A member of The Annapolis Group of Liberal Arts Colleges executive committee, National Association of Independent Colleges and Universities (NAICU) board, American Council on Education (ACE) commission on effective leadership, and the Campus Compact of Pennsylvania board;
Chair of the Centennial Conference Presidents Council;
Chair of the Middle States reaccreditation process for Hamilton, Skidmore, and McDaniel colleges;
A member of the Gettysburg Foundation board; and
A member of the Gilder Lehrman Lincoln Prize board.
Consistently ranked among the best liberal arts colleges in the country by U.S. News & World Report and The Princeton Review.
Recognized nationally for our alumni network, career engagement, global education, community-based learning and research, and undergraduate teaching.
Successful Middle States Accreditation review and accreditation for the Sunderman Conservatory of Music.
Inspired by President Lincoln's legacy, launched The Unfinished Work strategic plan, focused on themes of Impact, Inclusion and Internationalization, and Innovation.
Expanded the College faculty and reduced student-faculty ratio to 9:1.
Established new academic offerings, including Public History, Middle East and Islamic Studies, and Public Policy, among others.
Oversaw the merger of The Eisenhower Institute with the College and the growth in its programs and national visibility.
Raised more than $160 million through the record-setting Gettysburg Great: The Campaign for our College. Gifts from 25,132 donors supported student scholarships, faculty support, global initiatives, engaged learning opportunities, and annual giving.
The endowment experienced a net growth of approximately $112 million—or 57 percent— from its low point of $198 million in May 2009 following the Great Recession. Today, thanks to the support of many, our endowment is valued at over $310 million.
Transformed campus grounds and facilities, including construction of the Jaeger Center for Athletics, Recreation, and Fitness; Fourjay Welcome Center; and the Lincoln statue. Renovated the College Union Building, Science Center, Glatfelter and McCreary halls, and the Economics and Africana Studies building
Philanthropic support totaled more than $210 million, including more than $103 million in gifts and commitments to the College's endowment.
Emphasized the importance of a diverse and inclusive learning and working environment; hired the College's first Chief Diversity Officer; and increased the percentage of international students and students of color from 11 percent in 2008 to 23.5 percent in 2018.
Renewed focus on the vibrant multicultural and religious and spiritual communities through the creation of the Mosaic House in conjunction with the Office of Multicultural Engagement's new home and a redesigned space for the Office of Religious and Spiritual Life.
Introduced forward-thinking enrollment strategies amid shifting high school demographics, while bolstering merit and need-based aid for students.
Increased undergraduate research opportunities through the creation of the Kolbe Summer Fellows Program, STEM Scholars Program, and Cross-Disciplinary Institute at Gettysburg College (X-SIG).
Launched marquee cocurricular programs, such as the Garthwait Leadership Center, Pohanka Internship Program, and the Entrepreneurship and Social Innovation Initiative (E-SII), among many others.
Gettysburg athletic teams claimed 31 Centennial Conference championships, making Gettysburg the first institution in the conference to reach 100 championships.
Women's lacrosse teams earned NCAA Division III championships in 2011, 2017, and 2018.
You do not spark change by wishing it upon the world. You ignite it by giving fully of yourself to something greater—and by inspiring others to do the same."