Who could have imagined that an extraordinarily significant jazz event would occur at Gettysburg College in 1966? By the early 1960s, the decline of jazz as America's most popular music for college-age students had been going on for some fifteen years. Moreover, the overwhelming allure of rock and roll was reaching new heights fueled by the "British Invasion" of bands like the Rolling Stones and The Beatles. One need look no further than Gettysburg College where rock, pop, and soul acts performing in the mid 1960s included The Four Seasons, Mitch Ryder and the Detroit Wheels, the Isley Brothers, Vanilla Fudge, and The Buckinghams. From all accounts, it appeared that jazz would not be a major part of the future musical landscape on campus.
Campus Jazz Chronicles
The college has benefited from a rich history of jazz that served as an integral part of student cultural life for over 100 years. Music conservatory benefactor and 1918 alumnus Dr. F. William Sunderman, Sr. (1898-2003) reminded me on many occasions that in 1916 he organized and directed the Sunderman Jazzarinas, the very first jazz combo on campus. Bill's 1998 autobiography A Time to Remember makes mention of his group and its numerous performances in Adams County. A framed picture of the Jazzarinas still resides in Schmucker Hall.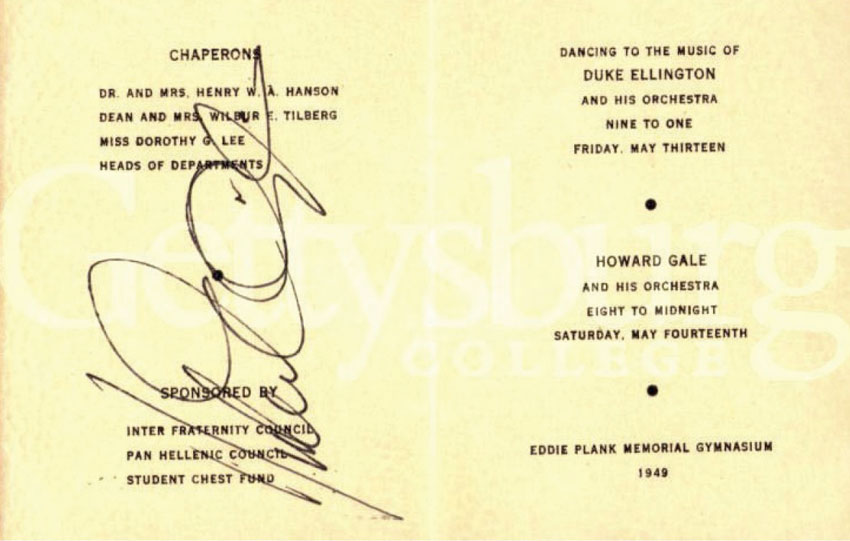 Big bands were frequently booked for Interfraternity Council dances, soph-frosh hops, all-school dances, and military balls during the pre and post-World War II era. World renowned bands performing in Plank Gymnasium between 1949-1958 included ensembles directed by Duke Ellington, Louis Prima, Les Elgart, Count Basie, and Claude Thornhill as well as a plethora of regional jazz bands. Of special note is the Musselman Library Special Collections delightful boxed sets of college women's dance cards in the form of elaborate tiny souvenir booklets arranged chronologically from 1882 to 1949. These chaperoned dances were all the rage as young ladies found dance cards invaluable to avoid scheduling two boys for the same dance! My 17-member big band rekindled the tradition of all-school ballroom dances in 1998 - albeit on a smaller scale and sans dance cards - playing for the annual Swing Dance in October and the Snowball in February.
1966 Awareness Week Presenters and Events
While reading a front-page reprint of the March 21, 1966 Gettysburg Times, I was startled to find a brief article "4 Top Names in Jazz Field to Perform Here" as part of an Awareness Week symposium. Awareness Week was a relatively new phenomena at the college that focused on specific issues of the day. In recent years it has been expanded into month-long events such as the Eid Festival and Hispanic Heritage Month.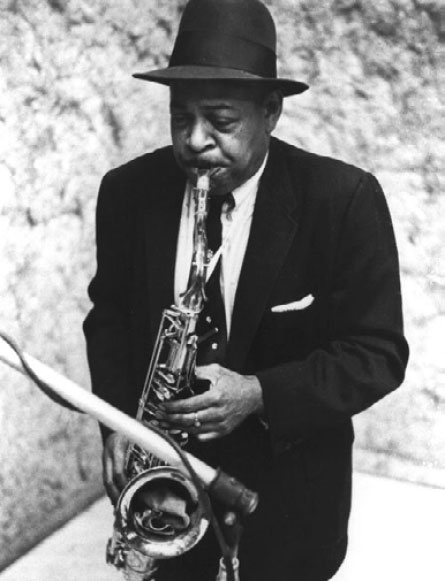 Awareness Week in 1966 took place on March 23, 24 & 25 focusing exclusively on jazz and featuring four titans in the field – Coleman Hawkins, Martin Williams, Billy Taylor, and John Gensel. Each was an internationally recognized expert in the respective areas of jazz performance, history and criticism, education, and sacred music. Coleman Hawkins (1904-1969) was the most influential early jazz tenor saxophonist in the world. From 1924-1934 he performed with the famed Fletcher Henderson Orchestra in NYC and assimilated the emotive style of fellow bandmate, the incomparable Louis Armstrong. Hawkins' ability to improvise through complex harmonic chord progressions was legendary as was his aptitude for balancing intellectual and emotional nuance in his playing. Hawk's brilliant solo in 1939 on Body and Soul is revered by musicians and aficionados alike for its sheer beauty and technical finesse.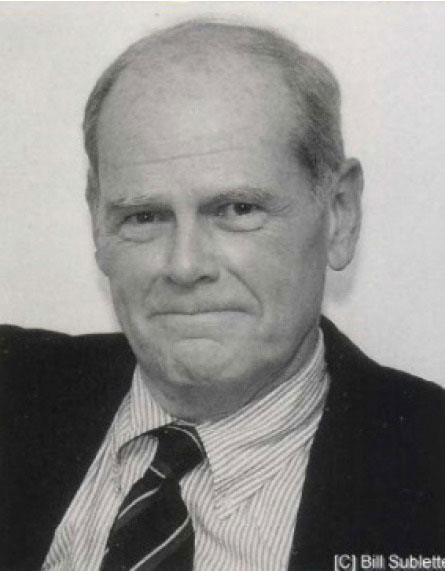 Historian and scholar Martin Williams (1924-1992), arguably the preeminent jazz critic of his time, was unabashedly proud of the cultural achievement in America during the 20th century and he took every opportunity to rally support for his convictions. Williams won a Grammy for his Smithsonian Collection of Big Band Jazz liner notes and published numerous books of critical essays he penned for the New York Times and Village Voice. He treated jazz as an art form equal to classical music and his commentary on the current trends in field went far beyond the anecdotal. Williams had enormous respect for Coleman Hawkins and I would surmise he enjoyed his time with him sharing stories. He often referred to him as "the phoenix of jazz saxophone."
Pianist Billy Taylor (1921-2010) performed with jazz luminaries such as Artie Shaw and Dizzy Gillespie in the 1940s while employed as the house keyboard player at Birdland in midtown Manhattan. However, his most valued legacy is as an unrelenting advocate of jazz education. Dr. Taylor was an erudite musician who was as comfortable on radio and television as he was on stage with his trio. He was also Artistic Director for Jazz at the JFK Center for the Performing Arts in Washington and published articles and books reinforcing the value of educating our youth about the importance of jazz. I remember showing his early jazz videos to my eighth-grade general music classes in the early 1970s. Billy possessed a seemingly effortless ability to make the most complex topics understandable by youngsters.
The Rev. John Garcia Gensel (1917-1998) was a 1943 graduate of the Lutheran Theological Seminary in Gettysburg and is recognized as the founder of jazz vespers services in New York City. A Puerto Rican native, Gensel moved as a child to live with an aunt in rural Catawissa, PA and ultimately served as pastor to jazz musicians for almost thirty years at St. Peters Church in Manhattan. His vespers services at St. Peters included impromptu jam sessions, scripture readings, prayer, and storytelling. Duke Ellington dedicated a section of his 1968 Second Sacred Concerto to Gensel titled "He is the shepherd who watches over the night flock." A 1975 black and white film of the same name is a touching tribute to a kind and gentle man who spiritually supported so many jazz musicians and their families.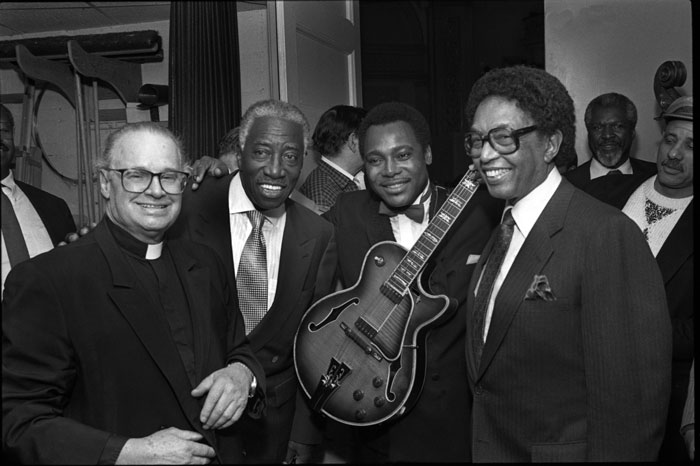 Those three days in 1966 would have been a dazzling experience for students, faculty, and townspeople who attended lectures, workshops, and concerts. Martin Williams opened with an 8:00 p.m. lecture on March 23rd based on his seminal book Where's the Melody: A Listener's Introduction to Jazz. On March 24th at 3:00 p.m., John Gensel and the Billy Taylor Trio offered concurrent sessions about the use of jazz in worship services (Gensel) and how musicians interact on stage as they share improvised ideas in performance (Taylor). John Vannorsdall, College Chaplain from 1962-1976, was universally respected on campus. As a fellow Gettysburg LTS graduate with Rev. Gensel in the 1940s, Vannorsdall was a likely catalyst for bringing Gensel to speak at the symposium. Because music majors were required to attend, Ted Gilbert '67 and Pete Riley '69 were both in attendance for the Billy Taylor workshop. Ted reminisced about how well Dr. Taylor described form, structure, and improvisation during the workshop. The Billy Taylo Trio then performed a concert of original works and jazz standards that evening at 8:00 p.m.
The capstone event happened on March 25th in the College Union Ballroom when Coleman Hawkins and his bandmates took the stage. When I arrived at Gettysburg in 1989, I had an interesting conversation with Norman Annis (1931-2018). Norm was an art history professor, sculptor of the Eisenhower Statue in 1970, and a member of the Performing Arts Committee that developed the jazz awareness concept with Student Senate. I found Norm to be great storyteller as he described picking up Coleman Hawkins at the Harrisburg Amtrak station the day of the concert. Apparently, Coleman was "in his cups" and it took some time for him to return to a sober state. However, when he stepped onto the CUB stage at 8:00 pm that evening, a fabulous concert was enjoyed by the audience. Norm Annis was clearly a serious jazz fan and recognized the inherent value of introducing the saxophone icon to the college and Adams County community.
Beyond 1966
By 1968, a jazz ensemble comprised of college students was now a recognized performing musical group on campus. The next twenty years saw a resurgence of major jazz acts perform in the CUB such as the Paul Winter Consort (1969), Preservation Hall Jazz Band (1972), Duke Ellington Orchestra (1979), Smithsonian Jazz Repertory Orchestra (1981), and the Dizzy Gillespie Quintet (1986). The college jazz ensemble was reborn in 1989 after a five-year hiatus and during the next quarter century toured Europe six times presenting concerts at international jazz festivals in Turkey, Switzerland, The Netherlands, Italy, and France as well as in Amsterdam, Paris, Lyon, Heidelberg, and Athens. Notable jazz artists who have been featured with the jazz ensemble since 2000 include Paquito D'Rivera, Chris Brubeck, Lew Soloff, Carmen Bradford, Denis DiBlasio, Delfeayo Marsalis, and Donald Vega. Moreover, a passel of legendary jazz musicians brought their own bands to Gettysburg including Dave Brubeck, Ahmad Jamal, Maynard Ferguson, Eddie Palmieri, and John Pizzarelli.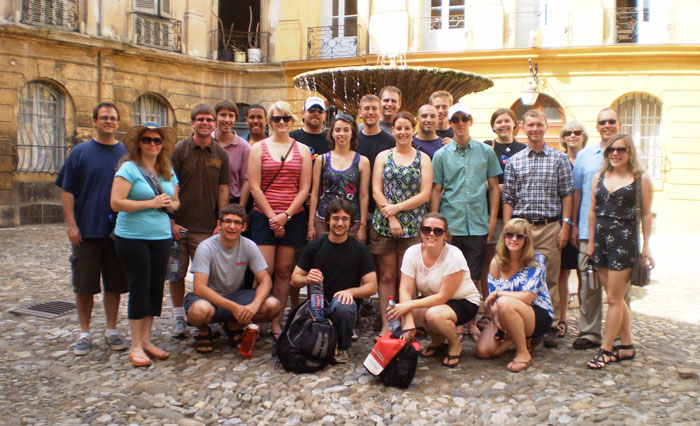 The Department of Music - until 2003 when it was melded into the conservatory - and the Sunderman Conservatory of Music's support of America's indigenous music has been impressive. Both helped in cultivating a summer jazz camp for eight years in the 2000s and along with generous alumni assisted students with financial aid for summer music tours. Curricular needs have been met with a combo, big band, improvisation lessons, jazz history and arranging courses, and a First Year Seminar that focuses on jazz. Of special note is a student-led Jazz Appreciation Society that was founded in 1994 and will celebrate its 25th anniversary during the 2019-2020 academic year.
Musical tastes of young adults were changing rapidly during the 1960s. Big band dances of an earlier time were being supplanted by rock and folk concerts thus making the 1966 jazz gathering that much more remarkable for its intensity and foresight. It provided a window in the creative and collaborative world of jazz musicians, helped students to appreciate the basic tenets of how a listener could view jazz and classical music as equals, and to hear about how the vitality of jazz can bring joy to a sacred service. This watershed symposium was a true liberal arts experience at a small regional college 53 years ago. Bravo to the faculty and students who collaborated on this signature project.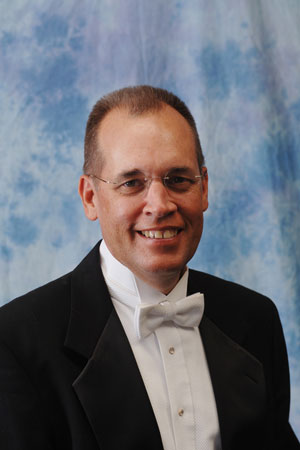 John William (Buzz) Jones P'03 was a teacher of jazz history and theory at Gettysburg College from 1989-2017 and directed the jazz ensemble for 26 years. At various times during his career he served as director of bands, music department chair, and conservatory director. In 2019, he was inducted into the Pennsylvania Music Educators Association Hall of Fame.