For 14 years, newly enrolled Gettysburg College students have processed to the Soldiers' National Cemetery during the First-Year Walk. Last September they were greeted by Chris Gwinn '06, who recited the Gettysburg Address and made his own brief remarks, excerpted here.
The genius of the Gettysburg Address is in its brevity and in its ability to transcend time. Lincoln spoke for roughly two minutes. He said only 272 words. He didn't mention a single individual by name. He mentioned no particular place, other than "a great battle field." The only date alluded to—"four score and seven years ago"—is 1776, the year of the founding of our country.
Lincoln could have been speaking of any moment, anytime, or any place where the struggle to live up to our founding ideals was being waged. That when we say, "a nation conceived in Liberty and dedicated to the proposition that all men are created equal," we mean it.
The struggle to achieve this is the great task that Lincoln speaks of. Americans gathered in this cemetery in 1863 knew that task was victory in the Civil War, the destruction of the rebellion, the preservation of the Union and the eradication of slavery.
But ultimately, every generation of Americans has the obligation to define that great task for their own time. And in the past 153 years the words of Lincoln's Gettysburg Address have been invoked in times of national crisis and challenge.
And this is what the Gettysburg Address charges us to do. It is an active document, not a passive one. It requires something of us, it challenges us, it charges us. There is for us, as Americans, "a great task remaining before us." We must define it and go about achieving it.
You'll notice, as you make your way around the campus, the words "Do Great Work." And, yet, nowhere is it defined.
Like Lincoln's great task, "Do Great Work" is left for you to interpret and define. Of course, it certainly implies that you will do great academic work. That you'll study rigorously, apply yourself, and in all that you do, be a great student.
But I will take this opportunity to remind you that your work doesn't end when you leave the classroom. That it takes work to live greatly. To take, from the next four years, every opportunity you can. To extract from this place, and your time here, all you can. To live deliberately and boldly.
Wherever you go at Gettysburg you are surrounded by history. By going to school here, you become a part of that history. You are afforded the opportunity to contribute to it. I challenge you to find your great task, define what your great work will be, and in all that you do, to live greatly.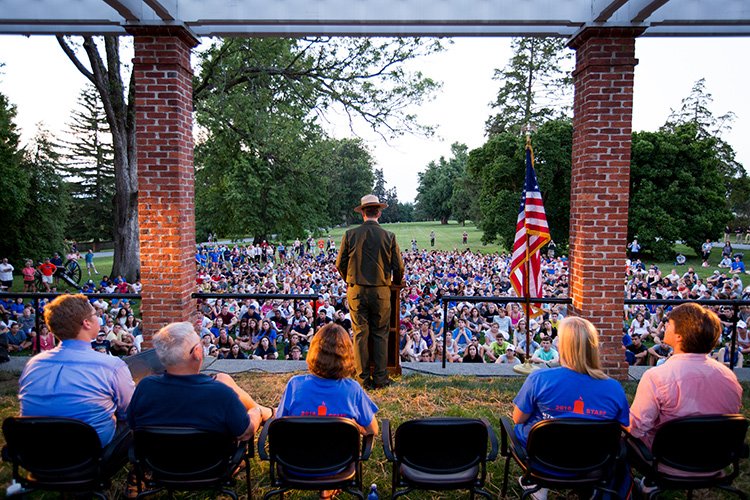 Christopher Gwinn '06 is supervisory historian for interpretation and education at Gettysburg National Military Park.