Rev. John H. Thomas '72, in response to the spring issue's cover story on memories of the Vietnam era, was concerned that focusing almost entirely on Gettysburgians who lost their lives in the conflict, while highly significant, obscured the larger picture of the War's impact on the College, which included intense classroom and dorm debate, anti-war protests, and student activism. "As the father of an Army veteran who is also a Gettysburg alum, I am grateful that the sacrifices of classmates are now memorialized. But let's also remember other heros like Rev. Dr. John Vannorsdall '72 who helped us face the urgent moral questions the War posed and reminded us that service to our country also includes the witness of the conscientious objector and the voice of principled dissent."
Bill Bock '66 emailed writer Kasey Varner '14 his thanks: "I…liked how you linked and brought together disparate elements of the entire story—complex memories indeed. On a personal note, I went down to the Wall at 'oh dark thirty' on Memorial Day to spend a few moments with my platoon leader and friend, Buck Thompson, who died in agony in a hillside near Dak To on November 19, 1967. I expected a little solitude at 3:45 in the morning and was surprised and pleased to see so many others with similar memories. It was strangely comforting."
Many thanks to Bob Schultz '57 for correcting our misspelling of Carol Traynor Williams '57 in the "In memory" pages.
On social media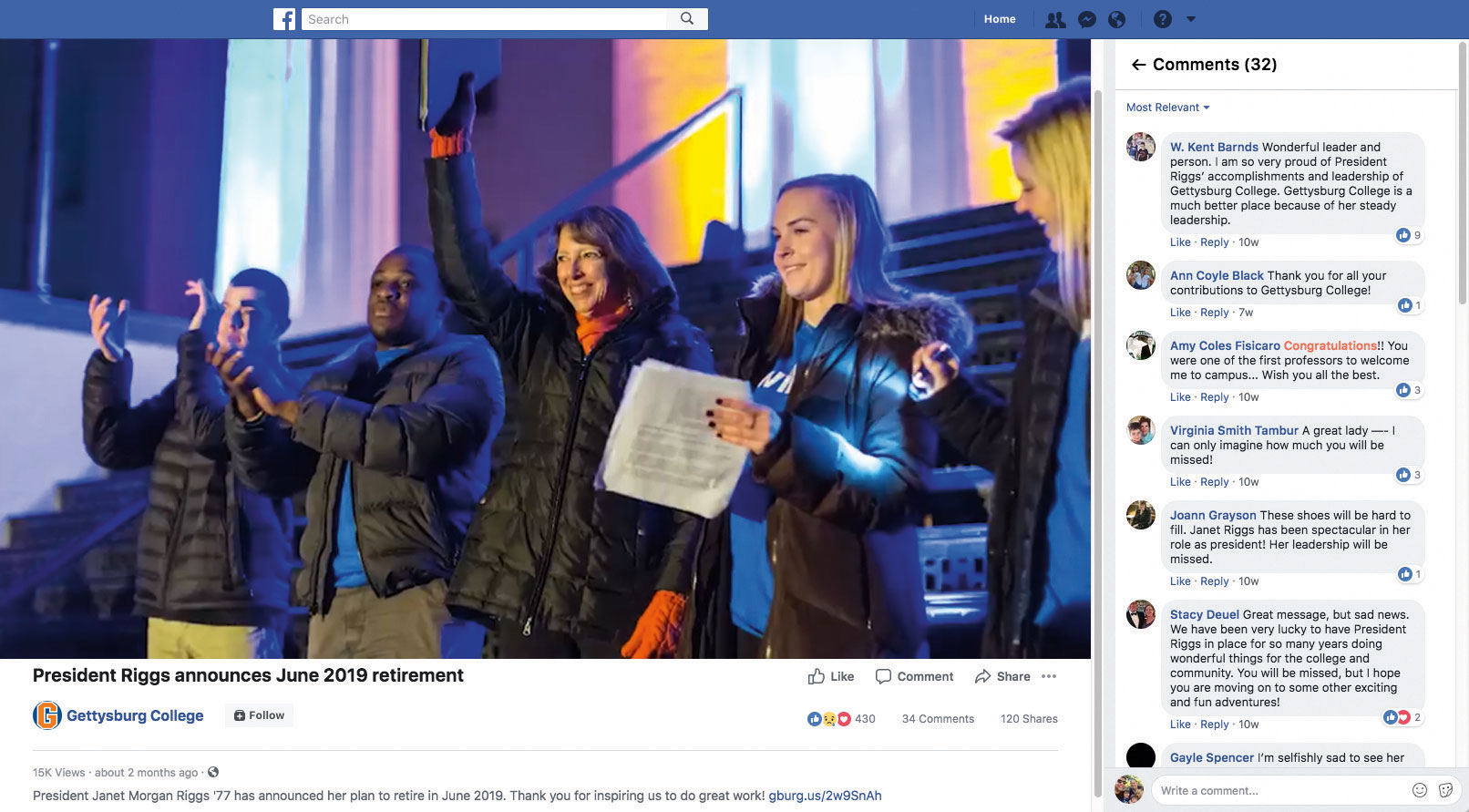 Following her retirement announcement, an outpouring of comments wished President Janet Morgan Riggs '77 well via Facebook, Twitter, and Instagram. W. Kent Barnds '92 said, "Wonderful leader and person. I am so very proud of President Riggs's accomplishments and leadership of Gettysburg College. Gettysburg College is a much better place because of her steady leadership." "Congratulations!" says Amy Coles Fisicaro '05. "You were one of the first professors to welcome me to campus. Wish you all the best." Gayle Spencer P'11 shared: "I'm selfishly sad to see her retire but grateful that my daughter was there 2007–2011 to benefit from her leadership, forward thinking, and Great Work."
The story of "8 Gettysburg classes that will change the way you think" triggered fond memories from alums. Chuck Steel '97 called out geometry with Prof. David Flesner and a lab techniques course with Prof. Donald Jameson: "It was amazing how I was able to apply lessons from the geometry class to my theological studies at Gettysburg Seminary almost 20 years later." Deidre Sepp '75: "Psych 101 with Dr. D'Agostino changed my life!" Tyler Littleton '07 said,"Any…classes I took with the incredible LEGEND of Gettysburg College, Dr. Leslie Cahoun, would count. From our exploration of the Latin language to the deep introspective examination of ancient Greek and Roman civilizations, my perspective on the modern world was fundamentally changed for the better." Clash of Cultures: Germany and Turkey; the Imagining Peace senior scholars seminar; and Electron Microscopy with Prof. Ralph Cavaliere were Abdur Rehman '13, David Moyer '88, and Corey Ehrenwerth's '98 picks. Alyson Nawossa '01 added, "One of my favorites was the philosophy of science. As a CS and math major, it was an interesting mix of topics."
Our video from Get Acquainted Day 2018 prompted the following recollections. Sue Creighton P'21 said, "I remember this day like it was yesterday. This was the event one year ago which made me realize that Tommy was going to love Gettysburg College, and I was right." Edward B. Ryder IV '77 said, "For many, if not the vast majority, it will be one of the best decisions they will ever have made. Over four decades later, the friends I made at G'burg remain, perhaps to the point of silliness, in that my old college roommate and I still talk at least every other week and we haven't been on campus together since 1977. Yes, higher education and college are expensive, but less expensive than ignorance, and the friendships and experiences undertaken at G'burg cannot be assigned a monetary price tag."
On Christina Noto's '19 reflection of studying abroad, Jessica Myers '04 commented, "This was very cool to read and reminded me of my Gettysburg experience. I graduated in 2004 after creating my own major in peace and conflict studies (at the time I had to call it The Nature of Peace and Conflict). I also attended an SIT program (in Ireland and Northern Ireland) and am so glad those are still an option at Gettysburg. I'm also so excited that this peace and justice minor exists now. Those experiences almost 20 years ago definitely shaped my life."
And in the news
Featured on C-SPAN: the Civil War Institute's summer conference. View the video archive online.
Maneesha Mukhi '03 was profiled in Fast Company for her work founding ImmiGo, a startup helping individuals and businesses find high-quality immigration attorneys in the United States.
Economics Prof. Rimvydas Baltaduonis was featured in a Q&A for The Baltic Times about his role as co-chairman of the Joint Commission of the Lithuanian Parliament and the Lithuanian World Community.
NBC News showed several Gettysburg College clips in its annual commencement video. See how many you can spot online.
Calling all creatives. Profs. Ari Isaacman-Beck (a violinist) and Taylor Brorby (a writer) recently hosted an event at Musselman Library entitled "Behind the Scenes of the Artistic Process." We're interested in hearing from alums—what inspires you to do your best creative work?
Keep reading, keep liking, keep sharing, and keep the Conversations rolling by sending alumnimagazine@gettysburg.edu your thoughts.