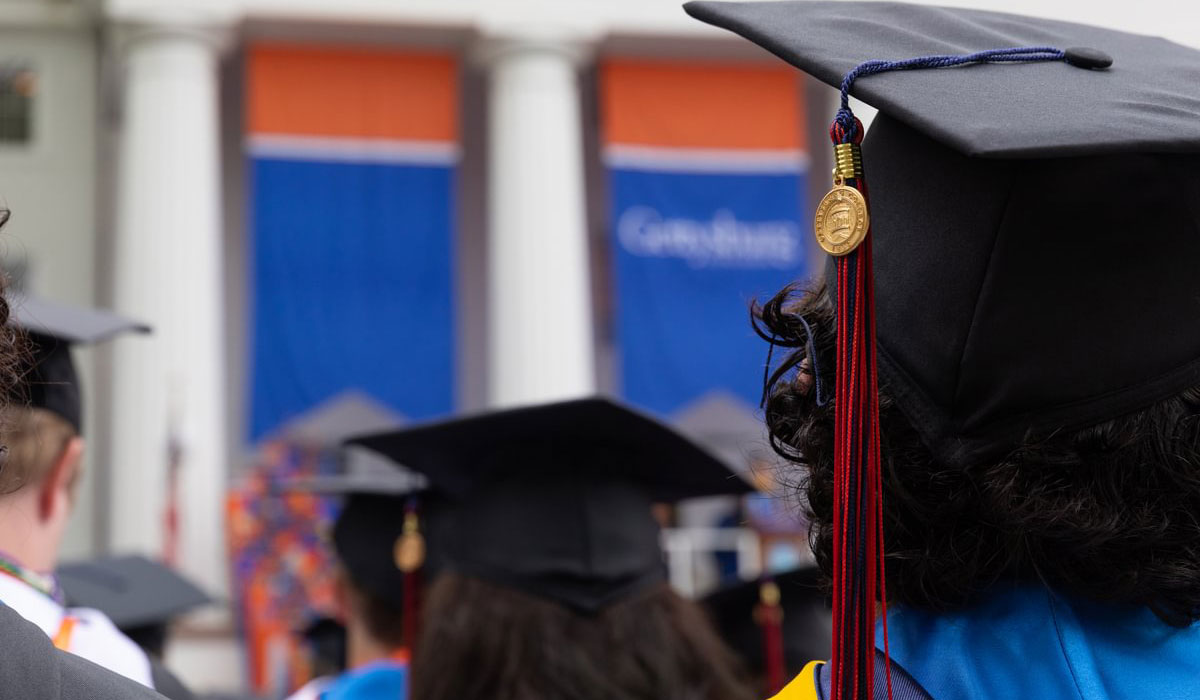 Paying it Forward
Computer science major and economics minor Wei Xiong '15 was the first recipient of the $10,000 grant through the Gettysburg College Entrepreneurial Fellowship program, and he has built a career working for Deloitte, Google, Snap Inc., and now Uber as a senior software engineer. He continues to serve as a mentor through the fellowship, continually reminding aspiring entrepreneurs about the value of a liberal arts and sciences education and the power of the Gettysburg Network.
"I know how valuable it is to get that mentorship… so I try to provide that to sudents who are in school," he said. "Those alumni connections were infinitely more valuable than the $10,000."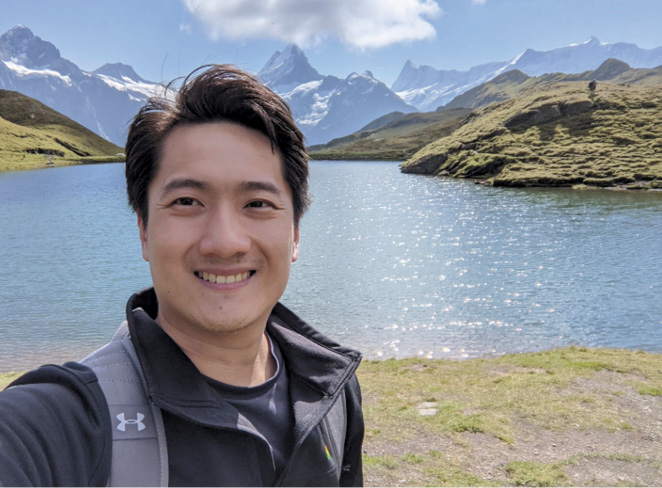 Class of 2022 Commencement
On May 14, the Class of 2022 reflected on their winding journeys of growth that led them to their Commencement day and the building blocks they assembled along the way, upon which they'll create the future as the College's newest alumni.
"Today, you emerge from Pennsylvania Hall not only as Gettysburg graduates, but as leaders and engaged citizens prepared to change the world," President Bob Iuliano said.
U.S. Congresswoman Stephanie Murphy, the 2022 Commencement speaker, also expressed a heartfelt confidence in the class to use their education in transformational ways.
"Your diploma bears a name—Gettysburg—that is central to the American story and represents what is best about the American spirit. That should make you feel proud and humbled," Murphy said. "As a Gettysburg graduate, you are now ready to Do Great Work for your community, your country, and your world."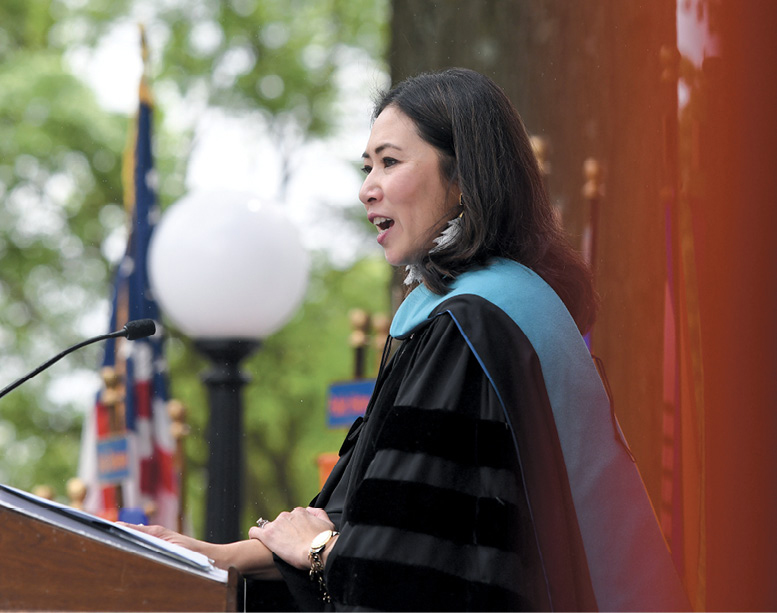 Lincoln Prize Winner
The Gilder Lehrman Institute of American History and Gettysburg College announced Caroline E. Janney, author of "Ends of War: The Unfinished Fight of Lee's Army After Appomattox," as the recipient of the 2022 Gilder Lehrman Lincoln Prize. Janney is the John L. Nau III Professor of the American Civil War and director of the John L. Nau III Center for Civil War History at the University of Virginia and was recognized on April 14 during an award ceremony held at the Harvard Club in New York City.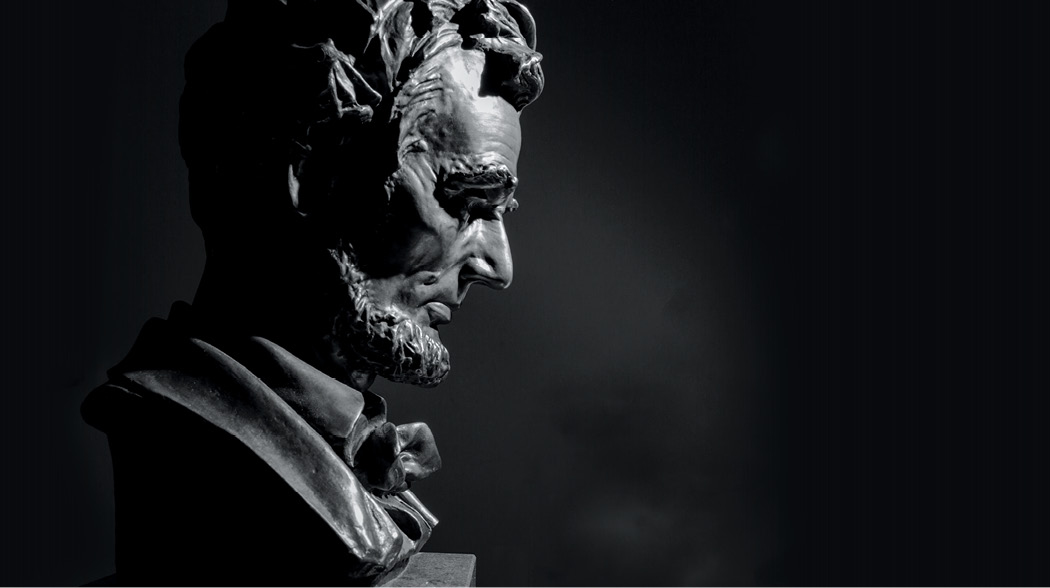 Inspiring Giving
During the 2021-2022 fund year, thousands of alumni, parents and friends generously supported Gettysburg College's exceptional student experience—uplifting current and future generations of Gettysburgians through giving. New gifts and commitments to the College totaled an impressive $21.3 million, an increase of $4 million over the previous year. Nearly 5,300 alumni, 1,990 current and past parents, and hundreds of faculty, staff, and friends contributed to this total. Thank you!
$21.3 million dollars in new gifts and commitments
Chief Diversity Officer Named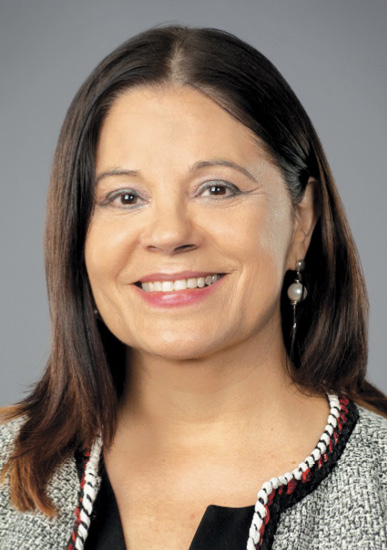 On Aug. 8, Dr. Eloísa Gordon-Mora joined the Gettysburg College community as our new chief diversity officer. Recognized as one of "35 Outstanding Women in Higher Education" by Diverse: Issues in Higher Education, Dr. Gordon-Mora is a renowned leader in diversity, equity, and inclusion (DEI) practices with a longstanding commitment to democratic civic engagement and social justice. She earned a Ph.D. in political science from the University of Notre Dame and has taught both domestically and internationally.
Most recently, Gordon-Mora served as the inaugural university diversity and inclusion officer at the University of Nevada, Reno (UNR), designing and implementing its first DEI Strategic Action Plan. She is also one of two higher education representatives from Nevada on the Northwest Commission of Colleges and Universities' Equity Council. At UNR, Gordon-Mora partnered with the university and surrounding community to organize and champion advocacy efforts, and she created educational campus programming like the "Dialogue, Equity, and Democracy" series and faculty development workshops.
Prior to UNR, Gordon-Mora was the dean of the School of Social Science, Humanities, and Communication at Universidad Ana G. Méndez and vice president for academic affairs at Universidad del Sagrado Corazón, both in San Juan, Puerto Rico. She also had stints in government affairs and with philanthropic and nonprofit organizations in New York City.
Read the full press release on Gettysburg.edu.
Math and Democracy
Gettysburg College Mathematics Prof. Beth Campbell Hetrick was named a member of Pennsylvania Governor Tom Wolf's Redistricting Advisory Council, which establishes a set of guiding principles to determine whether a map is gerrymandered or equally balanced. Campbell Hetrick's involvement in the topic began several years ago as part of a First-Year Seminar titled Mathematics of Voting: Counting the Vote and Making Your Vote Count.
Ken Burns Film Festival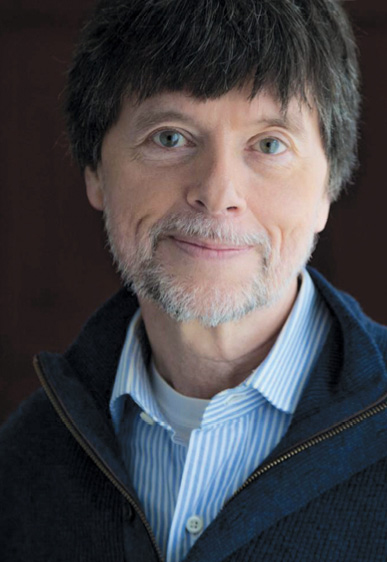 Gettysburg College will host the first-ever film festival dedicated solely to the work of award-winning documentarian Ken Burns on Feb. 10-12, 2023, at the College's Majestic Theater. Gettysburg students and the general public will personally engage with Burns, his collaborators, and historians in consequential conversations centered around a question the filmmaker has explored in each of his films on American history: Who are we? Burns will meet with Gettysburg departments and classes throughout the festival to discuss his films and how they can inform students' thinking and actions as tomorrow's leaders.
"Gettysburg is both a place of remembering and imagining," Burns said. "It is of course a burial ground for those who fought there—North and South—but it is also where President Lincoln imagined a new country, one where the values we associate with our country's founding were given new meaning. Our work tries to present the past in all of its complexity, collecting individual stories into larger narratives. I'm honored and so appreciative for this opportunity to share our films as part of this festival and to join many of my colleagues in a conversation about our art form—and our country's history."
Producing Fulbrights
At Gettysburg College, we prepare our students to be leaders in an ever-changing world, exploring new perspectives and engaging in cross-cultural dialogues. Recently recognized for our commitment to fostering this global perspective, the U.S. Department of State's Bureau of Educational and Cultural Affairs named Gettysburg a Top Producing Institution for the Fulbright U.S. Student Program, receiving one grant and submitting seven applications in 2021.
1 grant
7 applications submitted
New Online Master's Program
Gettysburg College proudly launched a new online master's program in American history this past spring, in collaboration with The Gilder Lehrman Institute of American History (GLI). Courses begin in September 2022.
Widely endorsed by the Gettysburg faculty, our new academic offering is open to all K-12 educators, district supervisors, librarians, museum professionals, and National Park Service employees who are affiliated with The GLI. The GLI has a network of 29,000 affiliated schools in all 50 states. It has delivered an M.A. in American history since 2014.
"Recognizing that more than 60,000 K-12 teachers in the United States are supported by this program—and these teachers engage with nearly 8 million students every year—our new master's program presents us with a unique opportunity to advance Gettysburg's mission and to strengthen American democracy for the better," said President Bob Iuliano.
The 30-credit degree program is fully online and fully accredited. The courses will be taught by distinguished faculty-scholars on a range of topics spanning from the Founding Era to World War II and the present day. Master's candidates are required to complete 10 three-credit courses. Tuition for the program is among the lowest of any M.A. program today at $750 per three-credit course ($7,500 for the entirety of the master's program), ensuring the College's reach extends to educators across the nation.
Registration for the Gettysburg College-Gilder Lehrman M.A. is now open. visit www.gilderlehrman.org/Gettysburg to learn more.
Sports Roundup
Women's basketball claimed another Centennial Conference (CC) crown last February, advancing to the NCAA playoffs for the fourth consecutive season and hosting the first two rounds inside Bream Gym. The success of the winter carried into the spring with women's lacrosse claiming its record 13th Centennial crown before marching all the way to the national semifinals. Men's lacrosse resumed its annual presence in the NCAA playoffs, advancing to the quarterfinals, while Holly Ferrara '24 grabbed All-America status with a fourth-place finish at the NCAA Division III Outdoor Track and Field Championships. Additionally, swimmer Oliver Pickering '22 was named the CC Scholar-Athlete of the Year across all men's sports.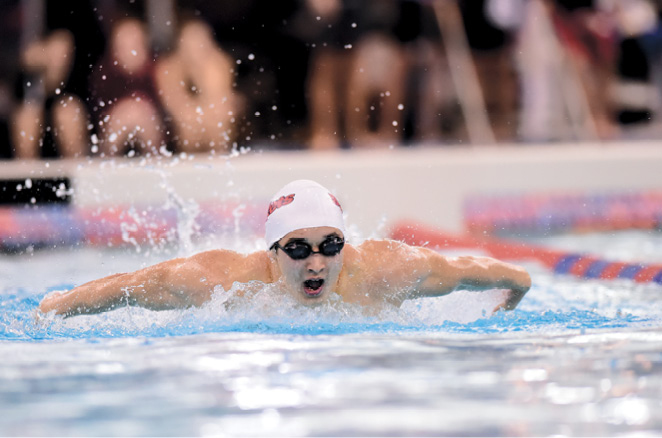 Board of Trustees Welcomes Five
Jake Asplundh '10 studied economics at Gettysburg and later earned his master's in management from Wake Forest University. A resident of Towson, Maryland, he is the founder and principal of Passive Capital Management in Baltimore. He previously served as an ex-officio Board member in his role as BOLD Council chair.
Anna Baldasarre '14 of Lancaster, Pennsylvania, is the assistant director of annual giving at Millersville University. An English major at Gettysburg, she has been a member of the BOLD Council since 2019, and serves as an ex-officio board member as the BOLD Council chair.
Chris Carr '90, P'20, P'23 of Huntingdon Valley, Pennsylvania, studied English at Gettysburg. Named a Visionary Gettysburgian in recognition of his philanthropic support, he has previously served on the Steering Committee for the Unfinished Work Campaign, the Young Alumni Committee, and the Reunion Gift Committee for his 10th reunion. He worked as a senior medical device specialist for B. Braun Medical Inc before his retirement in 2021.
Sarah Wendt '90 is a 2005 Young Alumni Career Achievement Award winner who has served on the Alumni Association Board of Directors, reunion committees, and the New York Leadership Group. After graduating from Gettysburg as a political science major, Wendt earned her M.B.A. from New York University. She is currently the chief philanthropy officer for the Ethical Culture Fieldston School (NYC), after working with the Young Women's Leadership Network/College Bound Initiative in NYC.
Alexander "Al" Wilkins '06 serves as an ex-officio board member in his role as the new Alumni Board president. He is the senior director of strategic research at EAB in Washington, D.C. Since graduating from Gettysburg as a double major in management and anthropology, he has served on the Alumni Association Board of Directors in addition to service on his class reunion committees and the DC Alumni Club, of which he was president. He earned the Young Alumni Achievement Award in Service in 2016.
Celebrating An Era
Joining Women's Lacrosse Head Coach Carol Daly Cantele '83, P'15 in retirement are four more athletic staff members that together total more than 150 years of service to Gettysburg College.
The longest-tenured head coach in the department, Baseball Coach John Campo P'07 concluded his 36th campaign at the helm and his 37th overall at Gettysburg. Campo retires as the baseball program's career leader in wins with 644. A member of the Adams County Sports Hall of Fame, he led the Bullets to a dozen 20-win campaigns, a Middle Atlantic Conference championship (1987), and a trip to the NCAA Division III Tournament (1988).
Barb Jordan took the reins of the field hockey program in 2002 and finished with the most wins in program history at 182. She guided the Bullets to the conference playoffs 10 times and an ECAC Division III championship in 2005. Jordan, who was inducted into the National Lacrosse Hall of Fame in 2004, was a key part of Gettysburg's success on the lacrosse field as well, contributing to three national titles, 10 conference championships, and 18 national playoff appearances.
Since arriving on campus in the spring of 1987, equipment manager Kelly Jones created an indelible legacy as a mentor to thousands of student-athletes. She has cheered on the Bullets to 132 conference championships and three national titles. Off campus, Jones has been a leader and advocate for equipment managers and was recognized by the Athletic Equipment Managers Association with the Glenn Sharpe Award in 2005, becoming the first woman from a Division III institution to earn the distinction.
Cindy Wright P'08, '13, '16 impacted the lives of countless Gettysburgians as an administrator of the campus recreation and intramural programs and a health sciences instructor. She was named Outstanding Professor in health sciences by the Order of Omega three times and was voted Favorite Professor at Gettysburg by the Class of 2008. During the last 12 years, Wright oversaw The John F. Jaeger Center for Athletics, Recreation, and Fitness and served on committees focused on student well-being.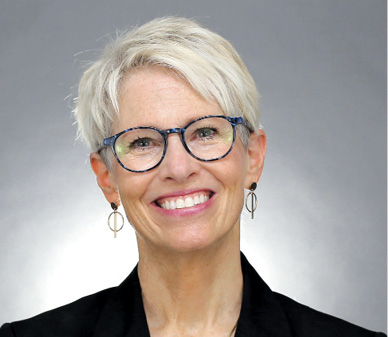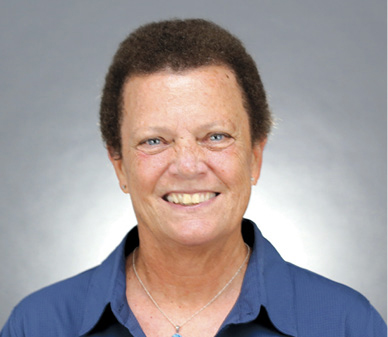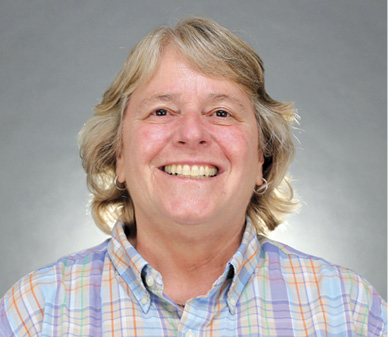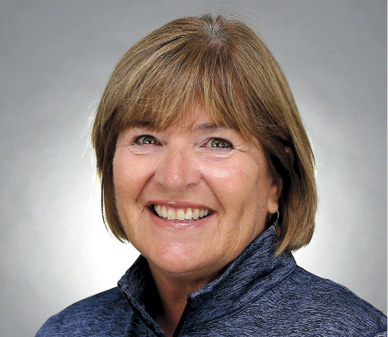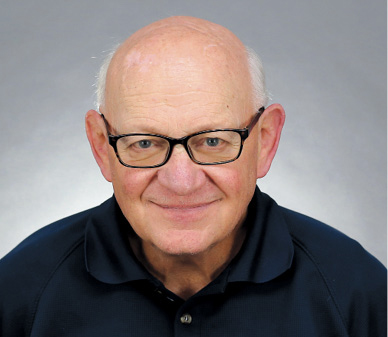 Gubernational Debate
On April 19, the Eisenhower Institute at Gettysburg College alongside Spotlight PA and its founding members, hosted a gubernatorial debate on campus, which included Republican candidates Joe Gale, Charlie Gerow, Melissa Hart, and Nche Zama.
"Our goal is to inform and empower Pennsylvania voters as they head to the polls," said Eisenhower Institute Executive Director Tracie Potts. "Given our commitment to nonpartisan discourse and critical analysis of issues, the Eisenhower Institute is proud to host this debate."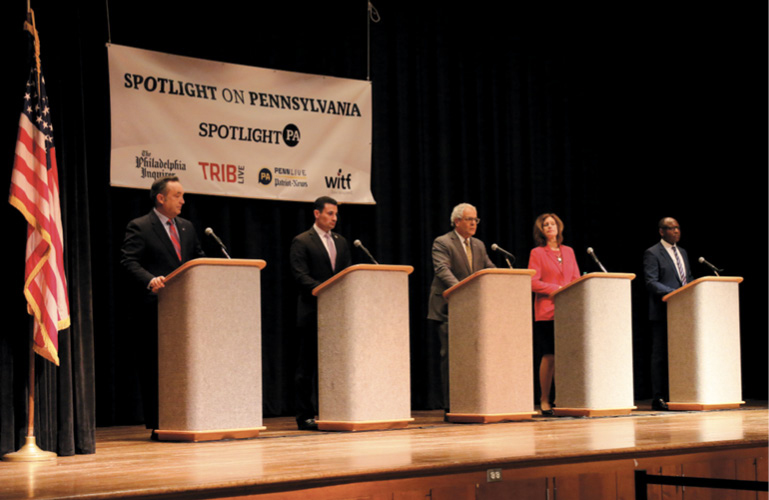 Messages to the Moon
Sara Freed '18, the spacecraft operations lead at the NASA Goddard Space Flight Center in Greenbelt, Maryland, spends her workdays sending commands to NASA's Lunar Reconnaissance Orbiter, a robotic spacecraft currently orbiting the moon collecting data that is essential for planning NASA's future human and robotic missions. Freed, who majored in computer science and minored in Spanish, looks back fondly on her time at Gettysburg, saying, "That's the value of a liberal arts education."