The winter issue's cover story on Maria Sibylla Merian's blend of art and science—and the images—brought some relief from the season's chill:
For Susan Smitten '64, the story connected to her Peace Corps experience, "Just writing to say I really enjoyed your article on Maria Sibylla Merian. I'm a G'burg class of 1964 history major. When I spotted the original NYT [The New York Times] article "A Pioneering Woman..." I emailed it to my counterpart in Suriname. I was a Peace Corps volunteer in Suriname in 2002–2003 with my husband, and we have many great memories of our time there. Now I have this Gettysburg connection and wish Professor Kay Etheridge much success with her future research."
And from the professor whose research inspired the story, came this note to writer Carina Sitkus from biology Prof. Kay Etheridge, "Your article on Merian does a wonderful job of introducing her work to a new (mostly!) audience. I have already heard from a couple of people how much they enjoyed the way you wrote the piece. Thank you for taking such care with a subject near and dear to me."
On social media
Hot topics on Twitter, Facebook, and Instagram:
The mid-March mailing of the news high school students had been waiting for—letters from admissions. The Class of 2022 was selected from more than 6,200 applicants from 49 states and 99 countries.
The story of the Anatomage 3-D interactive dissection table published in the winter magazine and online. Alex Harper '11 wrote, "It's not often that my socks are truly blown off, but I'm incredibly impressed. As an occupational therapist and previous gross anatomy instructor, I can vouch for how beneficial these will be for student learning. I wish we had technology this advanced when I was a health sciences student! Anatomy is so kinesthetic, and this is a great way to combine contemporary and traditional learning styles. These will set our students light years ahead of their peers. You're doing great work, Gettysburg."

Centennial Conference championships for Women's Basketball, Men's Swimming, and Women's Golf and the bittersweet news of head Coach George Petrie's retirement of men's basketball and men's golf. Shaun Gutting tweeted, "A true legend in Gettysburg!" My dad [Stephen Gutting '72] loved the time he spent under Coach Petrie. Paul Redfern '00 also tweeted, "Good luck to George Petrie in his final game as head coach…he has been a tremendous mentor and friend."
And in the news
A research collaboration between scholars at North Dakota State University and Gettysburg College found that not only do we think people with a sweet tooth are friendlier than people who prefer other tastes, but tasting something sweet makes all of us kinder. The study by psychology Prof. Brian Meier was mentioned in Female First.
Prof. Shirley Anne Warshaw was quoted in an article from PBS, "From presidential nominee to freshman senator? Romney would make history if he runs."
Biology Prof. Ryan Kerney provided expert insights in "The Smiling Axolotl Hides a Secret: A Giant Genome," an article published in The New York Times.
"The History of Reconstruction's Third Phase" by Prof. Allen Guelzo, the Henry R. Luce Professor of the Civil War Era and director of Civil War Era Studies at Gettysburg College, appeared in the History News Network published by George Washington University.
Historians gathered in Richmond, Virginia, in February to present talks on the lives of ordinary Americans during the Civil War. C-SPAN provided coverage, including Director of the Civil War Institute Prof. Peter Carmichael's talk, "Will the Real Common Civil War Soldier Please Stand Up."
In "What can your CMS do for you," a writer for Forbes made an example of the College and the Amazon Alexa skill developed by Rod Tosten '85, vice president of information technology, and a team of Gettysburg College students. The Gettysburgians built a suite of skills that draw upon the College CMS to communicate the campus dining menu, phone numbers, and campus news via Alexa.
Gloria Mendoza '14 was interviewed on CBS Sunday Morning about her accomplishments in the workplace at the SAP company and her journey with autism, complete with video of her receiving her College diploma.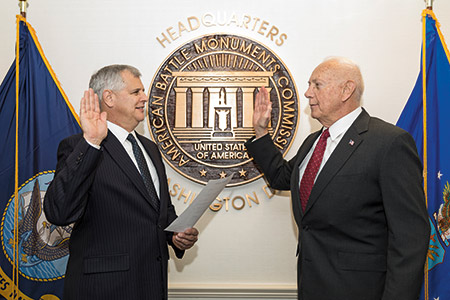 Maj. Gen. William M. Matz Jr. '61 is Secretary of the American Battle Monuments Commission (ABMC), the authority responsible for the overseas military cemeteries, memorials, monuments, and markers that commemorate the service, achievements, and sacrifice of members of the U.S. Armed Forces. Matz holds the Distinguished Service Cross, the second-highest military award to the Medal of Honor. He has worked on behalf of military members, veterans, and their families since his retirement from the U.S. Army in 1995 and is a member of the Eisenhower Institute National Advisory Council.