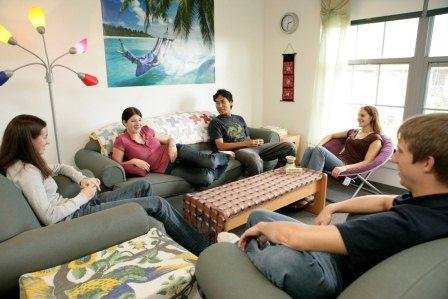 Students may choose to live in gender-inclusive housing. This program allows two or more students to share a multiple-occupancy bedroom, suite, or apartment regardless of students' sex or gender. Gender-inclusive housing is not intended for romantic couples. Rather, it provides options for a variety of students: those who feel uncomfortable rooming with members of the same sex, transgender students in the process of discovering their gender identity, students who feel they would be more compatible with a roommate of a different sex or gender, and students who do not want sex or gender to be a primary factor in choosing a roommate. Gender-inclusive housing intends to help create a campus climate that is welcoming, inclusive, and supportive of all students.
Gender-inclusive housing is available in all residence halls.
Each late May/early June, incoming first-year and transfer students will have the option of selecting gender-inclusive housing via the First-Year Dashboard, where they will answer a series of questions so that the College can provide housing that best meets the needs of the student. Sophomores, juniors, and seniors select gender-inclusive housing through the spring housing selection process.
Gender-Inclusive Housing Program
The Gender-Inclusive Housing Program consists of the following guidelines:
Students may request a roommate of any sex or gender.
Rising sophomore, junior, and senior students must apply with their prospective roommate(s) following the same processes and deadlines of all students entering the housing selection process.
No students will be asked to share their reasons for opting to live in gender-neutral housing.
Students will not be assigned to gender-inclusive housing unless they have elected to do so.
This housing option is intended for students who wish to share a room, suite, or apartment with others regardless of gender identity. It is not intended for romantic couples regardless of students' gender identity or sexual orientation.
There is no specific number or limit of gender-inclusive spaces on campus.
We encourage students to maintain an open dialogue with their families. Students over 18 are legally able to make decisions about their housing placements.
Any space on campus can be gender-inclusive. This avoids segregation and offers students gender-inclusive housing within all housing styles and at the various housing price points.
When there is a vacancy in a stand-alone gender-inclusive double, the student remaining in the room may elect to pull in any new roommate. If the resident wants to maintain a gender-neutral space but cannot identify a new roommate, the Office of Residential Education will try to identify a student interested in gender-inclusive housing. Both students must agree to live together.
When there is vacancy in a gender-inclusive triple, apartment, or suite, the residents may elect to pull in any roommate(s). All students in the space have to approve new resident(s) moving into the triple, apartment, or suite. If the residents in a triple, apartment or suite, cannot fill the vacancies, the Office of Residential Education will attempt to place students in the apartment or suite who are interested in living in a gender-inclusive space. Current residents will be asked to approve the students interested in moving into the space. If the Office of Residential Education needs to maximize use of all available spaces on campus and the above is not possible, then the Office of Residential Education staff will work closely with the student group to determine next steps.