Eisenhower Institute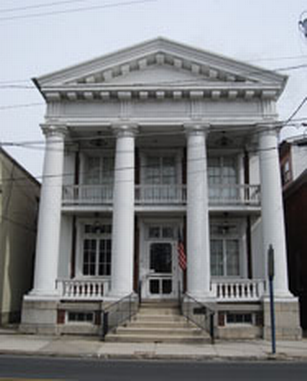 The Eisenhower Institute residential program is a housing option located above the Eisenhower Institute (EI) at 157 N. Washington Street in a historic home once occupied by Dwight and Mamie Eisenhower. The students living in the institute are part of the EI Undergraduate Fellows program, which annually gives a select group of Gettysburg College students the opportunity to develop their leadership skills and grow in their knowledge and understanding of public policy. Fellows are chosen annually and 6 of the fellows reside at the Institute.
There are four singles and one double at the Eisenhower Institute. The Eisenhower Institute contains one bathroom that accommodates one person at a time; therefore this bathroom is gender-neutral.
Each student is provided with an extra-long (38 inches x 80 inches x 6 1/2 inches) bed; a desk and chair; a dresser and closet space. The beds have two lower height settings: the lowest setting has approximately 12 inches between the floor and the bottom of the bed; the other setting provides approximately 18 inches between the floor and the bottom of the bed. Students may also loft or bunk their beds by acquiring the additional pieces necessary to do so. Students may contact Facilities Services at 717-337-6700 to request the additional pieces necessary to loft or bunk their bed.
Helpful Facts:
| | |
| --- | --- |
| Housing Rate | Plan 1 & 4 |
| Meal plan required | Yes |
| Year acquired by the College | |
| Capacity | 6 |
| Residential floors | 1 |
| Singles | 4 |
| Doubles | 1 |
| Triples | 0 |
| ADA accessible | No |
| Elevator | Yes |
| Open for Thanksgiving, Winter, and Spring Breaks | Yes |
| Air conditioned | Yes |
| Type of bed frame(s) in each room | Wood (can be bunked/lofted) |
| Microfridge in each room | Yes |
| Laundry location | 209 or 133 N. Washington St., Lamp Post, Smith House (card accessible) |
| Kitchen location | none |
| Trash room location | Toters beside building |
| Network connection (W=wireless, D=data jack) | W & D |