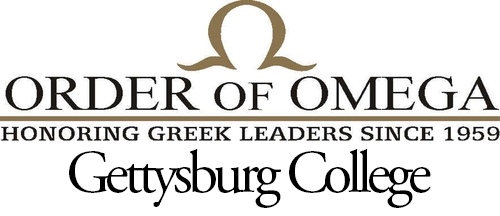 Chapter Leadership:
President: James Mullen
Vice President: Morgan McFillin
Treasurer: Dom Gasparro
Secretary: Kealy Cassidy
Greek Week Chair: Josie Meier
Awards Chair: Callie Fucarino
Advisor: Zana Morris
Purpose
The National Greek Honor Fraternity, the Iota Chapter of Order of Omega at Gettysburg College was chartered in October 1991. The purpose and principles of the Order of Omega are:
To recognize those students who have attained a high standard of leadership in inter-Greek activities, to encourage them to continue along this line, and to inspire others to strive for similar attainment
To bring together the most representative fraternity and sorority individuals and to create an organization that will help mold the sentiment of the institution on questions of local and intercollegiate affairs
To bring together members of faculty, alumni, and student members of the institution's fraternities and sororities on a basis of mutual interest, understanding, and helpfulness
The qualifications for membership in the Order of Omega are character, scholarship, and intelligence, service, and leadership in the inter-Greek affairs of Gettysburg College.
To be eligible for membership in the Order of Omega, a student must meet the following minimum requirements:
Current junior or senior standing
GPA minimum of 3.22
Be in good standing with a Greek Organization
Order of Omega Awards
The Order of Omega is a leadership honor society for members of Greek organizations. Order of Omega recognizes exemplification of high standards in areas of scholarship, leadership, involvement within fraternities and sororities, and within the Greek, campus and local communities.
Every year the Gettysburg College chapter of Order of Omega sponsors an awards banquet and selection process each spring designed to recognize these same qualities of both members and organizations from the current academic year. Below is a list of the awards that will be offered at the 2019 Order of Omega Awards Banquet. The below applications will go live in the second half of the spring semester.
Chapter President of the Year*
Alumni/ae Advisor of the Year*
Faculty Advisor of the Year*
Outstanding Philanthropic Event*
Community Servant of the Year
Outstanding Sophomore of the Year*
Outstanding Junior of the Year*
Mildren G. Hartzell Senior Sorority Woman of the Year
Warren Ramsey "Buck" Jones Senior Fraternity Man of the Year
Chapter President of the Year*
Council Officer of the Year
The following awards will be given this year but do not require a nomination form. The Order of Omega Greek Honors Society in collaboration with the Office of Student Activities & Greek Life will decide which chapter(s) will receive each award.
Chapter of the Year*
Most Improved Chapter*
Highest GPA, Spring 2018*
Highest GPA, Fall 2018*
Highest New Member GPA, Fall 2018*
*indicates that this award is given out to one fraternity and one sorority