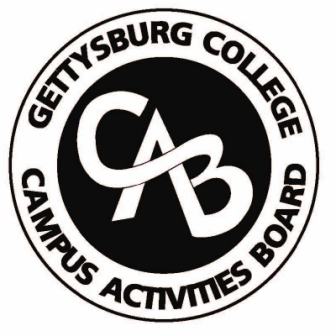 Join CAB!
The Campus Activities Board (CAB), a student-run organization, involves students in creating and planning social events for the campus community. CAB aims to provide a diverse range of programs for students that allow them to develop socially while simultaneously attempting to create a more unified campus.
CAB has three main purposes:
Provide social programming for the Gettysburg College campus community
Challenge its members to be creative and innovative with social programming events
Educate and unite various groups in the production, promotion, and organization of programs as well as in the recruitment and retention of members
View the calendar to see our upcoming events! CAB is always interested in having new members to share their ideas and help us plan and implement our events. If you are interested in joining CAB, please attend our meetings on Mondays at 4 p.m. in Plank Basement! Anybody is welcome anytime!
Contact Us
Phone: 717.337.6304
Email: cab@gettysburg.edu
Facebook: CAB Gettysburg
Instagram: @gburgcab
Mail: Campus Activities Board
300 N. Washington St.
Gettysburg, PA 17325