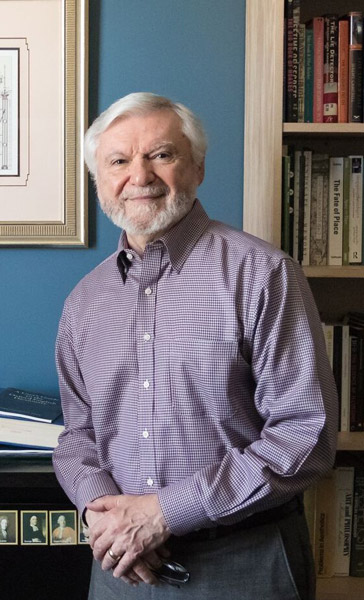 Daniel R. DeNicola is Professor Emeritus of Philosophy. He served as Provost of Gettysburg College (1996-2006); as Vice President for Program Development, leading both the Eisenhower Institute and the Leonard Bernstein Center for Learning (2006-07); and as chair of the Department of Philosophy (2015-2018). His earlier career years were at Rollins College (1969-1996), where he also held various academic administrative posts, including nearly a decade as Provost and Vice President for Academic Affairs. He has held visiting fellow appointments at Harvard University and Lancaster University (UK). For Gettysburg's chapter of Phi Beta Kappa, he served as secretary, then as president.
EDUCATION
DeNicola earned his bachelor's degree from Ohio University (1963) and his masters (1968) and doctorate (1973) degrees from Harvard University. At Harvard, he studied with Israel Scheffler, John Rawls, and Roderick Firth.

RESEARCH & PUBLICATION
DeNicola's research has focused on philosophy of education, theoretical and applied ethics, epistemology (especially the ethical aspects of knowledge and ignorance), and theories of the emotions.
Recent publications include:
DeNicola has also authored chapters of scholarly books, articles, and review essays on such topics as: liberal education, expertise and democracy, art and morality, supererogation, the relation of scientific theory and instrumentation, and the respect for truth. He has addressed a broader public in various online venues such as Aeon magazine and Zocalo.
TEACHING
At Gettysburg, DeNicola taught advanced courses such as Choice, Chance, Luck, and Fate; Emotion;
Philosophy of Place; Ethics & Economic Life; and the Philosophy of Color. He taught both the Senior Seminar in Philosophy on the topic of Ignorance, and First-Year Seminars such as Designer Genes and the Ethics of Human Enhancement and Secrets and Lies. In 2013, he directed Gettysburg's London Seminar.
DeNicola received the Distinguished Teaching Award in 2006. At Rollins, he directed an NEH Summer Seminar, received several recognitions for "outstanding teaching," and was awarded the Rollins Medal of Honor.