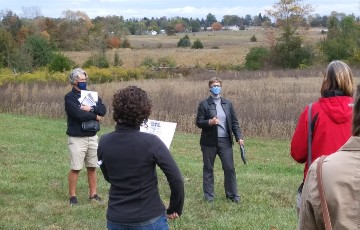 In response to both the national conversations about racial injustice sparked by the murder of George Floyd and the recommendations of Gettysburg College's Bias Awareness Resource Committee, CWI is offering two new battlefield-based opportunities for educational dialogue during the 2020-2021 academic year. The two programs, Reflecting on Race on the Gettysburg Battlefield and Enslaved People on the Gettysburg Battlefield are facilitated by Director Peter Carmichael and Associate Director Jill Ogline Titus and use the battlefield landscape to spark conversations about the silences embedded in our nation's historical landscape and their contributions to various forms of violence directed at people of color, both past and present.
Aimed at First Year Seminars and other student groups, Reflecting on Race on the Gettysburg Battlefield utilizes the memorial landscape of Oak Hill to explore a wide range of related topics. These include the role of white reconciliation and the Lost Cause in shaping the battlefield's commemorative landscape; the rebirth of the Ku Klux Klan as a national organization during the 1920s; race and New Deal programs in Gettysburg; and the use of the Eternal Peace Memorial during the civil rights movement. Designed to serve faculty and staff, Enslaved People on the Gettysburg Battlefield takes place on the historic landscape surrounding the Virginia Monument. This ground is used as a base for dialogue about the experiences of enslaved African Americans pressed into service by the Confederacy during the battle of Gettysburg, the history and purposes of the monument itself, and how the silencing of the black experience defines a battlefield landscape that celebrates reunion over the revolutionary consequences of slavery's destruction.
The next Enslaved People on the Gettysburg Battlefield program will take place Wednesday, November 11 at 12:00 pm; to register, please contact Heather Miller at civilwar@gettysburg.edu. Reflecting on Race on the Gettysburg Battlefield is offered upon request; to discuss scheduling a program, please contact civilwar@gettysburg.edu.