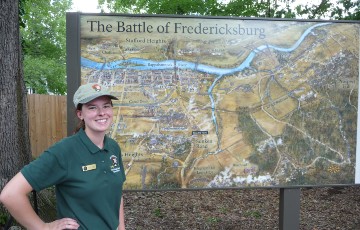 The Civil War Institute's Brian C. Pohanka Internship Program offers Gettysburg College students a unique opportunity to gain paid hands-on experience in public history. Students selected to participate in this summer internship program will work at well-known National Parks and private museums, giving public tours, assisting with curatorial work, cultural resource management, and exhibition development, leading children's programs, and conducting independent historical research. Selected students will receive a $1,500 stipend from CWI and free on-site housing at their respective sites. Applicants need not be history majors or specialists in the Civil War era. The Pohanka program is open to all matriculated Gettysburg College students regardless of major, although first-year, sophomore, and junior students receive priority in the selection process.
More than 25 positions are available for Summer 2021. Applications are due September 25, and interviews will take place October 6-8 via Zoom. Learn about the application process.
Questions about the application and/or interview process? Need advice on preparing your application or prepping for the interviews? Join us on Tuesday, September 22 for a Resume and Interview Prep Workshop. Prof. Pete Carmichael will host an informal discussion of good interview practices and resume tips, beginning at 4:45 pm in CUB 260. To reserve a space for the workshop, email civilwar@gettysburg.edu. Remote attendees will be provided the Zoom link in advance. Can't make the workshop? Feel free to contact Dr. Titus for advice at jtitus@gettysburg.edu or check out the Center for Career Engagement's helpful Resources Page.