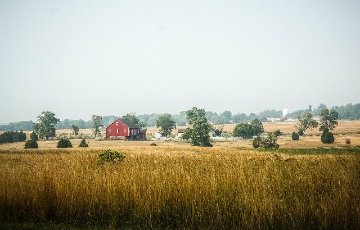 The weekend of April 12-13, 2019 will be a busy one at CWI, with staff members actively engaged in three different local history programs. Director Pete Carmichael will co-lead a free guided walking tour of Culp's Hill on Saturday, April 13. The tour – which will be co-led by Chris Gwinn, Chief of Interpretation & Visitor Services, Gettysburg National Military Park, and James Broomall, Director, George Tyler Moore Center for the Study of the Civil War, Shepherd University, will provide diverse perspectives and little-known stories of the fighting on Culp's Hill. No reservations are necessary; those interested in participating should meet at Spangler's Spring (Gettysburg NMP) at 9:30 am. The tour will conclude at 12:30 pm. Carmichael, Broomall, and Gwinn will then participate in at interactive interview at Gettysburg Heritage Center, scheduled for 1:30 pm.
That same day, Associate Director Jill Ogline Titus will lead a session on "Using the Battlefield Landscape to Teach the Cold War and the Civil Rights Movement" at the Adams County Historical Society's 2019 Teachers' Workshop. Designed for any Adams County educators who would like to learn more about incorporating local history into the classroom, the workshop is free and open to teachers across the county. Those interested in registering should contact Althea Riley at info@achs-pa.org or (717)334-4723. On April 12, Assistant Director Ashley Whitehead Luskey will participate in the Gettysburg Foundation's Spring Muster Friday Evening Program, a panel discussion devoted to a wide variety of topics pertaining to women in the Civil War. Beginning at 7:00 pm in the Gettysburg NMP Museum and Visitor Center and employing a TED talk format, the panel will highlight a range of personal stories at both the local and national level. Visit the Foundation's website to register.
We are fortunate in Gettysburg to be surrounded by organizations doing such important historical work, and are deeply appreciate of the opportunity to collaborate with colleagues across the community.