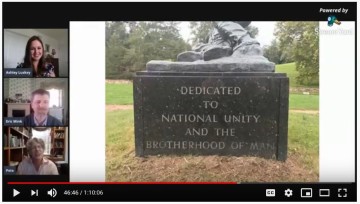 In this time of continuing social distancing and increased reliance on digital formats for facilitating meaningful conversations, CWI is excited to announce the launch of a new biweekly virtual program. Every other Wednesday evening, Peter Carmichael and Ashley Whitehead Luskey will conduct virtual interviews with both academic and public historians of the Civil War era to discuss an historical source of particular interest to them in their latest research endeavors, as well as the source of their personal inspiration to join the history profession. Programming rooted in the Gettysburg battlefield will be included wherever possible.
In addition to providing fascinating glimpses into the motivations and personal experiences of some of today's leading historians, the Finding the Source series will delve deeply into a wide range of intriguing primary documents, artifacts and commemorative pieces, bringing the detective work of history into the spotlight. Each week, Carmichael, Luskey, and the featured guest will probe beneath the surface of these sources to reveal new questions animating continually evolving approaches to the American past. Viewers will be encouraged to get involved in the conversation with questions and comments, which the hosts will strive to address and incorporate into the program.
Conversations can be watched LIVE on the CWI Facebook page, and are also recorded and available for watching (or re-watching) anytime on our Facebook page or through the CWI YouTube channel.