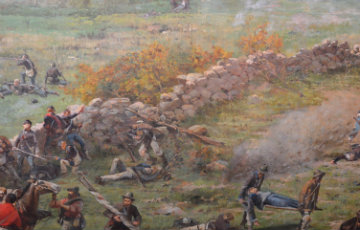 Students in Associate Director Jill Ogline Titus's Fall 2018 Introduction to Public History (HIST 301) class have spent the semester digitally interpreting the massive Gettysburg Cyclorama painting, creating an interactive timeline of the painting's history and visually mapping the many stories embedded in the canvas.
The painting, measuring 42 feet high and 377 feet in circumference, has immersed visitors in the fury of the battle since its completion in 1884. Painted by a team headed by French artist Paul Philippoteaux, the canvas depicts the bloody July 3 clash at the Angle, the culmination of the fighting at Gettysburg, through visual mechanisms that make the landscape appear to stretch on for miles, positioning the viewer at the center of the action. The students' project began in September with a behind-the-scenes tour of the painting led by Sue Boardman, Leadership Program Director for the Gettysburg Foundation and co-author of two books on the history and restoration of this visual icon. Students used Timeline JS, an open-source tool that allows users to build visually rich, interactive timelines, to explore the convoluted history of the painting, tracing it from its initial years of sold-out crowds to neglect on backlot to its current position as the centerpiece of the exhibit at the Gettysburg National Military Park Museum and Visitor Center.
In the second phase of the project, drawing on course readings and discussions about interpreting material culture, students used StoryMap JS, an open-source mapping tool, to construct visual stories that annotate and enliven each segment of the painting. The students' StoryMaps effectively reveal the multiple layers of narratives embedded in the Cyclorama, including civilian experiences during the battle, medical practices during the war, tactical strategies used by the armies at Gettysburg, the crafting of historical memory, the artistic techniques undergirding painting in the round, and the challenges of preserving this massive piece of art. Though not yet fully "complete," the students' work is now accessible in a public-facing Scalar site that invites viewers and visitors to interact with a wide range of stories undergirding the painting.
The collaborative support team behind the project includes R.C. Miessler, Systems Librarian at Musselman Library and Digital Scholarship Committee member, who introduced the students to the two digital tools and provided essential creative and technical guidance throughout; painting historian Sue Boardman, who answered innumerable questions and allowed students access to documents and images in her personal files; and Digital Scholarship Fellow Julia Wall '18, who built the Scalar site that houses the timeline and StoryMaps.