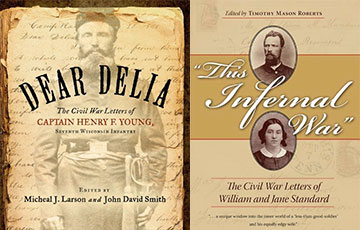 The Civil War Institute is pleased to announce the official 2020 "Books of the Conference": Micheal J. Larson and John David Smith's Dear Delia: The Civil War Letters of Captain Henry F. Young, Seventh Wisconsin Infantry (Wisconsin, 2019) and Timothy Roberts' "This Infernal War": The Civil War Letters of William and Jane Standard (Kent State, 2018). Authors John David Smith and Timothy Roberts will be discussing these new books in a special 2020 conference panel on soldier letters of the North's rank and file. Conference attendees will have a chance to join the discussion in a focused Q&A session, and will have the opportunity to get copies of their books signed by both authors following the presentation. Order your copies today and a get a jump-start on the discussion!
Additional Information on the Books
Micheal J. Larson and John David Smith, editors, Dear Delia: The Civil War Letters of Captain Henry F. Young, Seventh Wisconsin Infantry (University of Wisconsin Press, 2019)
Dear Delia chronicles the story of Henry F. Young, an officer in the famed Iron Brigade, as told through 155 letters home. His insights, often poignant and powerful, enable readers to witness the Civil War as he did. Young covers innumerable details of military service—from the camaraderie, pettiness, and thievery he witnessed among the troops, to the brutality of internecine war.
Above all, Young's communications highlight his unflagging patriotism—his fierce determination to preserve the Union no matter the cost. Candid, contemplative, thorough, and occasionally humorous, Young provides a clear window into everyday events as well as into war, society, and politics. Civil War enthusiasts will appreciate this correspondence, as it reveals the perspective of a young officer from America's western heartland, a regional viewpoint generally omitted from Civil War–era documentary projects.
Timothy Roberts, editor, "This Infernal War": The Civil War Letters of William and Jane Standard (Kent State University Press, 2018)
Among collections of letters written between American soldiers and their spouses, the Civil War correspondence of William and Jane Standard stands out for conveying the complexity of the motives and experiences of Union soldiers and their families. The Standards of Lewiston in Fulton County, Illinois, were antiwar Copperheads. Their attitudes toward Abraham Lincoln, "Black Republicans," and especially African Americans are, frankly, troubling to modern readers. Scholars who argue that the bulk of Union soldiers left their families and went to war to champion republican government or to wipe out slavery will have to account for this couple's rejection of the war's ideals.
Yet the war changed them, in spite of themselves. Jane's often bitter letters illuminate the alienation of women left alone and the impact on a small community of its men going to war. But she grew more independent in her husband's absence. Enlisting in the 103rd Illinois Volunteer Infantry Regiment in October 1862, William participated in General Sherman's Siege of Vicksburg, the Battles of Missionary Ridge and Atlanta, and the March to the Sea. At the war's end he proudly marched in the Grand Review of the Armies in the national capital. Meanwhile, he expressed enthusiasm for stealing and foraging (a.k.a., "cramping") and unhappiness with his service, complaints that fed Jane's intermittent requests that he desert or be captured and paroled. William's odyssey illustrates the Union military's assimilation of resentful Northern men to support a long, grueling, and, after 1862, revolutionary war on the South.
The Standards' antiwar opinions hearken to modern expressions of pacifism and condemnation of government. Jane's and William's opposition to the war helped sustain their commitment to and dependence on each other to survive it. Their letters reveal two strong-willed people in love, remaining hopeful, passionate, loyal, and even playful as they awaited their own reunion.