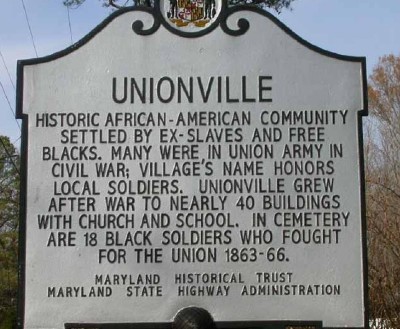 CWI alumnus Matthew LaRoche '17's illuminating research on Underground Railroad sites across Maryland has earned him a prestigious 400 Years of African American History Fellowship. This program, operated by the Maryland State Archives and the Maryland Office of Tourism and funded by the National Park Service (NPS), will allow Matt to continue the work he began as a Waxter Intern with Preservation Maryland and prepare at least four nominations to the Network to Freedom. The network is a NPS program consisting of locations with a verifiable connection to the Underground Railroad; educational and interpretive programs that pertain to the Underground Railroad; and research, educational or interpretive centers connected to Underground Railroad history.
The first four nominations Matt will prepare during the fellowship will include Unionville, a Talbot County community founded by USCT veterans in the aftermath of the Civil War, and Harford County's Belle Vue Farm. Located less than three miles from Wye Plantation, where Frederick Douglass was enslaved as a child, the new community in Unionville was a bastion of Republican politics, Black landownership, and self-defense during Reconstruction. The 347-acre Belle Vue Farm was the place from which Eliza Parker, later to marry the abolitionist William Parker, escaped to freedom. Both William and Eliza Parker played key roles in the Christiana Resistance of 1851, a key development in crystallizing northern resistance to the Fugitive Slave Act of 1850 and asserting Black determination to resist attempts to return fugitives to slavery.
Already, Matt's research has informed a forthcoming laser scanning initiative by the National Center for Preservation Technology & Training, scheduled for Spring 2021. The Network to Freedom applications will be submitted in July 2021 for review by the National Park Service. Aspects of this collaborative project will be made available to property owners, and the larger public through the databases and archives of the Network to Freedom, the Maryland State Archives, and the Maryland Historical Trust.
A former CWI Fellow, Matt earned a BA from Gettysburg College in 2017, with a major in History and a minor in Civil War Era Studies. A three-time participant in the Brian Pohanka Internship Program, he interned at Harpers Ferry NHS, Gettysburg NMP, and Special Collections & College Archives, Musselman Library, where he curated an exhibition on the legacy of the United States Colored Troops, and spent the summer after graduation as CWI's Sandy Abend Summer Fellow. Matt is currently pursuing a dual Masters' degree in Library Science and 19th-century U.S. History at the University of Maryland, College Park. Tying all his work together is a passion to introduce the public to history, interpretation, and preservation that produces narratives that are both precise and emotionally resonant.