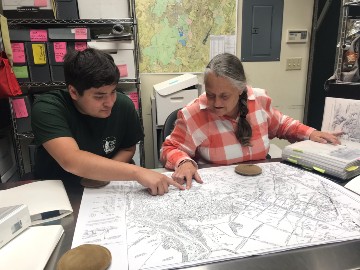 Gettysburg College students interested in gaining hands-on experience in public history and/or Civil War history are encouraged to apply to the Summer 2022 Brian C. Pohanka Internship Program. Students selected to participate in this summer internship program will work at well-known National Parks and private museums, giving public tours, assisting with curatorial work, cultural resource management, and exhibition development, leading children's programs, and conducting independent historical research. A wide range of positions are available for 2022, including opportunities in interpretation & visitor services, archives, museum education, cultural resource management, curation, and museum programming/operations.
Selected students will receive a $1,500 stipend from CWI and free on-site housing at their respective sites. Applicants need not be history majors or specialists in the Civil War era. The Pohanka program is open to all matriculated Gettysburg College students regardless of major, although first-year, sophomore, and junior students receive priority in the selection process. Involvement in the program has given many previous Pohanka interns a foothold in the field, opening doors to employment and further education and providing new professional paths to consider.
More than 25 positions are available for Summer 2022. For more information about available positions, visit the CWI website. Students interested in the program, particularly first-time applicants, are encouraged to attend a resume polishing and interview prep workshop on October 5 from 5:30 – 6:30 pm in Glatfelter 302. To RSVP for the workshop, email civilwar@gettysburg.edu.
Applications are due October 11, and interviews will take place via Zoom on October 20 and 21. Students with questions about the program are encouraged to contact Dr. Titus at jtitus@gettysburg.edu.