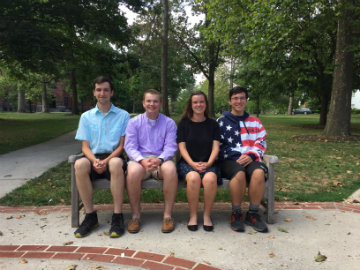 The Civil War Institute (CWI) Fellows program is a unique opportunity for Gettysburg College students who are interested in history to participate in a shared intellectual experience and take advantage of the unique resources provided by Gettysburg's distinctive historical location. We are seeking a cadre of students eager to expand their knowledge of the long Civil War era through facilitated discussion, experiential learning opportunities on the battlefield (and in local museums), and, at times, participation in digital and video projects. If you are a student curious about the past and interested in developing your skills as an historian, interpreter, researcher, or writer, this is a program for you.
While not all Fellows will be involved in all aspects of the program (and staff schedules and student interests will determine the specific offerings each semester), opportunities may include:
Battlefield visits and field discussions with CWI staff and faculty
Small-scale student-directed battlefield experiences, led by Fellows for Fellows
Behind-the-scenes tours of local historical sites and museums
Career conversations with local public history professionals
Group discussions of scholarly essays and book chapters with CWI staff and faculty
Creating short interpretive videos on the Gettysburg battlefield
Conducting podcast and video interviews with noted Civil War scholars and battlefield guides
Facilitating the CWI's online Civil War Book Club
Transcribing primary source documents and letters for upcoming CWI digital projects
Conducting primary source research for the Killed at Gettysburg digital history project (1-2 slots available per semester)
Researching and writing short scholarly pieces for the CWI's student blog, the Gettysburg Compiler(1-2 slots available per semester)
The CWI will be selecting up to 9 Fellows for the 2020-2021 academic year. The Fellows program will require a five hour time commitment per week, and participants will be compensated at the hourly rate of $7.25.
The CWI offers a range of public programming throughout the academic year. CWI Fellows who are so inclined will have an opportunity to meet some of the top scholars in the field while helping assist with the planning and social media coverage of events such as the Robert Fortenbaugh Memorial Lecture.
To be considered, applicants must send a brief cover letter, resume, and writing sample (around 10 pages) to civilwar@gettysburg.edu by 4:00 PM on April 10, 2020. Candidates do not have to be experts in the Civil War era to receive consideration. Enthusiasm, however, is essential!
Please email Dr. Ashley Whitehead Luskey (aluskey@gettysburg.edu) with any questions about the application process.
For information on cover letters and resumes, please visit: https://www.gettysburg.edu/offices/center-for-career-engagement/students/resources/