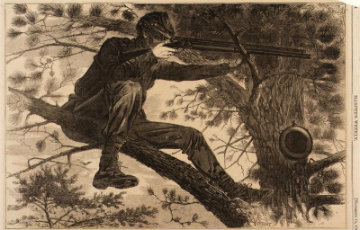 Tim Orr is an Associate Professor of History at Old Dominion University, where he teaches classes in nineteenth-century America and Civil War history. A graduate of Gettysburg College, he received his PhD from Penn State University. Prior to his arrival at ODU, Dr. Orr worked for 8 years as a seasonal park ranger at Gettysburg National Military Park. His first book, "Last to Leave the Field": The Life and Letters of First Sergeant Ambrose Henry Hayward, Company D, 28th, was published by the University of Tennessee Press in 2010. He is the author of several book chapters and articles on the battle of Gettysburg as well as a co-author of the book Never Call Me a Hero: A Legendary American Dive-Bomber Pilot Remembers the Battle of Midway, with Laura Lawfer Orr and N. Jack "Dusty" Kleiss (William Morrow, 2017).
CWI: You're leading our new Active Track option this year, which will focus on sharpshooting at Gettysburg. On its own, this package is shorter (weekend only) and more physically intensive, with rigorous climbs and walks mostly centered on the Union left. Before we get to the specifics of Gettysburg, can you tell us a little bit about sharpshooting and what that term meant for both the Union and Confederate armies in the early summer of 1863?
ORR: In many ways, sharpshooting was a new concept for American armies. Prior to the Civil War, taking care to aim was not something that many soldiers did. Smooth-bored weaponry did not allow for combat range beyond seventy yards, so battles often emphasized the massing of firepower, not marksmanship. (A few rifle regiments had been used during the Revolution and the War of 1812, but rarely did they have a tangible effect on the flow of battle.) During the Civil War, with the addition of a new skirmish drill manual and rifled-musket technology, Civil War infantry were required to fight at long range more and more. This, in turn, required soldiers to surmount an emotional hurdle. Quite often, soldiers considered sharpshooters as akin to murderers, and that killing a soldier when he wasn't expecting it was dishonorable. However, that feeling died quickly. By 1863, in the Eastern Theater, sharpshooting was en vogue, and Gettysburg is an excellent battlefield to find evidence of that.
CWI: Many students of the Civil War have heard of Berdan's Sharpshooters, but their stories aren't usually the first or second that we hear about Gettysburg--a battlefield that has many intriguing regimental narratives. How important were the sharpshooters on these fields? How did they shape the outcome of the fighting at Gettysburg and why were their contributions important?
ORR: This active-track package is going to focus primarily upon Berdan's 1st and 2nd U.S. Sharpshooters, two of the first specialized regiments in U.S. Army history. We will allocate each day to studying a pivotal action played by Berdan's men: the 1st U.S.S.S. at Pitzer's Woods and the 2nd U.S.S.S. at the Slyder Farm and on Big Round Top. Both of these regiments had important roles to play. At noon on July 2, the 1st U.S.S.S. engaged Confederate infantry under Brig. Gen. Cadmus Wilcox inside Pitzer's Woods, and the resulting combat influenced Maj. Gen. Daniel Sickles's decision to redeploy the Army of the Potomac's 3rd Corps to the Joseph Sherfy Peach Orchard, one of the pivotal decisions of the battle. Then, later in the day, when Maj. Gen. John B. Hood's Confederate division arrived to sweep up the Union left flank, it encountered a stubborn skirmish line consisting formed by the 2nd U.S.S.S. During this excursion, we will, in essence, see how a handful of soldiers influenced the tide of battle. It's a dramatic story!
CWI: What are the most common misconceptions about Civil War sharpshooters?
ORR: At the time, many soldiers in both armies despised sharpshooters, thinking them ungentlemanly. However, that stigma eroded over time, and by 1863, both armies deployed regiments of sharpshooters to augment their fighting abilities. Nowadays, I'm not sure what misconceptions about them exist. Although, I generally assume that most people believe that 1860s rural America produced the best sharpshooters. In reality, the best marksmen came from the cities, where shooting clubs tested riflemen's skill. In some ways, the North--not the South--had the natural advantage in sharpshooting.