Events
Learn, share, and connect at an Eisenhower Institute Event

The Eisenhower Institute offers numerous opportunities throughout the year to highlight guest speakers and promote civil discourse in the spirit of President Eisenhower.
Democracy Week - September 17-22, 2023
The theme of the Democracy Week 2023 is In Democracy We Trust. Celebrate Democracy Week with us by participating in one of our many activities:
Constitution Day Forum: "Rebuilding Trust in Government"
Monday, 9/18 | Gettysburg College Atrium | 6-8pm
Join us for an interactive Q&A with a bipartisan team of lawmakers, former U.S. Representatives Bob Goodlatte (R-VA) and John Yarmuth (D-KY). They will offer an inside look at the impact of public opinion on governing and strategies for restoring trust in institutions and the people who lead them.
Interactive Workshop: "Trusting Communities to Lead"
Tuesday, 9/19 | CUB 260 | 5-6:30pm
Conduct a problem tree analysis with Urban Rural Action, a cohort of south central Pennsylvania "uniters" to work across difference to solve local problems.
Lunch & Learn: "Information We Can Trust"
Wednesday, 9/20 | CUB 260 | Noon-1pm
Join us for lunch as Deputy Director Sarah Anne Hughes explains why their newsroom just hired a "democracy editor," their focus on holding state government accountable, reporting on voting and election integrity, and providing information voters need to make informed decisions.
Discussion Panel: "Democratizing America"
Thursday, 9/21 | CUB Junction | 6:30-8:30pm
Gather on campus to participate remotely in a panel discussion live from the Eisenhower Institute in Washington, DC. This panel will feature authors on ethics, philanthropy, gender inclusivity, and citizen assemblies.
Democracy Unity Festival: "Trusting Across Difference"
Friday, 9/22 | Stine Lake | 4-6pm
Grab some popcorn, chalk, and a mic and show the world what it looks like when people who look different, think differently, and have different lived experiences come together in unity.
Questions
Please contact ei@gettysburg.edu or 202-628-4444 with questions.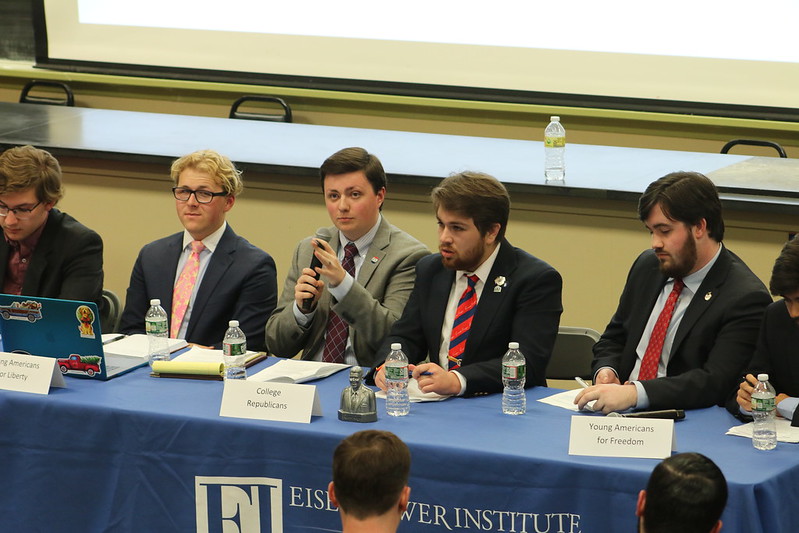 Past Events
The Eisenhower Institute hosts lectures, forums, discussions, workshops, symposia and other in-person and virtual events for the campus community and the general public.