Productive discourse in an age of division
Over the last several decades, conversations on political issues have become decidedly coarser and more personal. The proliferation of social media and other forms of digital communication make it easier to attack those with whom we disagree and lead not to the resolution of problems but divisions into camps.
Do I identify in my own mind the issues and problems now concerning the nation, and try to inform myself concerning them as far as may be possible, so as to form my own conclusions concerning them? Or would I, ignoring the need for personal searching and study, rather live in ignorance, and give my support according to my prejudices and my hope of some gain won at the expense of my fellows?" –Dwight D. Eisenhower, Gettysburg, Pa., June 30, 1963
This situation runs counter to the liberal arts ethos of seeking knowledge through critical thinking, reflection, and thoughtful deliberation; it is contrary to one of the central tenets of Gettysburg College's mission to value the "worth and dignity of all people;" and it threatens the underpinnings of American democracy. To move the conversation from "us versus them" to a more productive form of discourse, the Eisenhower Institute is holding a series of events to promote deeper, more reflective, and more respectful ways to deal with disagreement.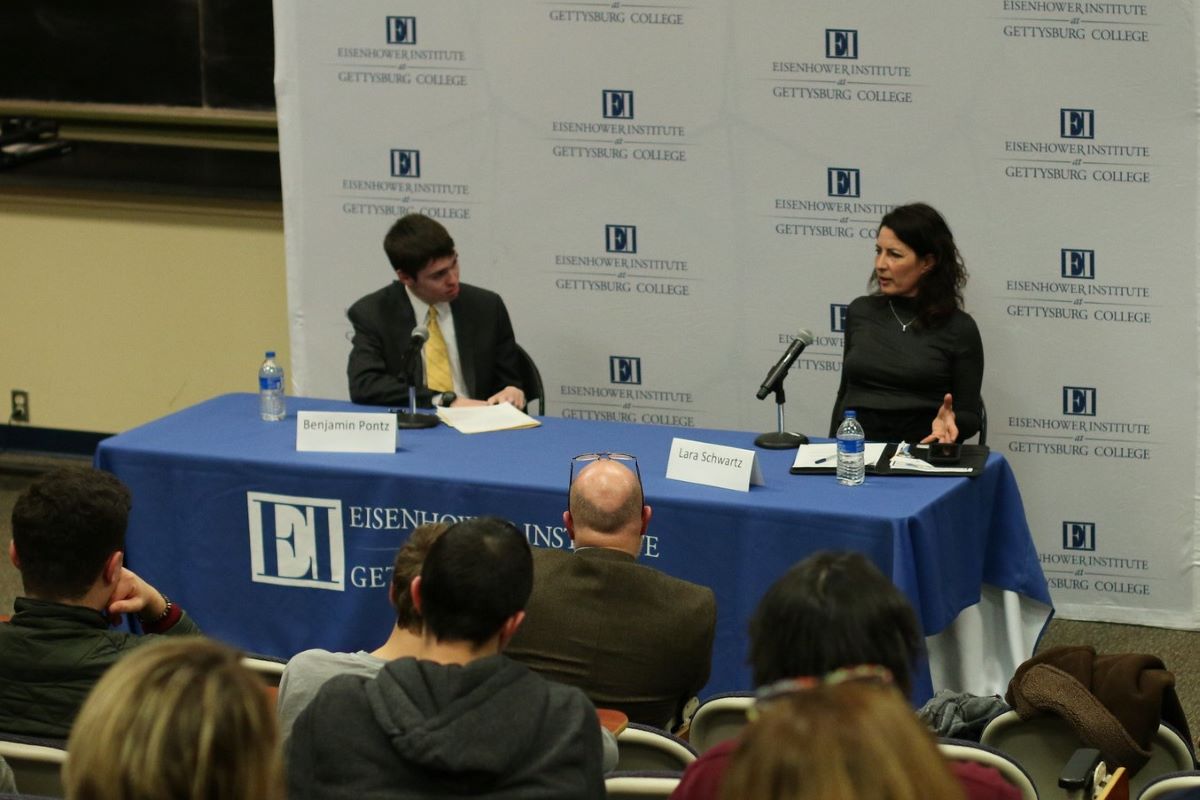 With dual locations in Gettysburg and Washington, D.C., the Eisenhower Institute is uniquely positioned to address the current political climate. In Gettysburg, our students live and learn adjacent to a great battlefield evocative of Lincoln's words that "a house divided against itself cannot stand." In Washington, our students prepare to take a leading role in addressing the long-term challenges facing the nation. While civil discourse is a theme that runs throughout the Eisenhower Institute's programming, this series speaks explicitly to the importance of promoting civil discourse and free speech while overcoming polarization and intolerance.
Series sponsor
The Eisenhower Institute's Civil Discourse Series is proudly sponsored by McNees Wallace & Nurick LLC.
Fall 2019 events
Civil Discourse Skills Workshop with Braver Angels
The Eisenhower Institute hosted a Braver Angels skills workshop to help students and the local community practice communicating with friends and family members whose politics differ from their own.
Spring 2020 events
Why Can't We Have Both? Productive Discourse is a Skill Worth Mastering, not a Limitation on Freedom
January 29, 2020, 7:00-8:30 p.m.
Mara Auditorium, Gettysburg College
Our national conversation about speech and expression on college campuses often centers on a perceived tension between freedom and inclusion. Those who perceive U.S. higher education as hostile to free speech or politically biased often point to inclusion and diversity programs as proof. In this talk, Lara Schwartz challenged the freedom-inclusion dichotomy, explore tools and limitations on expression and inquiry on campus, and reframe productive discourse as a skill worth mastering, not a limitation on freedom.
Lara Schwartz serves as director of the Project on Civil Discourse at American University and specializes in civil discourse and campus speech, constitutional law, civil rights, politics, communications, and policy.
Uncivil Agreement: How Politics Became Our Identity
February 13, 2020, 6:00-7:30 p.m.
Mara Auditorium, Gettysburg College
The growing social gulf across racial, religious, and cultural lines have recently come to divide neatly between the two major political parties, and these group identifications have changed the way we think and feel about ourselves and our opponents. Even when Democrats and Republicans can agree on policy outcomes, they tend to view one other with distrust and to work for party victory over all else. Although the polarizing effects of social divisions have simplified our electoral choices and increased political engagement, they have not been a force that is, on balance, helpful for American democracy.
Lilliana Mason is associate professor of Government and Politics at the University of Maryland, College Park, and author of Uncivil Agreement: How Politics Became Our Identity (University of Chicago Press).
Fall 2020 events
Domestic Terrorism: Extremist Subcultures in America
September 17, 2020, 12:00-1:00 p.m.
Against the backdrop of one of the most divisive elections in a generation, the United States faces a global pandemic, economic destabilization, and civil unrest. Not only do these factors undermine civil discourse and deliberative democracy, they also create favorable conditions for an increase in violent extremism across the political spectrum.
Daryl Johnson is author of Hateland: A Long, Hard Look at America's Extremist Heart and owner of DT Analytics.
Democracy in America: Past, Present, and Future
November 11, 2020, 7:00-8:00 p.m.
Everyone loves democracy, right? Not exactly. Over the past decade, democracy in the United States has shown signs of breaking down. A worrisome coalition of politicians, foreign governments, large corporations, far-right militias, and social media platforms have deliberately eroded public trust in government and media and created a climate in which conspiracies and disinformation thrive. They have found creative ways to suppress voting and push millions of people out of the democratic process by force and by guile. What is going on? Is this new, or part of a pattern of political life in America that dates back many years? Is democracy in trouble, or just messy and complicated? This talk will touch on some of the long term origins of the forces that threaten to erode basic democratic norms and practices.
William I. Hitchcock is the William W. Corcoran Professor of History at the University of Virginia, host of the Democracy in Danger Podcast, and author of Age of Eisenhower: America and the World in the 1950s.
Please visit our calendar for a complete list of events.