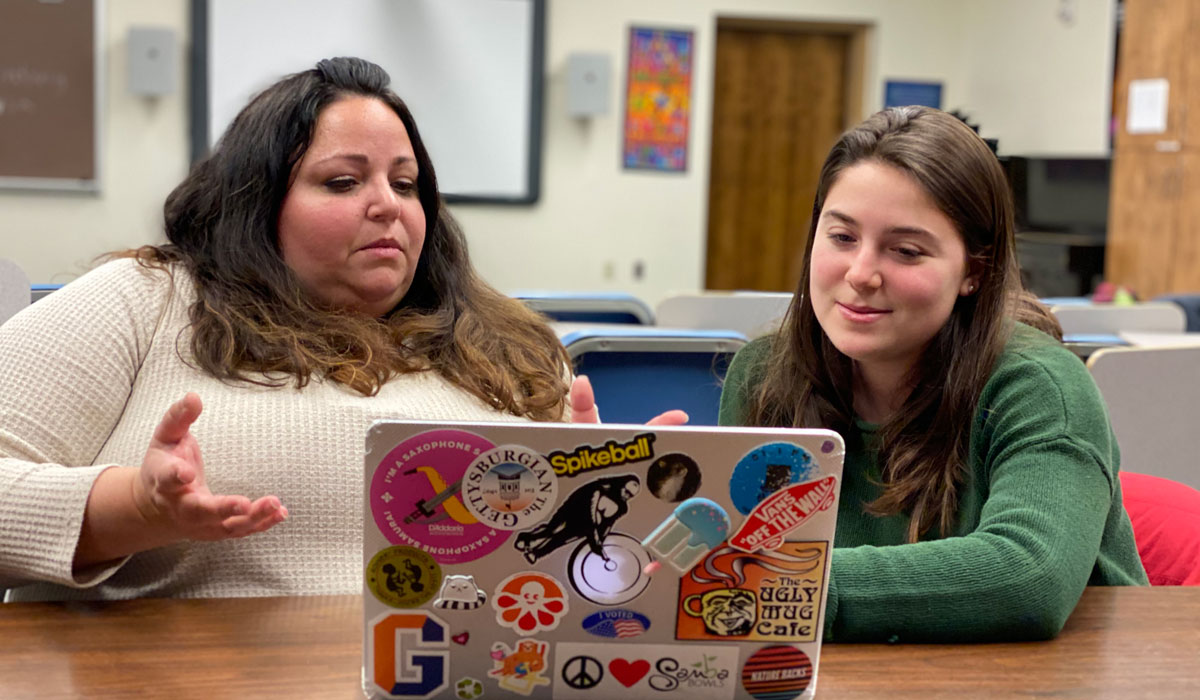 The Sunderman Conservatory of Music at Gettysburg College is recognized widely not only as a home for rigorous musical training, but also as a community that cares deeply about helping those on campus and beyond to think creatively, and to view challenges as opportunities for growth and innovation.
Most recently, with music educators across the nation and around the world transitioning to remote teaching as a result of the COVID-19 pandemic, our music education students stepped forward—with guidance and encouragement from Prof. Brent Talbot—to create and launch a new website specifically designed to aid teachers adapting to the digital space.
The Finding Music Resources website was spearheaded by Conservatory students Ben Fruchtl '20 and Brooke Maskin '20, with support from Logan Shippee '22 and Sunderman alumna Rose Martus '19, a current graduate student at the University of North Carolina-Greensboro. The website offers a compendium of free online music resources, ultimately saving educators valuable time and energy as they adapt their lessons for the remainder of the 2019-20 academic year.
"We were intrigued by this project because of the wide scope of possibilities and paths that it presented. We knew that it would benefit the teachers in our field, but we weren't aware of the impact it would have for our own future teaching," said Fruchtl, who—along with Maskin—worked closely with Talbot on the website while his student teaching assignment was put on hold, and his school district moved instruction entirely online. "Through many digital meetings and hours of collaboration, we effectively searched for quality music teaching resources. Despite the boundaries and obstacles that this distance learning environment presented, we stayed intrinsically motivated and learned how to take an idea and flesh it out to its fullest potential."
The vibrant user-friendly website features music assets tailored for school administrators, ensemble and solo instruction, and virtual classroom teaching, including digital audio workstations, songs and games, and tools for special learners.
"As student teachers, we are constantly navigating between the collegiate and professional realms. This project enabled us to network with licensed music companies and teachers from across the nation," said Maskin. "Without factors such as grading or rubrics, building the website created an opportunity for us to pursue a large-scale idea as if we were teachers out in the field. This experience highlights our cooperative effort towards research and inquiry that we can utilize to continue doing great work as alumni."
Since the website launched in early April, the students have received an outpouring of gratitude from teachers, administrators, professors, and parents alike, from locales throughout the United States and as distant as France, Columbia, and South Africa.
"I just felt we could do some good in the world and provide a much-needed resource for music teachers. I couldn't be prouder of our work," said Talbot. "Our program is known throughout the globe for developing high quality music teachers who use music to address the conditions of our world. This project is an extension of those core values."
Visit Finding Music Resources at www.findingmusicresources.com. Learn more about the Sunderman Conservatory of Music at Gettysburg.
By Mike Baker
Posted: 04/15/20