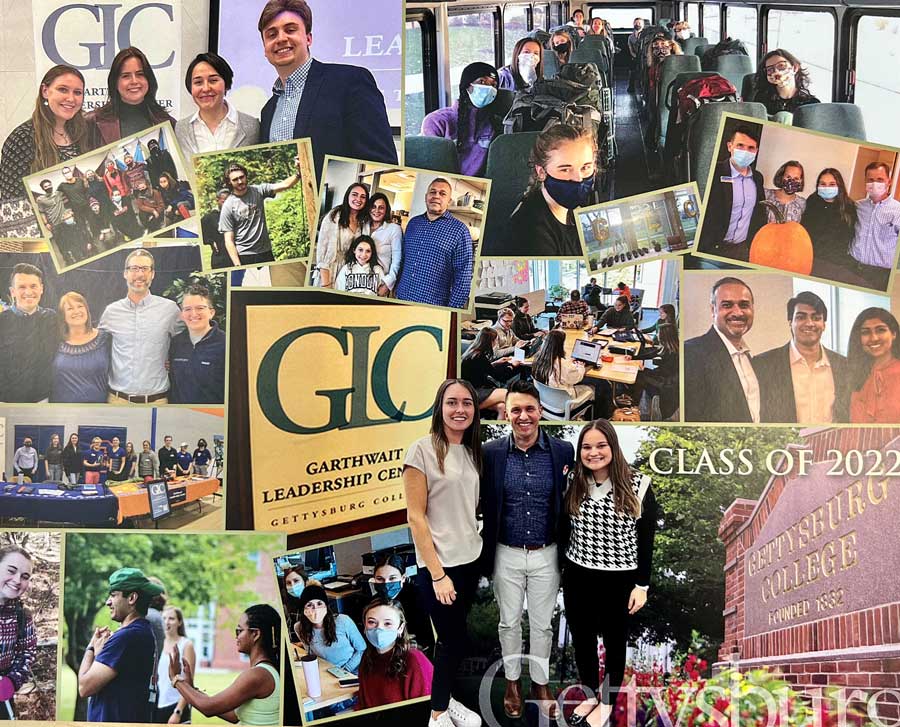 Greetings from the Garthwait Leadership Center and welcome to the May edition of the GLC Newsletter.
Following our energizing Commencement Weekend, Gettysburg College sent out another talented class of leaders to transform the world! There are eight students who we will miss the most at the GLC. These students dedicated a significant amount of their Gettysburg experience to serving as Outdoor Facilitators and Leadership Mentors:
Ahmed Sheikh
Andrew Adam
Bailey Ytterdahl
Camille Traczek
Ingrid Bayer
Julia Greene
Sarah Feldman
Tori Wierzbowicz
These students have lived our mission of empowering Gettysburgians to lead ethically and effectively. While developing their own leadership skills, this passionate team also served hundreds of students and dozens of groups through individual, group, and outdoor leadership development experiences.
Recently, we facilitated our year-end one-on-one reflection process with every GLC senior to help them reflect on what they learned from their experience and to gather feedback on how we can improve our organization. Giving and receiving feedback is an essential communication skill for teams to embrace. Generally, feedback is the communication of reinforcing or redirecting information about behaviors of a person or team in a given situation. Most of the research on leadership is focused on helping leaders improve performance of their teams for outcomes, yet scholars suggest feedback may not be that helpful for learning. Nonetheless, a culture of feedback when done effectively, is useful in identifying blind spots, unearthing assumptions, and clarifying shared understanding. There are many feedback models an organization can use, but more broadly, here are four components that I believe are most essential to maximizing the power of feedback:
Customize the delivery and message of your feedback to the individual.
Consider the "time and place" for when and where the feedback is given.
Focus your feedback on observable behaviors and their impact rather than assumed intentions or attitudes.
Remember to ask for feedback, especially when you are in a leadership role or position of authority. Feedback is a gift, so you must also commit to listening to the person giving it!
As you approach your leadership practice, I hope this reminder about giving and receiving feedback can be helpful to you and your team.
During the summer, our team is preparing for our pre-Orientation program Ascent for incoming first-year students this August, and we continue to enroll young alumni in our free leadership coaching program. If you are interested in working with a leadership coach, please contact me directly! We will also host two summer interns to help support our work: Garrett Donais '23 and Lucy Bordeau '24.
As always, thank you for reading and your support of leadership development at Gettysburg!
Sincerely,
Andy