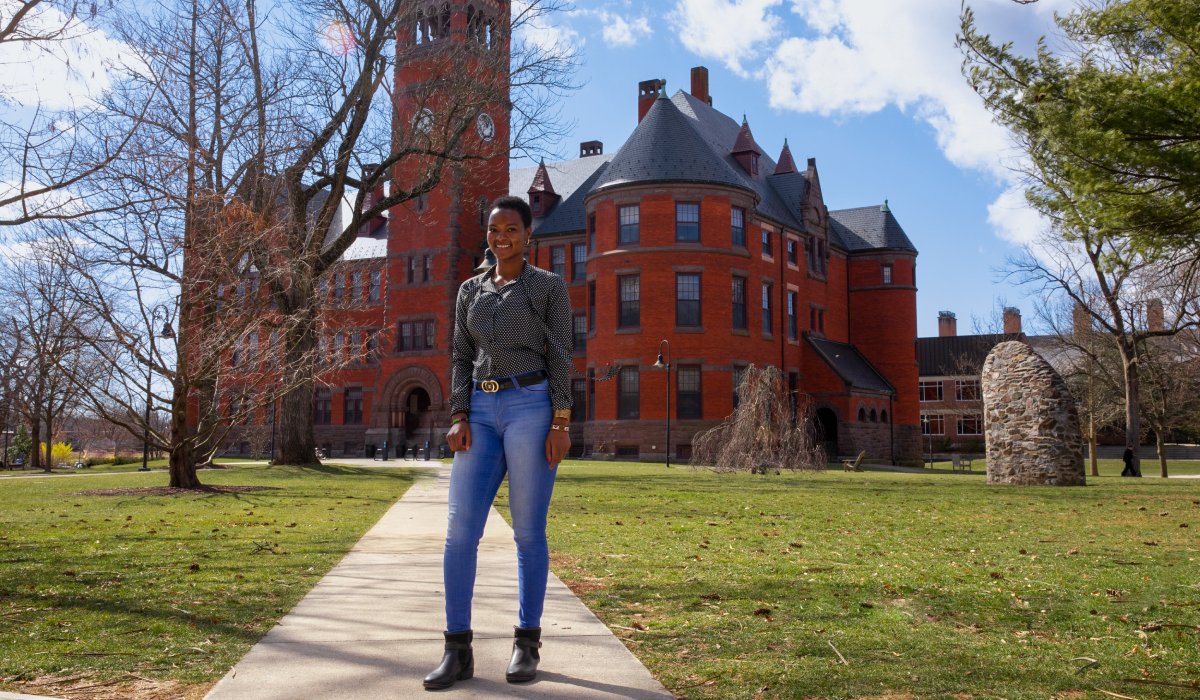 It was a nice, quiet morning when I walked into the Gettysburg College admissions building with my high school mentor. After an intense but rewarding interview, I knew I wanted to spend my next four years at Gettysburg College. Upon my return to St. Mark's School in Southborough, Massachusetts, I submitted an Early Decision application to Gettysburg College.
While at Gettysburg, I have pursued a double major in psychology and anthropology and a minor in writing, developing close relationships with my professors and peers along the way. My advisor, Psychology Prof. Kathleen Cain, with whom I took my first psychology course, ignited in me a passion for psychology and majorly influenced my change from a health sciences major to a psychology major. Meanwhile, Psychology Prof. Nathalie Goubet, who instructed two of my courses in the program, invited me to her house for lunches, lent me her bike, and always waved to me with a wide smile when she saw me. Anthropology Prof. Donna Lynn Perry's class on Corporations and Communities motivated me to learn more about people and cultures, so I declared anthropology as my second major. Prof. Perry also supervised my independent research project, "Women's Empowerment and Education in Maasai Communities in Tanzania," where I explored women's marginalization and how empowerment and educational projects can help change men's perspectives toward women and education.
These professors, among others, have been mentors that I am sure I will stay connected with after I graduate, and it was through my experiences, both in and out of the classroom, that I learned to branch out of my comfort zone and challenge myself to explore opportunities that the College offers.
During my first year at Gettysburg, I was a member of the Campus Activities Board and an intramural supervisor where I collaborated with my peers to propose engaging activities for the campus and promote well-being through intramural sports. I learned to be a vocal team member and developed leadership skills that I continue to use today. Currently, as a supervisor at the Jaeger Center, I work with my fellow supervisors and manage a group of fitness attendants, which also hones my communication skills.
The summer after my junior year, I returned home to Tanzania to serve as a communication and development intern for Orkeeswa, a community-based organization in Tanzania that believes that education is the foundation for youth-driven, community-led development, which provided credit for my writing minor. During this internship, I collaborated with both internal and external stakeholders, strengthening relationships with them. Because of this experience, I developed an interest in communications and development, which is now a field I want to pursue after my graduation from Gettysburg.
In 2022, I was also accepted into the Entrepreneurial Fellowship at Gettysburg College, for which I was awarded a grant to launch a nonprofit business, Nasaru, that provides women in my Maasai community in Tanzania with economic opportunities.
Through this nonprofit, I and two friends gathered a group of women together through an occupational beadwork activity to discuss being a woman in a patriarchal community. Although most of the group members did not complete primary school like I did, I made sure that the women felt safe and welcomed. While I'm not a business major, this opportunity allowed me to try something new in the business sector, outside my academic subjects. I also made a difference in my community by creating a safe space for women to freely speak about issues, such as domestic violence and early forced marriage, while they earned a living and contributed to their household's income.
I am currently in the process of registering my nonprofit under Tanzania's Non-Governmental Organization Constitution. In the future, I would like to grow the organization into a women's health clinic with a mental health department where women and girls in my community and all over Tanzania can come for advising and counseling services.
In addition to my nonprofit endeavor, I want to simultaneously pursue a career with a mental health organization, leveraging my communication, teamwork, and leadership skills through clinical counseling. The nonprofit organization that I am in the process of registering has inspired me to be a mental health counselor and an advocate for more mental health resources in Tanzania. I want to give women and girls a safe space where they feel loved and valued. I thank Gettysburg College for providing me with the opportunity to be an entrepreneur.
By Edna Kilusu '23
Photos by McKenna White '25
Posted: 03/23/23