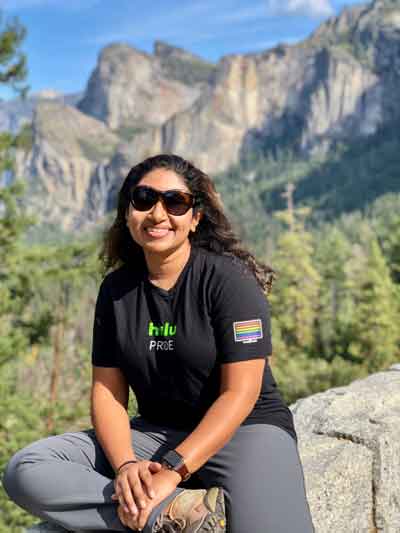 In the wake of 9/11, Disha Al Baqui '05 was a newly arrived international student from a Muslim family pursuing a degree in the male-dominated field of computer science. She faced challenges. Nevertheless, Al Baqui persevered, found mentors and supports, and took advantage of all that Gettysburg College had to offer. Turning challenges into opportunities, she graduated from Gettysburg College as the only female computer science major in her class and the first recipient of the Outstanding Computer Science Student award. Today, she is the engineering manager on the Content Library team at Hulu, a leading streaming entertainment company.
In a Q&A, Al Baqui discussed her experience as an international student, a woman in STEM, and a team leader at Hulu working to improve gender disparities in the computer science field.
What was your experience like as an international student at Gettysburg?
I was born in Bangladesh and raised in Saudi Arabia until the age of 17. Growing up, my parents prioritized my education and that of my two sisters. That focus on education led me to explore higher education options in the United States. As someone with varied interests that span the technical and the creative, I was gratified by Gettysburg College's liberal arts approach, which gave me a diverse array of classes to choose from. It offered me a perfect balance. I took advantage of photography and theater classes to feed my creative side, while pursuing my degree in computer science. As an international student, I always felt supported by Gettysburg and would recommend it highly to other international students.
The month after you arrived at Gettysburg, 9/11 happened. How did that impact your experience?
My home country of Saudi Arabia was pegged as the place of origin for a number of the masterminds behind the attack. I wouldn't say that I lost pride coming from that country to the United States, but I was definitely careful. There were days when my mom would tell me that it was okay for me to take off my headscarf and go to school, for safety purposes. With that said, I never felt unsafe on the Gettysburg campus and there were multiple outlets for me through on-campus diversity groups. I was actually one of the founding members of the Muslim Student Association. We helped educate others about the Muslim faith and spread awareness about the fact that radical terrorists constitute an incredibly small percentage of those who practice the faith.
You struggled a bit at Gettysburg early on and credit Prof. Todd Neller as an important support and mentor. How did Prof. Neller help you to become successful at Gettysburg?
The first year of college is always hard to navigate; being an international student from a very conservative country brought its own set of challenges. Prof. Neller played a huge role in my formative years. It seems that everyone has "yardstick people," those individuals who are touchstones for them. Prof. Neller was that person for me. I chose to take several classes with him, including Introduction to Artificial Intelligence and Advanced Systems Design, and he was my adviser on my summer research internship project creating a mobile user interface for an intelligent reasoning engine for the board game Clue. I'd pop into his office and we'd have conversations not only about computer science, but also about family, and our viewpoints on religion and politics. He was the person I asked advice from on pursuing a master's degree in computer science, which I ended up pursuing and completing at the University of British Columbia. We still keep in touch to this day.
Women are underrepresented in the STEM fields. How did it feel being the only woman in computer science in your graduating class and what was the reality once you started in a STEM career?
While there was a gender disparity in the computer science program at the time, I never felt disadvantaged. Everyone was always very inclusive. There was also a handful of women in the program from other graduation years, which definitely helped. Ultimately, I learned at Gettysburg that you should never question your abilities because of stigmas that may exist.
The first few years in the industry I didn't feel the gender disparity either, but I started to feel it as my career went on. Now, I try to be a part of the solution. Currently, I have a balanced team at Hulu; with a 50 percent gender balance and individuals of diverse ethnic backgrounds, which is something I aim for with every team that I manage.
What advice would you give to young women who are starting out in computer science and facing similar gender disparities?
My advice to other women is to start early! Start as early as kindergarten. My sister is already teaching her six-year old daughter about STEM. Also, keep at it! If you have a road map in mind and it doesn't work out, don't give up. At Gettysburg, there are plenty of advisors to provide guidance and resources to help you take advantage of everything the college has to offer. People are very inclusive there, so ask questions and explore. Additionally, I think a lot of young people believe they have to stick to a path once they've chosen it, but it's important to remember that the average person experiences about six career cycles in a lifetime. So, don't fear having to change your path a bit over time!
By Katelyn Silva
Posted: 03/21/19