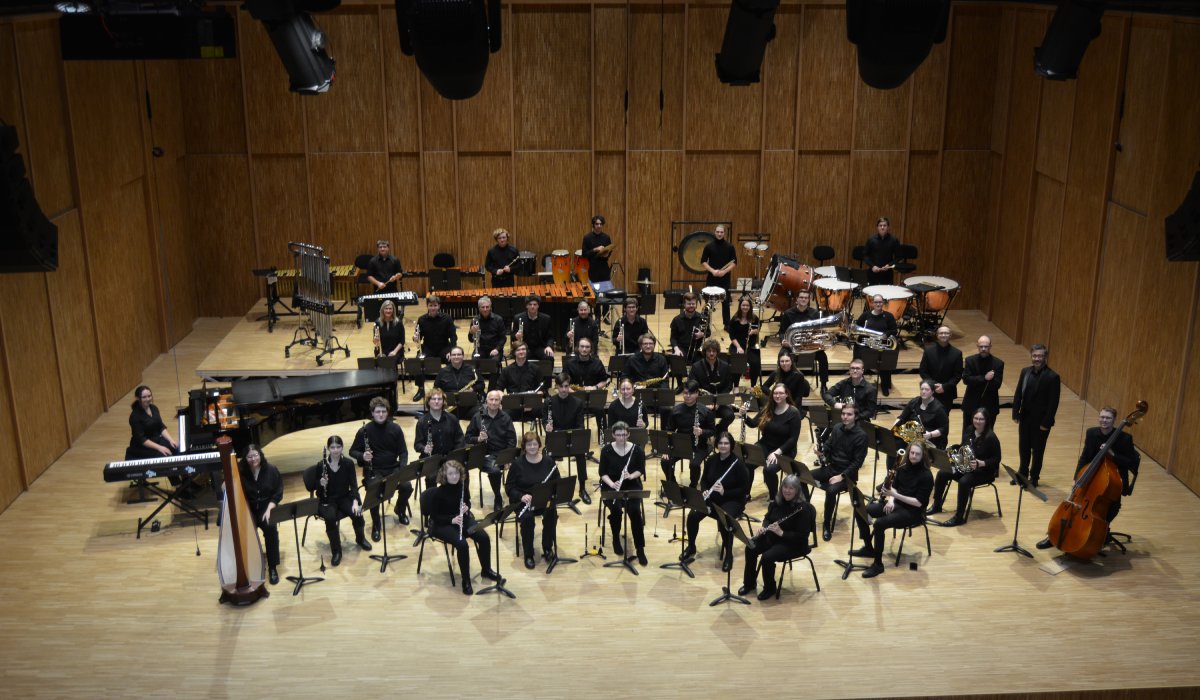 We sat in a large circle on the floor of Paul Recital Hall—the newly arrived music students of the Class of 2023 assembled for Orientation. We introduced ourselves one by one, and names and faces blurred in my brain as various professors explained how my next four years would proceed. We closed our eyes, and each hummed a pitch, listening to one another and adjusting our sounds until one unified note rang through the space. If I had been told then that the people gathered in that room would become my closest friends and most trusted faculty mentors, I would have believed it, likely with a relieved sigh and a hesitant smile.
The news that my studies here would culminate in my European compositional debut, however, would probably have given me a laugh.
In the spring of my junior year, Sunderman Conservatory of Music Prof. César Leal, the director of orchestral activities and conductor of the Symphony Orchestra, asked me to compose a piece for the ensemble's tour to the Baltics. At that point, I had been studying composition with Prof. Avner Dorman for several semesters, but I had never written a complete orchestral work, so I jumped at the opportunity.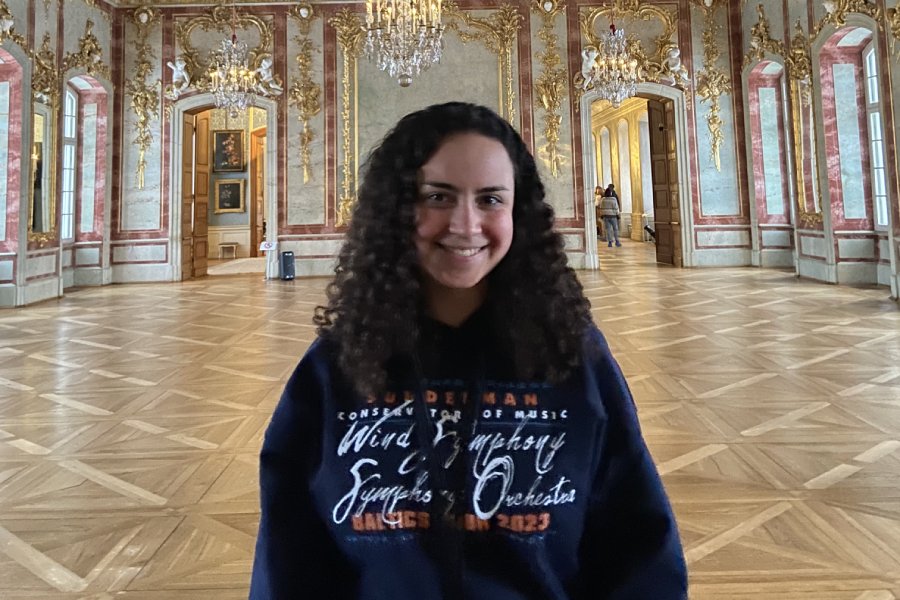 Leal suggested that I incorporate my passion for musical storytelling in the piece, particularly with my interest in film scoring. With this in mind, and in collaboration with Leal and Dorman, I developed "The Myth of Lorelei," an orchestral work depicting a mythical siren on the Rhine River. In December 2022, the Sunderman Conservatory Symphony Orchestra premiered the piece in Gettysburg's Majestic Theater. In January, the ensemble performed it as a feature for our sold-out concerts in Lithuania and Latvia.
From my place in the second violin section, as I heard the music start to rise around me, I felt a unique joy in realizing that I knew the person behind every note. Where previously this piece had been only a concept in my mind and dots on a page, now it had come to life through the work of not just any musicians but my friends and colleagues. Some of these fellow musicians have been by my side for my entire college career; others I met in rehearsal right before our tour concerts, as we were joined by strings players from the countries in which we were guests. It was a privilege to share my music with people I had never met, from the local violinist who sat next to me for our Latvian concerts to the audiences whose musical culture is so different from mine.
I found a similar joy in playing the rest of our repertoire, as well as from my seat at the piano, in performance with the Wind Symphony on the same tour. Looking back from this culmination of my years here at Gettysburg College, I see that the strength of the Conservatory community—through my instrumental ensemble experiences, my time singing in the College Choir, and classes, lessons, and chamber groups—has been indispensable in my growth as a musician and as an individual. The passion and talent of every student are matched by an eagerness to support others and a love for making music together. It was this strength of community that allowed us to bring our music abroad, united not just in sharing our passion with new communities but also in learning about the rich musical significance of the Baltic countries. We found an artistic connection that transcends language barriers or cultural differences.
My time at Gettysburg has taught me to do things that scare me. Both within the Conservatory and outside of it, I have ventured into unfamiliar topics and risky discussions. I have taken on leadership roles in student organizations, overcoming the fear of failure and benefitting from the results. I have learned how to work with others in various settings, develop my understanding of diverse backgrounds and perspectives, and trust myself in pursuing my goals.
At the time of that first-year Conservatory meeting, I would have been terrified to present a composition even to friends, much less to an audience of strangers far from this Pennsylvania town. While some of that trepidation lingers, it is overwhelmed by wonder and gratitude for such an opportunity—and hope for many such impactful experiences in the future.
Learn how Gettysburg's high-impact curriculum enables students to become engaged citizens with a global perspective of their world.
By Natalie Dolan '23
Photos courtesy of Morgan Grant
Posted: 02/06/23