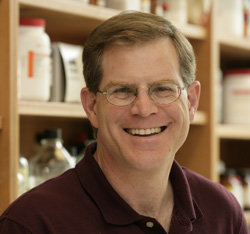 Tune into a new episode of Gettysburg College's podcast, Conversations Beneath the Cupola. In this episode, podcast host President Iuliano is joined by Biology Prof. Steve James '80. Together, they discuss the biology and genetics of COVID-19, its origins, how properties of the virus are affecting the development of a vaccine, and other related topics.
"As this pandemic evolved, it became clear to me that it was just a very logical swerve to bring the [topic of the] Coronavirus to my students. I thought, there's really nothing more important than this and for their lives right now, and for them to understand the circumstances that we're facing," James said in the podcast episode.
The episode concludes with an anecdotal "Slice of Life" told from the president's perspective. Iuliano shines light on how Musselman Library staff is continuing to support students remotely during finals week and the conclusion of the spring semester. Some of their efforts included a spirit week, a virtual "study break" with stress relief activities, and "Lattes with a Librarian," during which students could receive one-on-one research help on their projects and papers.