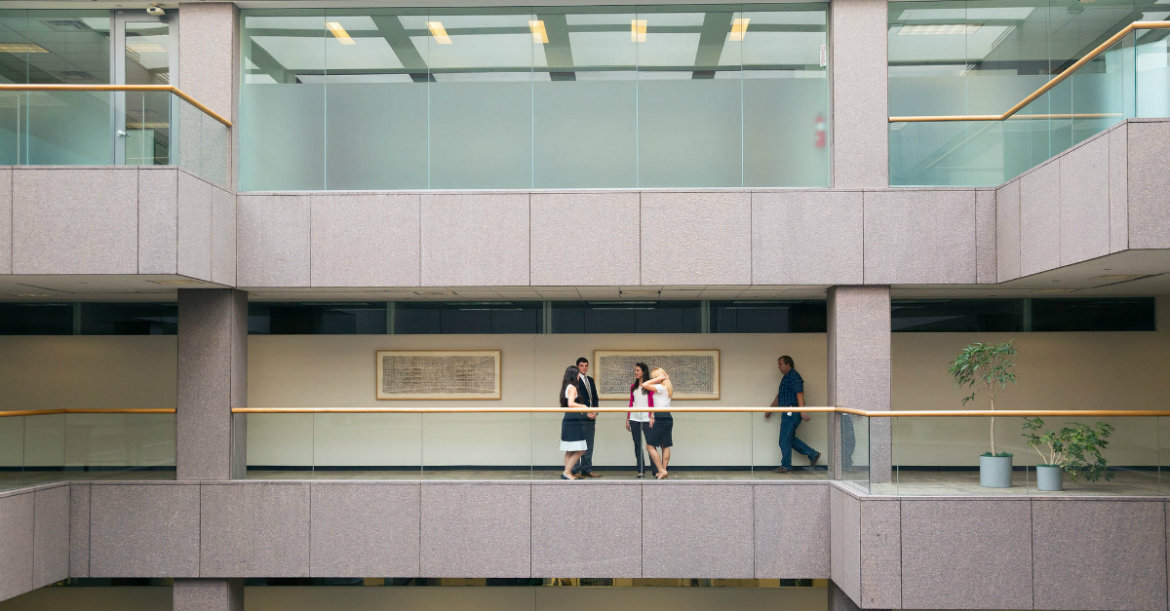 At Gettysburg, 80% of students complete at least one internship or intensive career exploration experience by the time that they graduate. Obtaining an internship isn't only an integral part of developing a successful career plan, but many students use these experiences to launch their first job post-graduation.
So how do they do it?
We've asked a few students who've held internships this past summer to walk us through their internship process: from the application to the interview, the first day to the last.
Check out their responses for yourself. And to learn more about how to find an internship, stop by the Center for Career Engagement and start your career plan today.
Finding an internship
"I wanted to work in museums, so I began by researching museums with internship programs in Washington, D.C. That's how I came across the Smithsonian internship program. Their application process is very intense. I used the Career Development Center a lot to make sure my resume was updated and to check over my essays to see if they made sense. I also spoke to my professors about my application and had them proof read the essays before submission." – Danielle Jones '18
"I joined the Center for Career Development's Siegfried Fellowship to help with the process of finding an internship that was right for me. Being a junior, I wanted to get hands-on experience in a career that I can see myself doing in the future. Throughout the application process, it is important to be patient, but to stay on top of research and deadlines. The process can be long for some and become discouraging, but you have to put in a lot of work to get where you want to go. –Yasmine Perry '17
"I wanted to develop my skillset in journalism, so I took Journalism 203 to gain more insight into the field. The professor shared that his first experience was writing for his local newspapers, which encouraged me to reach out to some of my local newspapers. Eventually, I got a response from a paper that was close to home. I have learned that there are many opportunities to develop your skillset if you are direct in your search and are not afraid to email or call the guys at the top of a company or organization." – Andy Milone '18
"I found out about an internship with the Gettysburg National Military Park through the Civil War Institute. I applied because I was confident that I wanted to go into the field of public history, but had no prior experience with it and doubted whether I could succeed in this field. Through the Pohanka Internship Program, Gettysburg College students have the opportunity to intern at different Civil War sites while gaining knowledge about public history." – Savannah Rose '17
Preparing for an internship
"I interned in my local Congressman's district office, and I prepared for the internship by familiarizing myself with the Congressman's positions on different issues. I knew I would be expected to speak about them intelligently on a daily basis. I also read the news every day, both in newspaper and social media, in order to be up to date on current events happening in Washington D.C. that may affect the Congressman." – Aubrey Silverman '17
"Once I got my internship, I did a lot of research on grant writing. When working for a non-profit, advertising the organization is key to grant writing because it is how the organization is funded. It's important to understand the skills needed for the job, while also not being discouraged by things you don't know how to do. In order for you to gain skills, you have to go outside of your comfort zone and learn new skills that will be very helpful for you in the future." – Yasmine Perry '17
"I communicated with my boss about what I should be expecting in the internship and did research on both the Smithsonian as a whole and the Smithsonian Archives." – Danielle Jones '18
Succeeding in an internship
"My main accomplishment was completing casework for my Congressman. It was a great feeling to be able to call one of our constituents and let them know that we successfully upgraded their VA benefits or helped to advance their social security hearing. A lot of these people are in a dire need situation, so to be able to help them and to hear how grateful they were was such a rewarding accomplishment." – Aubrey Silverman '17
"I worked closely with a Board Certified Behavioral Analyst (BCBA), classroom teachers, and supporting staff members to complete administrative duties, gain practical special education field experience, and manage a special project. The internship was offered by one of our very own alumnus, Ed Vonderschmidt '94, who operates the Y.A.L.E. Schools in several locations within southern New Jersey and Philadelphia, Pennsylvania. I am grateful for the challenge and growth this opportunity has provided me with." – Khemilla Kedarnath '18
"[Working as a Center for Public Service Summer Fellow in the Children's Art Museum of Nepal, I learned that] art is something we all can share, and an example is easy enough to use as a guide with kids. From working with 39 preschoolers to assemble a paper collage mural to working with an orphanage to creating superheroes, I appreciate being able to see the joy that comes with creating a piece of art and allowing children to be creative. At the end of the workshops, I appreciate that everything is a learning experience for all parties involved." – May Chou '18
"I loved my experience. I interned with my local minor league baseball team was surrounded by baseball every day. I got a full perspective of everything that goes on behind the scenes in a minor league baseball team. I was assigned my main summer project on my first day and began doing research for it right away. By the end of the summer, I had researched and organized two big theme nights, promoted other upcoming events, and made countless phone calls to set up group sales." – Josh Cubell '18
Post internship wrap-up
"I learned that an internship is vital for both networking reasons and for clarity of your future in that field. This internship cemented the fact that I am very interested in political science and policy issues that face our nation. I learned so much this past summer that I never could have learned in a classroom setting. I gained real-world office and people skills." – Aubrey Silverman '17
"[I worked with Keith Masback '87], keeping his schedule for the week because he is a very in-demand guy at his own symposium. He made sure to introduce me to everyone we were meeting with, as well. I went into that symposium not knowing much about the intelligence field and left realizing that I wanted to go into national security law." – Taylor Beck '17
"As one of the Center for Career Development's Entrepreneurial Fellowship recipients, I would say the most surprising thing I've learned so far has been just how much work goes into making a web application. I've been programming since I was 13 years old and have made many websites, but I never realized just how difficult it would be to scale up to making a full functioning web app. As a computer science major, the Fellowship has given me a new appreciation of my field of study." – William Czubakowski '17
"I realized that I really enjoy the sports industry. I think internships are a great way to gain experience, but also to decide whether or not you want to pursue a career in that specific field. I am now considering working in sports and am looking at internships with other major sports franchises. " – Josh Cubell '18