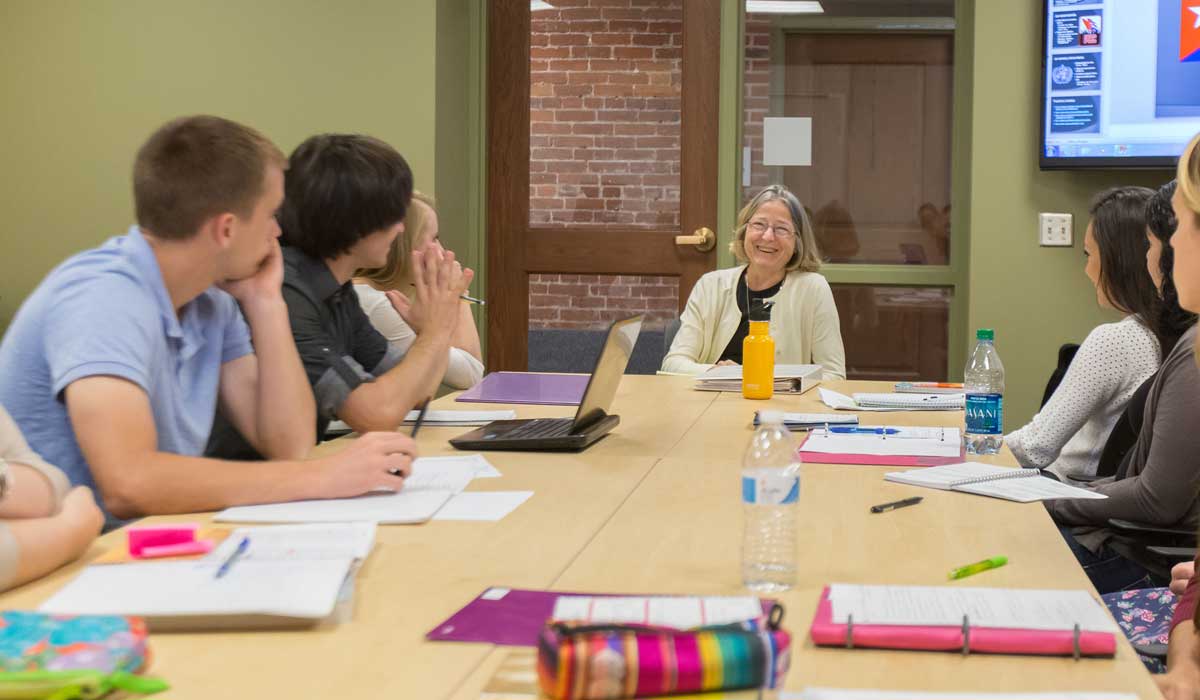 Gettysburg College honors the life and memory of long-time faculty member Eileen Stillwaggon, who passed away in late May 2020.
Prof. Stillwaggon began working in the economics department in 1994 and retired at the end of the 2019-20 academic year as Professor of Economics and Benjamin Franklin Professor of the Liberal Arts and Sciences. She was a respected and cherished colleague, both within her department and across campus.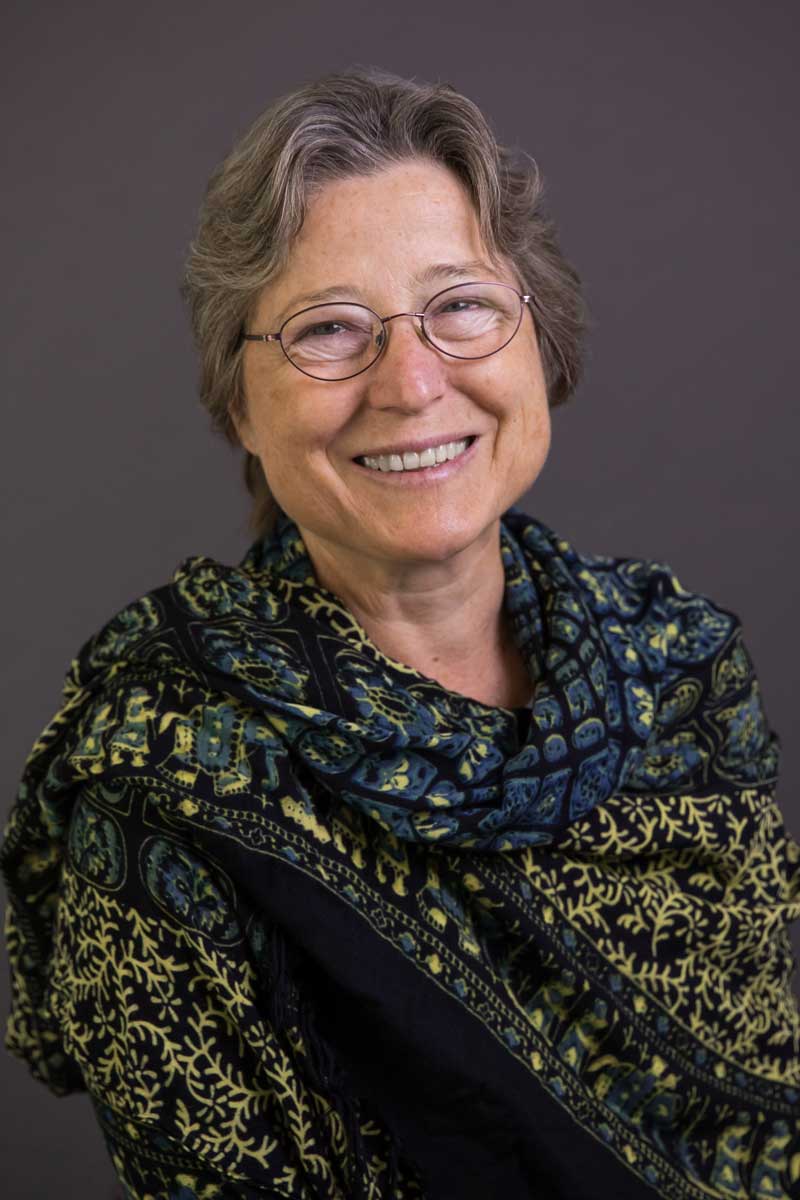 "As a colleague she was always available to provide mentorship and advice, and her voice in our department will be missed. She loved her students, worked hard with them, and her absence will be felt acutely," said Economics Chairperson and Prof. John Cadigan.
Her research focused on issues of poverty and health, particularly in Africa and Latin America. She was a prolific scholar whose work changed the nature of the academic discourse in several fields and led directly to changes in government policies.
During Stillwaggon's career, she published two books ("AIDS and the Ecology of Poverty" and "Stunted Lives, Stagnant Economies"), 28 articles in academic journals, and ten book chapters. She held research positions with the U.S. Congress's American Indian Policy Review Commission where she was chief economist, the Pan American Health Organization, the U.S. Department of Labor, the U.S. Department of the Treasury, the United Nations Office of Development Planning, and the National School of Tropical Medicine at the Baylor College of Medicine. She also played active leadership roles in the International AIDS Economic Network and the Committee on Global Health of the American Society of Tropical Medicine and Hygiene. She was also a Fulbright Senior Lecturer in Tanzania and Ecuador.
Touching the lives of nearly 1,500 students during her time at Gettysburg College, Stillwaggon was a beloved mentor who will be remembered for her unwavering support of her students and her life-long pursuit of a more just world.
"The nurturing of students in their learning process is an important lesson I got working with Eileen. She did not just engage students in her research projects as mere formality, she ensured that they got as much out of the work as she did, and that the work contributed to their personal goals. This would explain why she ran vigorous and painstaking interviews for such work," economics prof. Linus Nyiwul said. "At a personal level, Eileen worked hard to improve the human condition and this is evident in her body of work. We will miss her."
Several former students of Stillwaggon's recount the impact that she had on their lives and the moments that will live on in their memories:
Christopher Carrier '10
"Of all the teachers I've had throughout my academic life, she was the one who had the greatest impact and whom I most admired. She will be sorely missed by many."
Munya Choga '12
"Prof. Stillwaggon was more than my economics advisor. When I started my academic career at Gettysburg College as an international student from Zimbabwe, she also made me feel welcome to a new country and culture. Throughout the course of my time at Gettysburg, she was always there to provide much needed advice and encouragement. She was instrumental in my participation in initiatives such as the Projects for Peace and the Eisenhower Institute. So, when I think about my overall college experience inside and outside of class—I can visualize Prof. Stillwaggon every step of the way. To me, her passing means the loss of a great professor, advisor, and friend. May her family, friends and the Gettysburg community remember her work and contributions but also be comforted during this difficult time."
Lionel Hong '12
"Prof. Stillwaggon was my Econ 101 professor, and also my college advisor. She made everything in class so easily understood that it gave you confidence in learning about the most complex economic theory and policies. In fact, she used to say 'The only secret to doing well in 101 is to read the textbook three times, because that's how you give yourself a chance to understand even the most foreign concepts.' Embedded in that sentence, she was urging us to be patient with learning new things, and to trust ourselves with conquering challenges.
This wisdom has truly served me well over the years. She was meant to be an educator, because she's made a big difference in many people's lives. She always delivered knowledge with ease and precision. And she always welcomed our craziest ideas with an open mind and patience. She was always busy, not just with us but also serving the world through her latest research findings, and doing so with grace and a smile. I believe she's busy making it a better place already wherever she is now, not taking any breaks. And you bet her smile is lighting up that place already."
Victoria Perez-Zetune '16
"Prof. Stillwaggon supported me throughout my time at Gettysburg and beyond. I've always admired her work ethic but more importantly her compassion. She taught me how economics could be a tool used to inform policy on difficult and important topics related to poverty and inequality. To me, she will always be my mentor and friend."
Isha Rajbhandari '11
"Prof. Stillwaggon was my mentor and role model. She believed in me and supported me even when I could not. Her passion and enthusiasm for teaching economics instilled in me a love for the subject and was monumental in my decision to pursue a career in academia. I will miss her a lot."
Hadiatou Barry '10
"I am saddened by the passing of Prof. Stillwaggon. She was a great soul and an angel on this earth. She was a great educator, mentor, and a mother to many of us. She accomplished so much in her lifetime and inspired all of us to do the same. She has made an incredible mark and impact in my life. My hope is to continue to make her proud through my work and action."
By Molly Foster
Photos by Shawna Sherrell
Posted: 06/16/20