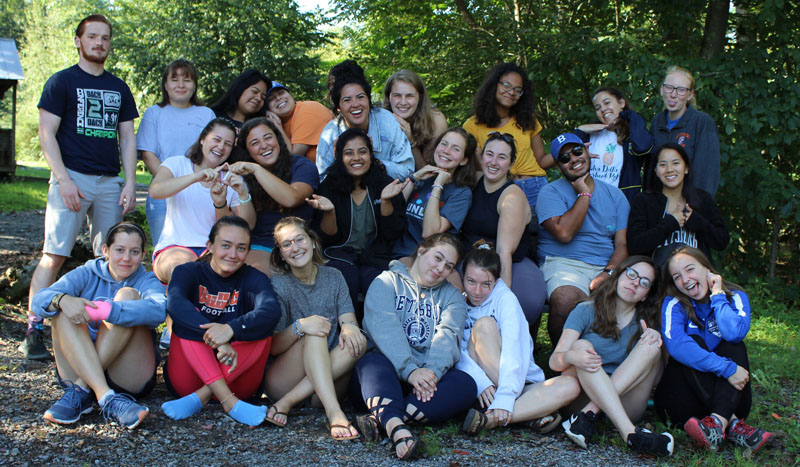 Student leadership, provided by Program Coordinators (PC), is central to all CPS programming. Students find voice and the power to find solutions for issues that are important to them -- educating, challenging, and encouraging their peers to continually explore community work, advocacy, and change.
The Program Coordinator Experience
Responsibilities:
Program Coordinators are hired to work with specific agencies and/or projects, allowing for the development of strong partnerships. PCs have responsibility for providing ongoing student involvement to their partner agency through developing and implementing projects, and supporting volunteers through education and reflection.
Ongoing Dialogue and Training:
Through Fall Training, bi-weekly staff meetings, a mid-year retreat, and advisee meetings, PCs are able to continue learning about local and global issues as well as develop professional skills and personal direction.
FOUR AREAS OF LEARNING:
Community Partnership:
Community partnerships, the core of Center for Public Service programs, strive to be mutually beneficial - fulfilling both a community-identified goals and providing a learning experience for students. Program coordinators serve as liaisons between the Adams County and campus communities to ensure a solid partnership.
Learning Circles:
Program Coordinators are organized into Learning Circles, which provide the opportunity to share and draw on the knowledge and experience of fellow student leaders, engage in discussions, and develop a support network with one another.
Campus Leadership:
Program Coordinators support student volunteers through education, training, reflection, communication, logistical coordination and the fostering of community/campus partnerships.
Personal/Professional Development:
Program Coordinators have the opportunity to connect with community, develop professional skills, and find a supportive environment to discover their voice in social change.
---