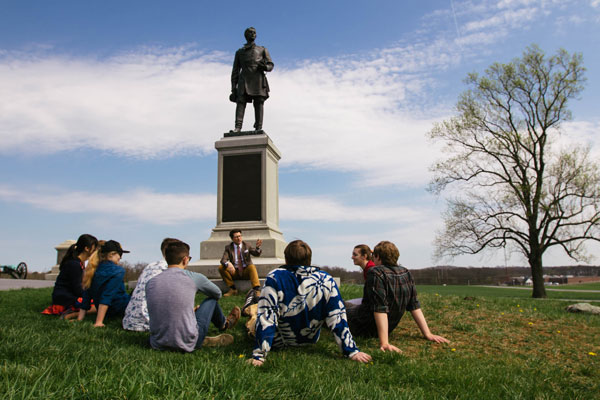 American Civil War Camp provides rising high school Sophomores, Juniors, and Seniors an immersive experience into Civil War history.
The 2023 camp will be held from July 2 - July 7.
Contact information: civilwarcamp@gettysburg.edu.
On this page:
Applying to American Civil War Camp
Complete the online application and registration.
If accepted, we will send information about submitting payment.
Camp director
Jack Ryan is a graduate of New York University and Case Western Reserve University. He is the author of John Sayles, Filmmaker 2ed (2010). He has also published articles in Isle: Interdisciplinary Studies in Literature and the Environment, Creative Screenwriting, and Aethlon: The Journal of Sport and Literature. He serves as Vice Provost and Dean of Arts and Humanities. Professor Ryan contributes courses to the College's First-Year Seminar program, Civil War Studies minor, Cinema and Media Studies, and the Department of English. He is an academic advisor, a Garthwait Leadership Center leadership coach, and an advisor to a number of student organizations. Professor Ryan also coordinates the Consortium for Faculty Diversity at Liberal Arts Colleges, a national organization committed to diversifying the professoriate.
Camp goals/overview
The goal of American Civil War Camp is to provide a window into the history of the American Civil War. Campers will be introduced to some of the significant issues of the Civil War. In addition, campers will be fundamentally introduced to research in the Civil War in a fun, challenging, and engaging environment. Campers will not simply learn about the Civil War; they will travel the fields and visit archives holdings to view original diaries, letters, and photos. Perfect for students interested in history and the Civil War, this Camp gives students an insider's view of the field and preparation for college studies.
Details at a glance
Where: Gettysburg College Campus
When: July 2-7, 2023
How Much: $1,395 for lecture, activities, tours, room and board
Who: Rising high school sophomores, juniors, and seniors
Application Deadline: Applications will be received on a rolling basis until July 1st
Sample day
| Time | Event |
| --- | --- |
| 8:00 a.m. – 9:00 a.m. | Breakfast |
| 9:00 a.m. – 11:15 p.m. | Walk Pickett's Charge |
| 11:30 p.m. – 12:15 p.m. | Lunch square table discussion |
| 12:30 p.m. – 1:30 p.m. | Grant in West: Vicksburg to Chattanooga – Grant comes east, Overland Campaign |
| 1:30 p.m. – 2:00 p.m. | Question and Answer plus break |
| 2:00 p.m. – 3:00 p.m. | Politics: plans for Reconstruction – Civil liberties – economy – Lincoln's re-election |
| 3:00 p.m. – 3:30 p.m. | Question and Answer plus break |
| 3:30 p.m. – 4:30 p.m. | Gettysburg Day Three |
| 5:00 p.m. – 5:45 p.m. | Dinner |
| 6:00 p.m. – 8:30 p.m. | Movie Glory |
| 8:30 p.m. – 9:30 p.m. | Pizza Party |
| 9:30 p.m. – 10:00 p.m. | RA and Camper meeting (Preparing for the next day.) |
| 10:00 p.m. | Curfew |
FAQs
Registration and logistics
When is the camp?

The camp will take place from July 2 to July 7.

How much does it cost to attend?

The camp fee is $1,395. This includes lectures, and activities. The number of admitted campers is limited to facilitate close contact with camp director (professor) and additional faculty, and guest speakers. Campers are assigned to groups of 20 to 25 and attend classes in these groups.

When is the application deadline?

Applications will be accepted until July 1st. Once admitted, campers will receive instructions for completing online registration. When the camp is full, registration will close.

What is the refund and cancellation policy?

Gettysburg Conference Refund Policy: Refund requests received up to 60 days prior to the start of the camp will be given a full refund. No refunds will be issued less than 60 days from start of camp.

What is the contact information for the camp?

American Civil War Camp
300 North Washington Street
Campus Box 410
Gettysburg, PA 17325
717-337-6825
The email address is civilwarcamp@gettysburg.edu.

Who is eligible to attend American Civil War Camp?

American Civil War Camp is designed for rising high school sophomores, juniors, and seniors.

Does my camper need to do academic preparation for the camp?

No. We welcome campers with varying levels of knowledge from no knowledge to extensive knowledge.
Camp life
Can my camper have a cellphone?

Yes. However, campers will be asked to turn off cellphones and other portable electronic devices during class sessions.

Does my camper need a computer?

Yes, campers will use a computer during camp, and will require a stable Internet connection.

What does a typical day look like?

See a sample day at American Civil War Camp.