If you're looking for a college major that gives you an incredible job outlook, we have two words for you: computer science.
Computer Science career paths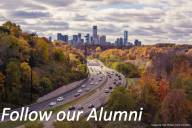 Our students take a variety of paths after graduation. Many, of course, become programmers, developers, and analysts. Double-majors may use their computing skills in specialized fields, from medicine to art. A good number continue on to graduate school either right after graduation or after a few years in the workforce. We live in fluid times, and skills in computer science will give you an edge no matter where your interests take you.
Tech jobs dominate Glassdoor's list of 25 Jobs with the Best Career Opportunities, released in August 2019. Almost half of these jobs with bright futures are tech positions. Tech roles like Salesforce developer and data scientist are in high demand not only at tech companies but across almost all industries, demonstrating that employers are willing to pay top dollar as they need tech workers that can organize and analyze data and build software.
Emerging jobs
According to LinkedIn's Emerging Jobs Report for 2020 (PDF), data and artificial intelligence continue to make a strong showing. "Data science is a field that is seeing continued growth on a tremendous scale, but our data shows data scientists may be augmenting responsibilities traditionally done by statisticians as some industries, like insurance, gear up for the future."
The same report points out that "the multibillion-dollar e-learning industry is taking off, and it's staffing up to prepare. LinkedIn data shows the industry is snapping up both sales and tech talent, indicating continued customer demand for these types of solutions."
Nine of the fifteen top emerging jobs in the U.S. were computer-science driven.
Future outlook for computing
According to the most recent U.S. BLS Employment Projections, computing continues to dominate STEM career opportunities. "More precisely, the US-BLS predicts that each year, there will be nearly 29,000 New Jobs in software development, over 8,300 new computing support jobs, over 5,500 new systems analysts jobs, over 3,500 new information security analyst positions, and over 4,200 other computing-related jobs," says Joel C. Adams on the ACM Career Blog.
Why will there be so many software development/engineering jobs?
One reason is the mobile computing It used to be that every company wanted a website (and they still do), creating demand for web developers. But today, most companies also want apps for smart-phone and tablet devices, whether running Apple's iOS operating system or Google's Android operating system. The need to create and maintain these apps is one factor that is creating a huge demand for software developers.
Another reason is that manufacturers are increasingly embedding computers into appliances like refrigerators, ovens, water heaters, and so on.... These embedded computers will communicate by sending data across networks, and this data will be stored in databases, creating demand for networking professionals and database administrators.
Adams notes that basic computer literacy (i.e., profic Microsoft Windows, Word, Excel, or Powerpoint) or CAD-design skills will not qualify you for one of these careers. Most of these jobs require advanced computing skills that you will only gain by studying computer science, information systems, software engineering, and/or data science.
Women in STEM
Women in STEM: an editorial exploration on the state of women in STEM with several interviews from women in the industry and a collection of scholarships.
Career Guide for STEM: featuring paths of study, specializations, job options, as well as an interview with a woman with 23 years of experience working in STEM.
Guide to initiatives that encourage women into cybersecurity This guide is a deep dive into 35+ initiatives that should prove helpful for women exploring a career in this rapidly growing area.
Related pages