Physics Facilities on Campus
Since experience really is the best teacher, an excellent laboratory program with essential equipment and computers is a vital component to the study of physics. The Physics Department puts forth a solid and continuous effort to build and maintain its laboratory and research facilities.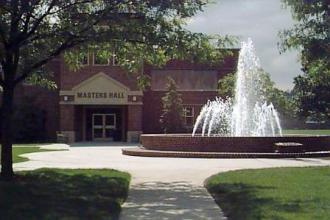 Masters Hall is home to physics. It houses several laboratories, an auditorium, classrooms, a machine shop, and the Physics Student Lounge.
Lab experience and confidence are of critical importance to graduate schools and potential employers. In addition to its annual equipment budget, the Physics Department has received special grants from the National Science Foundation, the W. M. Keck Foundation, the Pew Charitable Trusts, the Commonwealth of Pennsylvania, and Gettysburg College for the purchase of laboratory equipment.
Accelerator Lab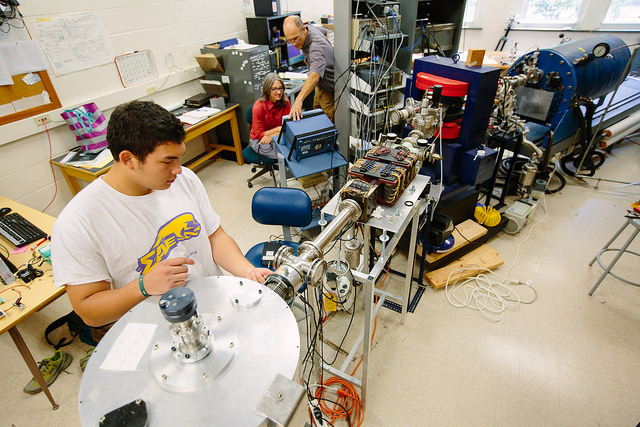 The following is a sampling of the Physics Department's cutting edge equipment, listed according to the year when students normally begin using them:
First Year:
Oscilloscopes, function generators, digital multimeters, air tracks, scalers (for radioactivity experiments), microcomputers (for a multitude of uses, including laboratory control an measuring devices, analysis and graphical tools, access to the College's mainframe computers, as well as other computer resources), He-Ne lasers, optical benches;
Sophomore:
X-ray source and spectrometer, interferometers, neutron source, grating spectrometers, multichannel analyzers, microcomputer interfacing equipment, digital electronics;
Junior/Senior:
Microprocessor controlled multichannel analyzers, electron spin, resonance spectrometer, 12" research electromagnet, Mössbauer drives, fast coincidence counter, x-ray diffraction apparatus, solid- state particle detectors, Fourier transform spectrometer, to name a few.
Additional Equipment for Student Use:
Research-quality 16" Cassegrain telescope with a computer controlled drive
UBV photometer
Research grade CCD camera
Optical isolation table
Tunable scanning narrow band ring dye laser
100-liter vacuum pump system,
25-milliwatt He-Ne laser
Two 5 watt argon ion lasers
Nitrogen dye laser
Fiber optics apparatus
Assorted holography apparatus
Spectrum analyzer
Infrared sensitive measuring television camera
Assorted electronic measuring and computer equipment.
64-node high-speed computational cluster
Inductively-Coupled Plasma Atomic Emission Spectrometer
UV-Vis Absorption Spectrometer
The Physics Department also seeks to obtain and reserve funds that can be made available for purchase of items necessary for individual, independent research.