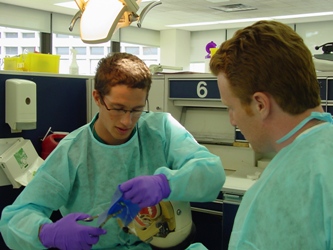 The Gettysburg College Pre-Health Professions Club is open to everyone who is considering a career in medicine or an allied health profession. Working closely with the Health Professions Committee and such College services as the Center for Career Engagement, the PHPC seeks to provide a forum for students interested in learning more about possible health professions careers through regular club meetings, discussions, guest speakers, field trips, volunteer work, conferences, and graduate and professional school fairs. Come join us!
Club members will be notified of speakers and events through email, once they have completed the Health Professions Registration form.
If you are interested in receiving emails specific to the Pre-Health Professions Club, please email Riya Parikh to be added to the club alias.
---
Club Meetings
WED, SEPT 18 at 7:30 PM in SCIE200
Speakers - SPRING 2020
WED, MAR 4 at 5:00 PM in SCIE200
Robert Raring, Post-Bacc Pre-Health Coordinator at Temple University
MON, MAR 2 at 6:00 PM in SCIE300
Charles Stuckey, Optometrist
THURS, FEB 20 at 5:30 PM in SCIE200
Sarah Woodbury, '10, Nurse Practitioner at Johns Hopkins Heart Failure and Outpatient Center
TUES, FEB 18 at 7:30 PM in SCIE200
Alum previously in the Sports Management Field, and currently a PA in family medicine
WED, FEB 5 at 5:00 PM in SCIE300
Ryan Boothe, Admissions Counselor at West Virginia School of Osteopathic Medicine
MON, FEB 3 at NOON in SCIE200
Dr. Joe Kramer, Assistant Professor-Department of Pathology, Director of Master of Biomedical Science Program
Speakers - FALL 2019
THURS, NOV 21 at 6:00 PM in SCIE200
Dr. Liggon, Psychiatrist, Gettysburg College Counseling Center
TUES, NOV 12 at 4:00 PM in SCIE200
Jewel McColumn, Admissions Counselor, New York Chiropractic College
WED, NOV 7 at 7:00 PM in SCIE200
Ryan Hollister, Associate Director at the Bennett Career Services Center, Salus University
TUES, NOV 5 at 8:00 PM in SCIE300
Allie Demers, Physical Therapist
WED, OCT 23 at 7:00 PM in SCIE200
Sophie Sugar, '18, First Year Medical Student at the University of Colorado
MON, OCT 21 at 7:00 PM in SCIE300
Jonathan Cox, Associate Director of Admissions from Philadelphia College of Osteopathic Medicine (PCOM)
MON, OCT 7 at 7:00 PM in SCIE200
Eric Klotz, Emergency Physician
MON, OCT 7 4:00-5:00 PM in SCIE200
FRI, SEPT 27 at 3:00 PM in SCIE200
Adam Jacoby-Rankin, Medical Scribe
---
Executive Board Officers for 2019-2020
Riya Parikh, '20, President
Electa Willander, '22, Vice President
Tiffany Hill, '19 Secretary (Fall Semester)/Gianna Cangelosi, '21 (Spring Semester)
Ahmed Sheikh, '22 Treasurer
Michelle Kaminski, '21 Senate Representative
Dr. Emily Besecker, Club Advisor
This is a very active club that welcomes you to join and participate! Questions? Feel free to contact a member of the Executive Board.