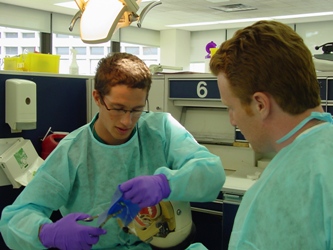 The Gettysburg College Pre-Health Professions Club is open to everyone who is considering a career in medicine or an allied health profession. Working closely with the Health Professions Committee and such College services as the Center for Career Engagement, the PHPC seeks to provide a forum for students interested in learning more about possible health professions careers through regular club meetings, discussions, guest speakers, field trips, volunteer work, conferences, and graduate and professional school fairs. Come join us!
Club members will be notified of speakers and events through email, once they have completed the Health Professions Registration form.
If you are interested in receiving emails specific to the Pre-Health Professions Club, please email Riya Parikh to be added to the club alias.
---
Club Meetings
Thursday, January 31 - 8:00 p.m. in Science Center, Room 200
Club Speakers
Monday, April 15 - 6:00 p.m. in Science Center, Room 300
Dr. Zalucki, Colon Rectal Surgeon
Thursday, April 11 - 5:00 p.m. in CUB 208
Derika Schlueter, '17, Penn State Bridge Program
Tuesday, March 26 - 7:00 p.m. in Science Center, Room 200
Dr. Amy Marren, '88, Medical Lead for Gastroenterology, Pfizer
Monday, March 25 - 8:30 p.m. in McCreary, Room 115 (Bowen)
Dr. SaraMarian Lucking, Dermatologist
Friday, March 1 - 4:00 p.m. in Science Center, Room 200
Sean Silverman, '13, LECOM, '18, Strong Memorial Hospital (Resident)
Wednesday, February 11 - 5:00 p.m. in McCreary, Room 101
Mr. Greenfield, Admissions Counselor, New York Chiropractic College
Tuesday, February 5 - 7:00 p.m. in Science Center, Room 200
Rachel Day, Scribe America
---
Executive Board Officers for 2018-2019
Riya Parikh, '20, President
Maddie Class, '19 Vice President
Tiffany Hill, '19 Secretary
Gianna Cangelosi, '21 Senate Representative
Dr. Emily Besecker, Club Advisor
This is a very active club that welcomes you to join and participate! Questions? Feel free to contact a member of the Executive Board.