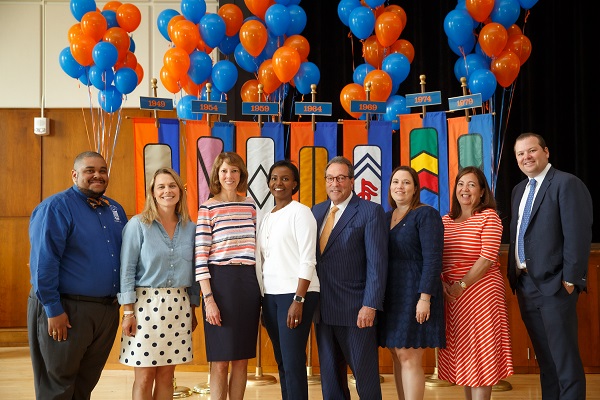 2019 Meritorious Service and Young Alumni Achievement Award Winners.
From left to right: Edmund Hardy '09, Elizabeth Macin Bartlett '04, President Janet Morgan Riggs '77, Alumni Association Board of Directors President Lauren Wise Bright '90, Jesse Diner '69, Lauren Elezko McNally '04, Lynn Scillieri Holuba '79, P'08, and David Curtiss '04
The Alumni Association presents several awards each year in an effort to recognize and honor outstanding alumni.
Nominate an alumna or alumnus for an award.
Nominations for the 2020 awards are due Friday, November 15, 2019.
The Distinguished Alumni Awards honor a maximum of four people each year for their professional and/or civic accomplishments post-Gettysburg. It's basically our "Alumni Hall of Fame" and includes people like Nobel Laureate Michael Bishop '57, former UNICEF Executive Dir. Carol Bellamy '63 and Academy-Award winning cinematographer Owen Roizman '58. The awards are given during Commencement Weekend.
The Meritorious Service Awards honor two people each year for their volunteer contributions to the College over a significant period of time.
The Young Alumni Achievement Awards honor four "Young Alumni," defined as those who graduated within the last 15 years. Two are for Career Development and two are for Service to Gettysburg College.
---
The Phyllis Hicks Utterback Silent Leader Award was awarded to Peter J. Barnes III '78 at the April 2018 Alumni Board of Directors meeting.