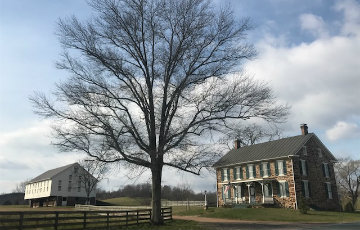 This year, we are excited to offer a special social event on Tuesday evening, June 18th, to conclude the 2019 CWI conference in style! Looking forward to closing out the CWI conference in style with friends, old and new, at a unique historic venue? We are delighted to announce that Civil War Times magazine has generously agreed to co-sponsor our closing social at David and Cynthia Salisbury's circa 1870 farm! Conference attendees will enjoy dinner and dessert, live Civil War music from the Dearest Home band, and home-brewed beer. The circa 1870 farm house and late 18th-century bank barn are located adjacent to the picturesque Marsh Creek and along the retreat route used by Robert E. Lee's army following the Battle of Gettysburg. The evening will feature a short walking tour to one of the key fords used by Confederates during the July 4th retreat.
Attendees will have the opportunity to talk one-on-one with Dana Shoaf, Editor of Civil War Times, at the reception. All conference attendees will also qualify for substantial CWI attendee-exclusive discounts for subscription packages to Civil War Times magazine .
CWI will provide all transportation to and from the farm. The social will run from 5 p.m. – 8 p.m. and is included in the price of all full-time conference packages.