The Civil War Institute (CWI) Fellows program provides a range of professional and academic experiences, allowing Gettysburg College students to develop new skills and expand their career options. Meet the 2020-2021 CWI Fellows!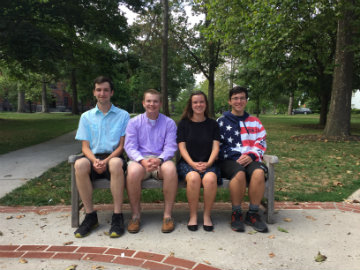 The Fellows program is a unique opportunity for students interested in history to participate in a shared intellectual experience and take advantage of the unique resources provided by Gettysburg's distinctive historical location. The program offers students a valuable opportunity to pursue historical research with members of the CWI staff and hone their skills as an historian, interpreter, researcher, and writer. CWI Fellows work at least five hours a week, expanding their knowledge of the long Civil War era through facilitated discussion, experiential learning opportunities on the battlefield and in local museums, and, at times, participation in digital and video projects.
The CWI offers a range of public programming throughout the academic year. CWI Fellows who are so inclined have the opportunity to meet some of the top scholars in the field while helping assist with the planning and social media coverage of events such as the Robert Fortenbaugh Memorial Lecture. The CWI Fellows Program is administered according to Gettysburg College's nondiscrimination policy, details of which can be found on the Admissions/Financial Aid website.
The 2020-2021 Fellows are busy working on a variety of projects, including creating short interpretive videos on the Gettysburg battlefield, conducting Zoom interviews with noted Civil War scholars, leading small-scale battlefield experiences for their peers, conducting primary source research for the Killed at Gettysburg digital history project, researching and writing short scholarly pieces for the CWI's student blog, the Gettysburg Compiler, and transcribing Civil War soldiers' letters for preservation in the College library's Special Collections. Several of the students are also working on a brand new digital history project researching and mapping Confederate monuments, with special attention to the historical context of when, where, and by whom these monuments were erected, as well as the iconography and inscriptions on those monuments. In addition the Fellows come together twice a month as a group for Zoom discussions with public historians about various aspects of the craft of public history, discussions of scholarly articles, digital archives and material culture, and interpretive workshops out on the battlefield.