The Civil War Institute (CWI) Fellows program provides a range of professional and academic experiences, allowing Gettysburg College students to develop new skills and expand their career options. Meet the 2019-2020 CWI Fellows!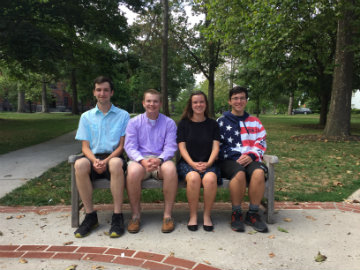 The CWI Fellows program offers students a valuable opportunity to pursue historical research with members of the CWI staff and hone their research and writing skills. CWI Fellows work at least five hours a week. In addition to assisting the CWI staff and Director Peter Carmichael with research projects and event planning, a central part of the fellowship is the unique opportunity to conduct independent research and write for a range of digital platforms. These include the student-authored blog, The Gettysburg Compiler, and a digital project, Killed at Gettysburg, which chronicles and maps the lives of soldiers killed on the fields around town.
The Compiler was quite active during the 2018-19 academic year, with a wide range of posts including originally researched material culture studies, and reviews of newly published books and conferences held in the greater Gettysburg area. For its part, Killed at Gettysburg posted its first round of Confederate soldier profiles and added to its growing number of Union profiles. Fellows have also created short interpretive videos focusing on some of the battlefield's lesser-known stories, and curated a small exhibit on rare Civil War photography of the Gettysburg battlefield that debuted at the June 2019 CWI conference.
The CWI offers a range of public programming throughout the academic year. CWI Fellows have an opportunity to meet some of the top scholars in the field while helping assist with the planning and execution of events, such as the annual Robert Fortenbaugh Memorial Lecture.
CWI and GRAB Partner on South Mountain Hike
View photos from the November 2016 CWI/GRAB hike along the South Mountain gaps, site of the first major Civil War battle fought in Maryland (September 14, 1862).