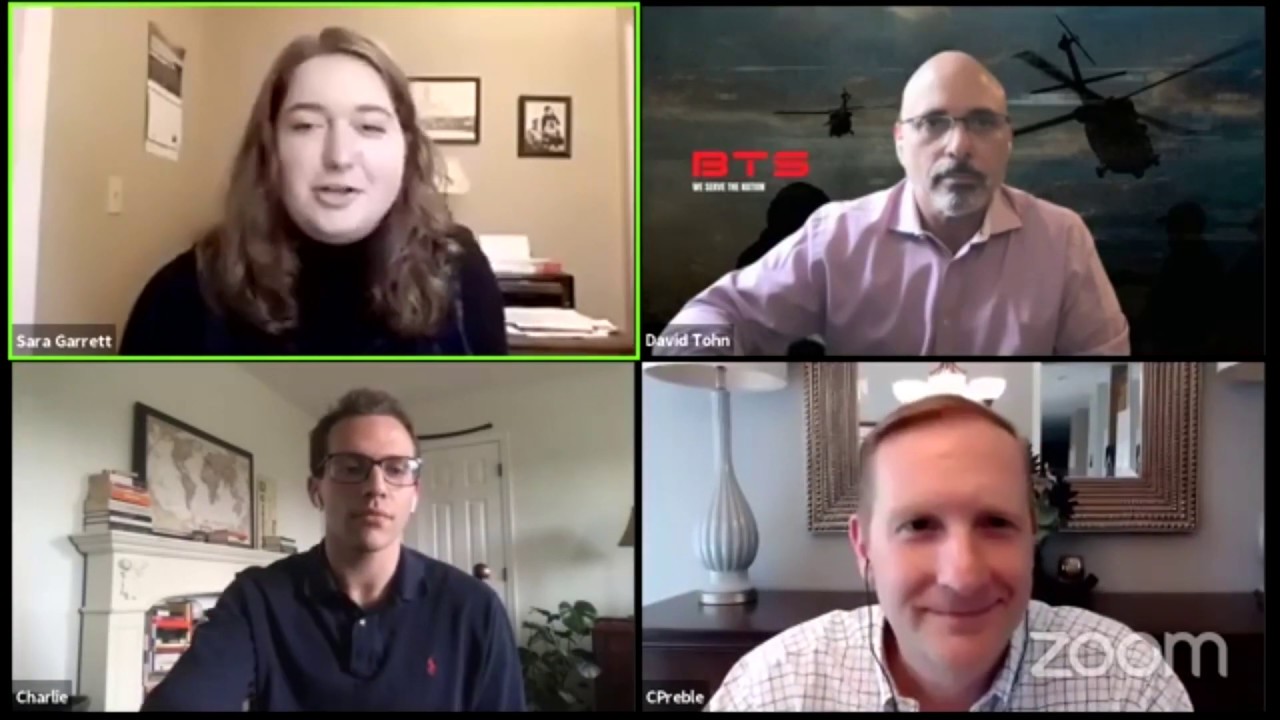 As part of our mission to promote non-partisan discourse and critical analysis of long-term issues, the Eisenhower Institute has launched EI LIVE, a series of conversations featuring expert perspectives to help make sense of the world around us and lift up lessons from the legacy of Dwight D. Eisenhower.
The Americans before you—men and women of like flesh and spirit to you, of far less means and who were tested endlessly, even as you will forever be—found strength within themselves, inspired by the ideas and the ideals of the Republic, to labor tirelessly, courageously and faithfully, that they might be found worthy in the eyes of those who followed them—you." - Dwight D. Eisenhower
Past Events
Watch on-demand by selecting the event below.
Times of Crisis with Susan Eisenhower
April 7, 2020
Susan Eisenhower discusses Dwight Eisenhower's leadership during times of crisis and her own experience navigating rapidly-changing strategic landscapes. Moderated by Prof. Rob Bohrer.
Ike's Fears Reexamined: Modern Developments in the Military Industrial Complex
April 14, 2020
Days before completing his second term in office in 1961, President Eisenhower warned against the power of the military establishment in an address to the country. Almost 60 years later, we are reexamining this warning and the status of the military industrial complex. This panel, hosted by the EI Undergraduate Fellows and featuring Christopher A. Preble and David Tohn, examines the nature of President Eisenhower's warning, the current state of the military industrial complex, the role of the private defense sector, and the implications for the future of the US military, government, and society.
Times of Crisis: Geopolitics and COVID-19
April 21, 2020
Susan Eisenhower talks with George Beebe, Vice President and Director of Studies at the Washington-based Center for the National Interest. A former Special Advisor to Vice President Cheney and long-time intelligence officer, Beebe will discuss geopolitics and the COVID-19 crisis. Beebe is also an expert on cyber security and is the author of The Russia Trap: How Our Shadow War with Russia Could Spiral into Catastrophe.
The Federal Response to the COVID-19 Recession: Too Much, Too Little, or Too Early to Tell?
April 28, 2020, 4 p.m. ET
On March 27, President Trump signed a $2 trillion stimulus bill into law to counter the economic drag caused by the COVID-19 pandemic. On April 24, the Trump Administration and Congress agreed to extend an additional $480 billion in loans for small businesses. With a price tag that large, there is a lot in the bill, but is it enough? Too much? During and after the Great Recession, there was wide debate about whether the Bush and Obama Administrations provided enough (or too much) fiscal stimulus. Douglas Holtz-Eakin and Douglas Elmendorf discussed the current stimulus package and offered their insights about whether it is likely to do more help than harm.
75 Years Since Victory: Celebrating VE Day in 2020
May 5, 2020, 4 p.m. ET
On May 7, 1945, General Dwight D. Eisenhower marked the end to a long war in Europe with a simple, yet poignant cable to the Combined Chiefs of Staff: "The Mission of the Allied forces was fulfilled at 0241, local time." In celebration of the 75th anniversary of VE Day, Susan Eisenhower, author of the forthcoming book How Ike Led: The Principles Behind Eisenhower's Biggest Decisions, is joined by Col. Len Fullenkamp to examine the historical significance of the war and what it means today. Col. Fullenkamp is an expert in military history and strategy and served as the General Dwight D. Eisenhower Chair of National Security at the Army War College in Carlisle, Pa.
Bridging the Urban-Rural Divide
May 12, 2020, 4 p.m. ET
In recent years, political and social developments have accentuated the fault lines between urban and rural communities in the United States. Despite their differences, these communities face many shared challenges that present opportunities for dialogue and cooperation. Joseph Bubman and Shelby Kim of Urban Rural Action join us to discuss these challenges and their organization's work facilitating mutual understanding and collaborative action across distance and difference.
Times of Crisis with Susan Eisenhower: Polling the 2020 Presidential Election
May 19, 2020, 4 p.m. ET
Amid a global pandemic and economic downturn, the United States faces the additional uncertainty of a looming presidential election in November. To discuss the upcoming political contest, Susan Eisenhower will be joined by Ron Faucheux, Chief Analyst at Certus Insights and publisher of Lunchtime Politics. An experienced pollster, Dr. Faucheux is credited with correctly predicting 98% of national campaigns between 1995 and 2005. He also served as a member of the Louisiana House of Representatives and as president of Clarus Research Group in Washington D.C. Dr. Faucheux is the author of several books including Running for Office: The Strategies, Techniques, and Messages Modern Political Candidates Need to Win Elections and Winning Elections: Political Campaign Management, Strategy & Tactics.
The View from the Hill: Politics, Elections, and COVID-19
May 26, 2020, 4 p.m. ET
After the emergence of COVID-19 cases with possible links to the Wisconsin primary in Milwaukee, states are questioning how to prepare for the 2020 presidential election to ensure their constituents feel safe to vote in the fall — either in person or by mail. Prof. Bruce Larson, Chair of Political Science at Gettysburg College, is joined by Ryan Woodward '12 to discuss the impact on 2020 campaigns and the state of domestic politics. Ryan will share his experience as senior legislative assistant to Rep. Peter King (R-NY), ranking member for the House Subcommittee on Emergency Preparedness, Response, & Recovery.
Mass Incarceration in the Age of COVID-19
June 2, 2020, 4 p.m. ET
Over the past several months, experts and advocates have continuously warned about the unique threat posed by the novel coronavirus to incarcerated populations. Celeste Trusty, Pennsylvania State Policy Director for FAMM, joins us to talk about the impact of the COVID-19 crisis on prisons as well as her organization's efforts to promote compassionate release to protect vulnerable individuals.