Welcome to Family Weekend 2020!
Although we cannot meet in person, Family Weekend is still brimming with activities that showcase our campus, faculty, and students. We hope you will join us for one, two, or many events!
All times are EDT.
If there is an asterisk (*), a recording of the event will be available after Family Weekend.
Please check back throughout the weekend for updates to the schedule.
Thursday, October 22
7:00-8:00 p.m.
Ghost Tour
Join Mark Nesbitt's Ghosts of Gettysburg Tours for a virtual version of the Baltimore Street Tour. This 54-minute tour is viewable only at this time and at 8 p.m. on Saturday.
Join the Ghost Tour - Thursday (link will be active shortly before the tour)
8:00-9:00 p.m.
Family Trivia Night: Schitt's Creek
Join family members and students from around the world and compete against one another for prizes in Schitt's Creek trivia! The game is played through Kahoot, which can be used on a phone, tablet, or computer. Winners will receive Gettysburg gear or Schitt's Creek themed prizes!
A few notes:
If possible, we recommend downloading the Kahoot app ahead of time. There is also a desktop version of Kahoot, but we've heard that it is easier to have the game on a different device than the Zoom call.
You will receive specific instructions for connecting to the game once you join via Zoom (link below).
Because of the way this trivia game is set up on Kahoot, it tends to work best if individuals play because the scores are generated by both correctness and speed.
Usually players opt to participate on their own so that they're able to submit their answers quickly.
Friday, October 23
8:00-8:45 a.m.
*All Levels Yoga Flow with Maryann Quinn P'23
Yoga flow will guide the participant through a series of seated and standing postures to balance and relax the body, mind, and spirt. All levels are welcome—this class can be for the newcomer and the seasoned yogi. Poses are adapted to suit the individual participant's needs. We will focus on moving the body in various planes of movement to promote healing and restoration. This class will conclude with a relaxation/meditation portion which can be done seated or lying down. Wear comfortable clothing. Water is suggested. A yoga mat is optional.
Maryann Quinn has been in the fitness industry since 1995, teaching a variety of formats. In addition to having RYT200 certification, she is an ACE Certified Personal Trainer and Weight Management Specialist and currently works with individuals and small groups in the live and virtual worlds.
Noon – 12:30 p.m.
*Help Us Help Your Students: An Overview of Career Engagement
Presented by Marc Goldman, Executive Director, Center for Career Engagement.
Learn about the various services, programs, and resources available to students through the Center for Career Engagement. Whether your student is exploring majors and career options or ready to find an internship, job, or graduate program, Career Engagement is here to partner in the process.
Join Career Engagement Overview
12:30-1:30 p.m.
*Office of Multicultural Engagement and LGBTQIA+Life Open House
Join the Office of Multicultural Engagement and LGBTQIA+Life as they host a digital open house for families. Both offices will share the programming, resources, and parent partnerships available to Gettysburg College students.

Watch the OME and LGBTQIA+Life Open House
2:00-2:45 p.m.
*Going Global: Making your Gettysburg Education a Global One
Join the Center for Global Education to learn more about Gettysburg College's nationally ranked global study program. This session will include a panel of students who will share why they joined more than 60% of their peers in studying globally, as well as some of their experiences at their host cities and programs. CGE staff and student speakers will be available to answer questions about global study.

6:00-7:00 p.m.
*Mixology Class
Learn how to make drinks turn colors and the science behind bubble formation in this interactive mixology experience. Join Kurt Andresen, Professor of Physics, as he teaches how to fix some impressive cocktails as well as the physics and chemistry behind what makes them so unique. Participants are encouraged to purchase the ingredients beforehand and make their preferred cocktail during the event.

Drink 1: Color changing Gin and Tonic
Ingredients: Gin, Tonic, lime, Butterfly Pea Flowers

Drink 2: THE Champagne Cocktail
Ingredients: Champagne, sugar cube, angostura bitters

Drink 3: Manhattan
Ingredients: Whiskey, Sweet Vermouth, orange slice or cherry
7:00-8:00 p.m.
*Drawing Class: The Cupola
Practice your hand at drawing the landmark Cupola that sits atop Pennsylvania Hall and learn some fun facts along the way. Your instructor for this virtual art class is Betsy Diehl '84, P'14, of the College Advancement Division, who has brushed up on her drawing skills during the pandemic by sketching some of her favorite campus places. She will be using primarily colored pencils and a sketchpad, but feel free to make use of any drawing implements and paper you have handy. Be sure to bring along your imagination and creativity!
Saturday, October 24
9:00 – 10:00 a.m.
Campus Tour (weather dependent)
Accompany Jon Allen, Director of Student Activities & Greek Life, on a live virtual tour of campus. See what changes we have made in response to COVID-19 and hear about the social programming that is available to students. The tour will include visits to many locations and will be informative for families, regardless of how familiar you are with campus.

10:00 – 11:00 a.m.
*A Visit to Musselman Library and Special Collections
Learn how our busy college library serves students during a pandemic. Robin Wagner, Dean of the Library, will screen videos created to orient students to "the new normal," and you'll have a chance to ask questions about how we are connecting with students this fall. There may even be a fun pop quiz! Your virtual library visit will end with Carolyn Sautter, Director of Special Collections and College Archives, sharing how students experience archival research materials and artifacts while studying remotely. Your visit to our Special Collections Reading Room will feature sea monsters, letter writing during World War II, the missing voices of indigenous people in the study of Native American culture, and activism in the 1960s. Don't miss this chance to visit Musselman Library and Special Collections from your living room!
Join Visit to Musselman Library and Special Collections
10:00-11:00 a.m.
*A Visit to the Innovation and Creativity Lab
How can we keep active, engaged, hands-on learning alive during the time of COVID-19? It's no secret that our lives have changed dramatically in the last few months. Join us virtually in the Innovation and Creativity Lab's brand-new location for a discussion around where we were, where we're at, and where we are headed in regards to the innovative and creative project-based learning happening on campus and remotely around the world.

Join Visit to the Innovation and Creativity Lab
11:00 a.m. – Noon
Virtual Class
*Death and the Meaning of Life
Presented by Charles "Buz" Myers P'09, Associate Professor of Religious Studies.
Based on a First-Year Seminar, this class is intended to consider a life-long conversation about our mortality and what implications that has for how we live our lives today. The course begins by considering wholesale slaughter through genocide and terrorism, and then moves to more targeted death by means of assassination, murder, and capital punishment. Death at the Battle at Gettysburg is also addressed, as are death by suicide and disease, hospice care, and death and children. We discuss philosophical and religious perspectives on death, and we treat the idea of the continuity of life by learning about near-death experiences, ghosts, and mediumship. While the course focuses on death, the point is that we cannot know the true meaning of life until we confront the reality of our death. For interested parents, Prof. Myers intends to talk about the course in general and show some pictures of previous classes that illustrate the activities and speakers they have enjoyed, but Prof. Myers is very willing to discuss specific aspects of the course—so bring your own questions and interests and join the conversation!
Join Death and the Meaning of Life
Noon-1:00 p.m.
Academic Advising & Student Support Services Presentation
*Team Work Makes the Dream Work
Join Dean Charmaine Cruise as she discusses how families are valued members of a dedicated and dynamic Gettysburg team that partners to help students succeed, engage, persist, and achieve their academic goals. During this session, you will hear how the Office of Academic Advising and Student Support Services works in partnership with different stakeholders, including families, to support students as they journey to make their dreams a reality.
Join Team Work Makes the Dream Work
1:00 – 1:45 p.m.
Virtual Class
*Where There's Smoke There's Ire: Dragon-Slaying 101
Presented by Christopher Fee P'23, Professor of English.
Dragons have terrorized peoples across the globe since the dawn of time. Appearing as giant snakes, sea monsters, or winged serpents, dragons are generally known as magical creatures denoting great foresight, hidden wisdom, and occasionally good luck, although they often represent the epitome of greed and the embodiment of boundless evil. In this multimedia adventure, we will explore the history of dragons, from Mesopotamia to Middle Earth, from Sutton Hoo to the Seven Kingdoms, and from Ancient Greece to Gringotts Bank. We will discuss traditional means of discovering and dispatching such reptilian adversaries, with special emphasis on tips and hacks for surviving such ordeal. Along the way, we will examine images and videos showcasing ancient, medieval, and modern descriptions and depictions of dragons and dragon-slayers.
2:00 – 3:00 p.m.
Career Engagement Panel
*2020 Vision: A Peek at Career Engagement—Summer 2020 and Beyond
Hear how students and alumni secured experiential opportunities and navigated getting into graduate school in 2020.
Panelists:
Aine Ford '22: Business, Organizations and Management Major
Garrett Goodwin '21: Political Science and Public Policy Majors
Eliza Guzman '23: Psychology Major
Adil Sarwar '22: Economics and OMS Majors
Allison Stickney '18: Health Sciences Major

3:00 – 4:00 p.m.
*"I Beseech You": Schmucker Art Gallery Talk
Gettysburg College student-curators of the exhibition "I Beseech You: Women, Art, Politics, and Power," currently on display in Schmucker Art Gallery, join Director Shannon Egan in a discussion about issues of race, gender, identity, and politics in art.
Join I Beseech You

4:00 – 4:45 p.m.
Virtual Class
*Teaching Music in a Strange World
Presented by Jocelyn Swigger, Associate Professor, Sunderman Conservatory of Music.
Join Prof. Jocelyn Swigger as she presents a snapshot of the semester's hybrid teaching, featuring the methods she uses in her piano lessons, studio class, and aural skills class.
Join Teaching Music in a Strange World
5:00-6:00 p.m.
*Gettysburg College Civil War Tour
Join John Rudy '07 on a tour of the campus that reveals the College's Civil War history. This tour was originally developed by John, a history major and Civil War Era Studies minor, as an independent project when he was a Gettysburg College student.
8:00-9:00 p.m.
Ghost Tour
Join Mark Nesbitt's Ghosts of Gettysburg Tours for a virtual version of the Baltimore Street Tour. This 54-minute tour is viewable only at this time and at 7 p.m. on Thursday.
Join Ghost Tour – Saturday (link will be active shortly before the tour)
Virtual Family Weekend Events On-Demand!
You can view these events at any time!
Bold Women in Leadership: Book Presentation
In March 2020, as the pandemic changed the landscape of our learning environment, Dr. Anne S. Douds invited students to work with her virtually on a book that she has been developing: Bold Women of the Eisenhower Era: Feminism, Leadership, and the 1950s. Thirty-five students accepted the challenge to research, analyze, and write about women they selected and who embody the overarching theme of women's under-appreciated efforts to promote social change in the 1950s. Dr. Douds mentored the team of student authors in narrative analysis methods as the dove deeply into archival materials, mid-century media coverage, scholarly research, and personal diaries to prepare biographies of these women and their work. Now the students are analyzing those biographies through the lens of modern critical leadership theory. Many of the students' work will be turned into a chapter for the book, which has an expected publication date of December 2021.

Watch Bold Women in Leadership
Garthwait Leadership Center and Experiential Education
A Family Weekend virtual tour.
Learn about the Garthwait Leadership Center and Experiential Education
Gettysburg Under the Stars, Family Weekend Edition
Presented by Ian Clarke, Laboratory Instructor II and Director of Hatter Planetarium, along with students James Lamb '21, Garrett Adams '22, and Meg Drew '22.
A virtual show from the Hatter Planetarium covering the current night sky and recent astronomy news.
Watch Gettysburg Under the Stars
Virtual Choir Project
When the COVD-19 pandemic curtailed choral singing at Gettysburg College, the students pivoted to virtual choir recordings. Each of the choirs was preparing music on themes of hope and empowerment. Little did they know how poignant these pieces would become when they couldn't perform together.The singers recorded in their homes—in bedrooms, bathrooms, closets, and kitchens—singing into computers or cellphones. Students provided pictures that represented themselves or how they felt about this music, and those images accompany the video.
Watch and listen to the Virtual Choir Project
Virtual Class
Black Superheroes in American Popular Culture
Presented by McKinley Melton, Associate Professor of English.
Subtitled "From Nat Turner to Netflix," this class examines the presence and impact of Black Superheroes in American culture and society, focusing on fictional characters (e.g. Black Panther, Miles Morales, Storm, and Nubia) and historical figures (e.g. Frederick Douglass and Harriet Tubman) that have been celebrated through literature, film, television, and music. Based on the First-Year Seminar with the same name, this class will enlighten and delight, and you won't want to miss spending some virtual time with Prof. Melton.
Watch Black Superheroes in American Popular Culture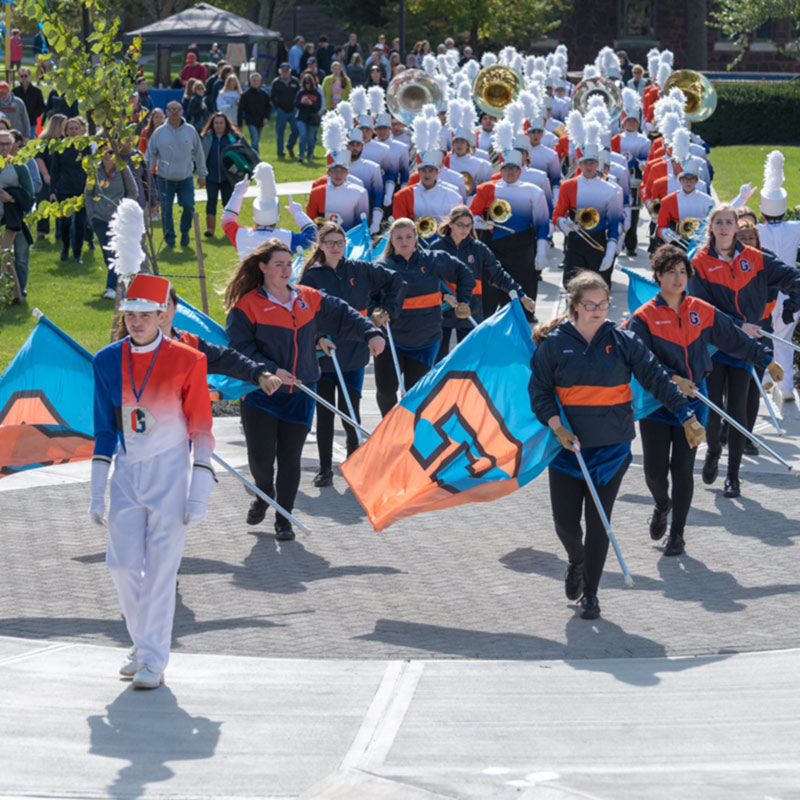 Bullets Marching Band
We hope these events make you feel a little closer to campus and we look forward to welcoming you in person when we are able. In the meantime, get in the Family Weekend spirit by watching a past performance of the Bullets Marching Band.