Outdoor Facilitators (OFs) are dedicated, passionate student leaders who support leadership development at Gettysburg College by providing resources, programs, and other opportunities for the College community. They plan and lead outdoor trips and facilitate workshops on the Challenge Course. OFs promote GLC values, programs, and various leadership-based campus opportunities.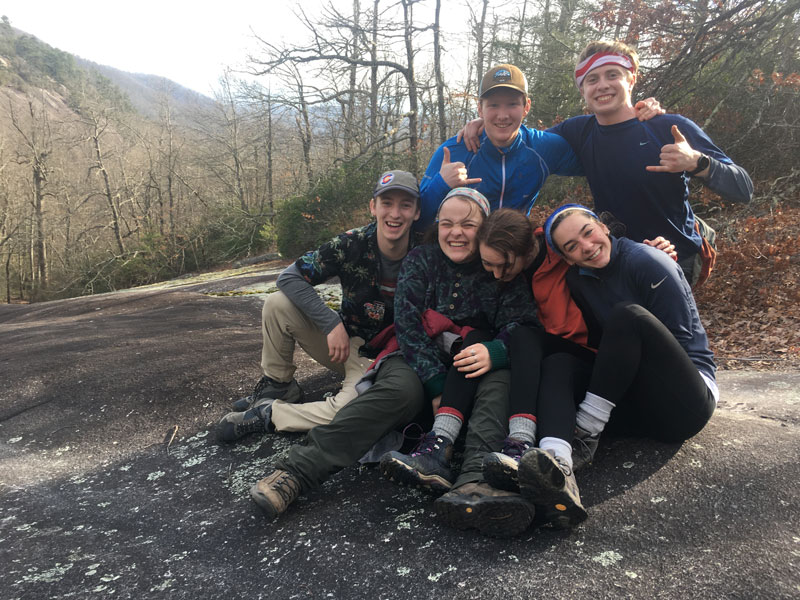 The OF role is best described as a part-time para-professional commitment. While most OFs work an average of 10 hours each week, trip leaders will work many more hours before and during trips during College breaks.
Group work and collaboration are at the heart of how we enact our mission. Some examples of meetings that OFs actively engage include:
Weekly Team Meetings: We could not do all the work that we do without the support of all our OFs. While we have certain OFs planning trips, the execution of some trips and workshops require everyone on our team. These larger team meetings allow us to communicate between different project teams, it opens space for training and development, and it is a time and space for larger team bonding.
Project/Trip Group Meetings: These are scheduled times with a given project/trip team. This helps orient the week-to-week work. During these meetings we discuss roles, group dynamics, projects goals, tasks, etc.
One-on-Ones: Every member of the team has the opportunity to regularly meet with one of the GLC Directors. This time is customized for each individual and is used to coach every member of the team in their personal leadership development. Moreover, the project leads of the different teams meet with one of the Directors for project advisement. Topics may vary from the goals and objectives of the project, budgeting, marketing and communications etc.
Requirements
The position is for rising sophomores, juniors, and seniors. OFs are expected to maintain a minimum 3.00 cumulative GPA and work an average of 10 hours per week. Some of these hours are worked in the office while others are worked in the field. OFs must also be available to participate in monthly training sessions, weekend challenge course work, and on trips during College breaks (fall break, winter break, spring break). OFs will be paid at the standard student employee rate ($7.25/hour). The ideal applicant will be able to give this position the highest priority among their co-curricular activities.
OFs are asked to attend training outside of the regular school year, including returning to campus two weeks prior to the beginning of classes in August and one week prior to the beginning of classes in January. August training is mandatory for new OFs.
Qualities of an Outdoor Facilitator
An interest in personal leadership development
An optimistic and personable attitude
Resilience during times of adversity
The ability to work collaboratively with others
A desire to learn about and engage in group facilitation
Openness to change and an adventurous spirit
Time and organization management skills
A passion for and commitment to learning
High level of professionalism
Serves as a role model
Outdoor Facilitator Job Description
Develop, create and facilitate outdoor experiences in line with the mission of the GLC and Gettysburg College to the current level of training and employment status.
Design and facilitate workshops targeted to help student clubs and organizations achieve leadership related goals - in varied contexts including the challenge course, classrooms, meeting spaces, etc.
Perform administrative duties such as completing program reports, incident reports, rope logs, and other documentation.
Give and receive feedback on current and past performance.
Attend required meetings and trainings.
Understand and follow all department practices and policies.
Provide support and resources for students interested in outdoor experiences.
Promote GLC values, programs, and various leadership-based campus opportunities.
Attend weekly team meetings, project planning meetings, and one-on-one meetings with professional staff.
Support department-wide events such as Ascent, open houses, the Group Facilitation Fellowship, etc.
Demonstrate professionalism as a representative of the GLC within the office and on-campus.